*This page may contain affiliate links. When you buy through these links, we may earn a small commission at no extra cost to you.
It is disheartening to reveal that foot, and ankle pain in children can make them awake all night long. In extreme cases, it can cause one to limp or toe-walk.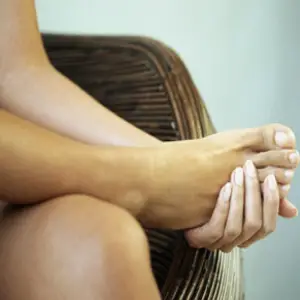 There are several factors that cause foot and ankle pain in children.
Some of these factors disappear independently, while others require medical treatment.
Kids' ankle pain usually affects children at night time. But it can get easily subsided by massage or rubbing.
This joint pain may be associated with weakness, unusual tiredness, limping, or an injury.
Mainly, it can be a severe problem for children involved in various sports, dancing, or other physical activities.
The American Academy of Pediatrics advises people to seek immediate medical advice if their child is experiencing persistent pain and swelling with redness and tenderness in joints.
Causes of Ankle Pain In Kids
Adolescents who are actively involved in athletic activities suffer from stress fractures which is one of the most common reasons for pain in the ankle for kids.
This condition can be easily diagnosed as the sufferer experiences tremendous pain following an injury. The affected area also shows signs of swelling and redness.
Sever's disease is another common reason for heel pain in children falling under the age group of 8-12 years.
When children get involved in weight-bearing activities, heel tendons may put pressure on the back of their heels, making them injured.
To treat this condition, refrain your kid totally from the activity that results in an injury. Even applying ice packs over the heels for a few weeks helps cure this painful condition.
Infections of bone or joints which result in blood-borne infections too cause foot and ankle pain along with swelling, redness, and limited joint movement.
Keep in mind that such types of infections are very dangerous and require immediate medical help.
Complex regional pain syndrome (CRPS) is a chronic condition that also results in chronic ankle pain in children, burning sensation, swelling, and sweating.
When this injury starts to heal, the pain gets worsens up instead of subsiding. CRPS basically affects the foot or hand area and then gets spread to the leg or arm region of the body.
Researchers have not yet able to determine the exact cause of CRPS.
Some believe that the condition occurs due to the sensitive nervous system, which plays a key role in sustaining pain, while others feel that it is the outcome of the immune response.
Experts suggest that pediatric ankle pain can be well prevented with the use of best pediatric ankle brace that are now available online.
Children, while playing or sporting, can use these guards/braces as a preventive measure to avoid any type of pain in the ankle or foot.
10 Best Ankle Brace for Kids Review

The market is today loaded with a variety of options when it comes to choosing the best pediatric ankle support brace.
For your convenience, we have reviewed below some of the best options that are now available on amazon.
You can check these best pediatric ankle brace reviews in detail before you buy one for your child.
1- Neo G Ankle Brace for Kids
Ankle injuries are very common among kids, especially; those who are very much active in sports.
Fractures, sprains, discomfort in joints as well as injuries developing at the same place can cause tremendous ankle pain in teenage athletes restricting their movements.
Thankfully Neo G Ankle Brace for Kids is known for treating all these types of ankle injuries.
NEO G ankle support is specifically designed for the younger generation, which helps in offering them dynamic support around the ankle.
This support brace for teenage athletes has an adjustable strap that adds support and compression during any recreational or sporting activities.
Features of Neo G Ankle Brace for Kids include:
Suitable for wearing during any recreational as well as sports activities like soccer, basketball, gymnastics, football, walking, hiking, and much more
A medically engineered premium quality brace helps to relieve pain associated with joints, tendon injuries, ligaments, and arthritis, as well as aiding the recovery from ankle injuries.
This ankle brace for children is available on major leading websites like Amazon and also at your nearest pharmacy. It's a unisex brace guard which is available in one size. Why not get them now to ensure easy blood flow.
2- BraceAbility Kids Lace-Up Ankle Brace
The sprain or injury usually happens in kids when the ligaments, which support ankles, get torn or overstretched.
Thankfully these are ankle guards and protectors like Braceability Kids Lace Up Ankle Bracethat can help.
It is a simple sport, light-weight brace that protects and supports the sprained ankle during jumps, pivots, and sprints.
Features of BraceAbility Kids Lace-Up Ankle Brace include:
This is a knitted and breathable material brace specifically designed for kids suffering from a sprained ankle
The brace is useful for injury prevention while playing sports like soccer, basketball, volleyball, and soccer
Available in kid's sizes or for adults with smaller feet, making it easy to wear on day to day basis
There is no seam on the foot of this brace, which makes it extremely comfortable for the kids. Another convenience is the laces of this pediatric lace-up ankle brace. By using them, you can easily secure your brace by straps at the ankle.
Traceability kids' lace-up ankle brace is widely available online for your children and even for toddlers. You can choose the best size according to your kid's age.
3- BraceAbility Kids Elastic Ankle Support
Kids that are highly active in sports and other recreational activities are prone to various injuries, ankle sprain/injury being the most common.
Designed specifically for kids, this BraceAbility elastic ankle support brace steadies and eliminates the pain of the injured ankle of your kid.
Made out of high-quality breathable material, Braceability kids elastic ankle support is one of the best heavy-duty guards for ankle-related injuries in children.
This latex-free lightweight, small ankle wrap for children and teenagers provides mild ankle support for sports and recovery from sprain & strain.
Few additional feature of this BraceAbility Kids Elastic Ankle Support include:
Slip-on pediatric support leaves forefoot and toes unrestricted
Comfortable, flexible, and fits easily beneath one's socks and shoes
Wrap-around design that fits perfectly well on the ankle to provide the necessary compression
Overall it's a very basic pediatric slip-on brace which is available in the color beige. Why not get this children's sports brace now to keep your kids protected.
4- BodyMoves

Kid's Ankle Brace with Hot /Cold Ice Pack
Premium Quality Ankle Brace Support by BodyMoves is designed to protect your kids' feet from injuries, sprain, and ankle pain by offering comfortable support to their ankles.
All thanks to its ergonomic design and hot/cold pack; this pediatric ankle support brace ensures to provides good comfort and support to ankles whenever needed.
Features of this premium quality youth ankle brace include:
For any sprained injury, or ligament problems, these premium ankle braces help keep pains at bay and boost good stamina; it also helps contribute to the immediate recovery.
The premium comfort nylon material and the ergonomic design of these ankle braces make them a comfortable pair of soothing foot sleeves to wear all day, even when playing
It comes with a 100% money-back guarantee
Whether you hope to prevent OR cure an ankle sprain or injury, this kids' ankle brace provides a great solution.
It adds several layers of support to the ankles, stabilizes the ligaments, and protects contrary to any damaging movements.
5- Kids Adjustable Nonslip Ankle Tendon Compression Brace
Playing sports can stress the delicate tissue or bone, leading to sprain and other such injuries.
These injuries are common in kids hence they require something very comforting and soothing.
2 Pack kids adjustable non-slip ankle tendon compression brace can offer a prompt treatment to such injuries.
Features of Kids Child Adjustable Nonslip Ankle Tendon Compression Brace include:
Made out of supreme quality breathable material, which ensures that the wearer doesn't get any skin irritation
The lycra material ensures free blood flow and allows the skin to breathe hence no perspiration
Available in 2 sizes S & M, and it comes with adjustable straps which fit different ankle diameters
Overall this ankle protector for kids offers immediate recovery from an ankle sprain, tendon pain, ligaments overstretching, tendon pain analgesic, and protection against acute and chronic ankle strains.
Being suitable to play baseball, volleyball, basketball, soccer, ice hockey, tennis, skiing, mountain climbers, skiing, dancing, training, and so on, why not get this pediatric ankle sleeve for your kid now.
6- Evermacro Ankle Brace Compression Support Sleeve
The heel cups in your body are prone to absorbing various pressure and shocks while the game is on. However, the intensity of this could be reduced with the help of a good ankle support brace.
Supported and used by players and dancers from around the world this ankle brace support from Evermacro can help your kid best if they are in athletics or sports.
With an attractive blue color design this youth ankle support brace can become their best friend if they have sustained injury and not recovered.
Yet another added advantage of this pediatric ankle brace support system is that it is expandable and comes with a single size that can elongate to any foot size.
Made with 75% nylon and 25% spandex, this pediatric ankle sleeve provides perfect shape and support to the leg while playing.
You can use this Evermacro ankle recovery brace to relieve your kids' pain from knee joins, ankle sprains, heel spurs, and weak ankles.
7- TechWare Pro Ankle Brace Compression Sleeve
Techware Pro Ankle brace helps in better recovery of your kid's ankle caused due to a sports injury. It also helps them with better foot mobility and compression while providing the required support to carry with day-to-day activities.
This designer ankle compression support brace comes with a simple design and does not bulk up the feet.
In the long run, it also provided improvised blood circulation that helps with edema treatment, bunion, and bursitis.
You can make your kids wear this ankle support brace while they are practicing a game and putting immense pressure on heels.
Made with nylon and spandex in an 80:20 ratio, this pediatric foot brace is ideal for getting perfect heel and ankle support.
8- FLA Kids Neoprene Ankle Support 

Kids get hurt easily and faster compared to adults; the recovery period could also be longer. In such cases, it is important for you to provide your kids with a perfect support brace that comes with an adjustable strap.
As the name suggests, the FLA kids Neoprene ankle support brace is a perfect solution to help your children get rid of ankle pain and swelling.
This support brace by FLA is soft and customized so as to fit any size inside.
Furthermore, the neoprene ankle support is made with comfortable, soft, durable, and long-lasting material that provides you with better support and the ability to clean and keep them safe without additional effort.
Once you place an order for this baby ankle brace, you get a handy size chart for your reference.
This size chart can be used to ensure how much the brace needs to be adjusted to fit your kid and the time frame in which recovery shall happen.
9- Tuli's Cheetah Heel Protector Ankle Support 
Tuli's lightweight ankle support brace ensures that your kids' practice continues without any back injuries.
Your kids can just slip on this Tuli's ankle support brace, and it stays in place without causing discomfort to the body.
As no strapping is required, this kid's ankle support relieves any chances of getting rubbed and slipping.
Ideal for runners, athletes, and dancers who wish to protect their heels from endless pounding, landing, and abuse, this ankle support brace comes with a handy size guide mentioning the size you require.
Above all, this fitted ankle-supported heel protector comes with dynamic shock-absorbing technology, which enables to control of compression and the way the heels react when under pressure.
DO go for it and help your kid continue their daily activities without needing to stop.
10-

SNEINO

Lace-Up Ankle Support Brace for Kids
SNEINO offers you an ideal ankle brace and support for kids, men, and women suffering from Achilles tendonitis or heel spurs.
This can be best used when your kids run or perform any other kind of physical activity that exerts huge pressure on the ankle or heels.
With this lace-up ankle brace support in place, they can also better concentrate on their game or sport as they have already ensured the best support they need.
This optimum compression brace support helps you with ensuring that your kids are relived of joint injuries better with increased blood circulation.
Now keeping aside all the other benefits, the most important benefit of this pediatric ankle wrap is that it's made of soft material and knitted technology.
This is employed during the manufacturing process to help provide better grip and support to the painful heels.
Investing in this ankle support brace for toddlers and kids shall offer you 100% guaranteed satisfaction. So check them out online and get one now.
How To Make A DIY Ankle Brace?
As kids are very much active and may get an injury within no time, the need to get an improvised ankle brace makes sense.
Buying an ankle brace online and shipping it may take some time (generally 2-3 days).
Hence, making a DIY ankle brace for kids at home can be highly useful in case you want to immediately support your kid's injured ankle.
But how would you make one in a DIY way if you do not have enough knowledge? Worry not; the below video may guide you best…
Remember that wrapping your child's ankle with a proper bandage can help avoid the rapid swelling that usually occurs after an injury.
But when you know what can be done immediately after an injury, you can hopefully save your kids from experiencing severe pain.
So why not practice these steps to make a DIY splint at home even when you do not need them right now.
Can Kids Wear Heavy Duty Ankle Brace?
The heavy-duty ankle brace is usually meant to support your ankles while performing some heavy exercises or physical activities.
If your child is into some heavy work activities or sports such as basketball, soccer, volleyball, etc., that require heavy jumping, you can definitely get these.
However, for everyday use, buying a supportive ankle sleeve or ankle brace with lightweight stays is best.
If you are choosing a heavy-duty brace, it is important that it comes with a universal size and adjustable straps that can fit both ankles (left or right).
Should I Get Waterproof Ankle Brace for Kids?
Not necessarily, but if your child is indulged in sporting activities like swimming (or other aquatic sports), you should consider buying a good quality waterproof ankle brace.
However, if your kid is into sporting activities such as running, soccer, football, gymnastics, or others, you can consider getting a premium quality ankle wrap or support that is non-waterproof.
No matter what type you choose, the ultimate aim should be to protect the ankle/feet so that it does not stop your kids from performing any kind of activity.
Can Ankle Brace Hurt Your Child's Foot or Cause Pain?
Children often complain about the pain or a hurting sensation caused in their feet after wearing a supportive ankle brace.
An important thing to remember here is – an ankle brace is supposed to heal pain and not hurt the foot.
According to the National Athletic Trainers' Association (NATA.org), the side effects like hurting or pain may generally be due to not wearing the brace properly.
Care that the brace or splint worn on an injured ankle should not be tight enough to cut the circulation off. Rather it should only be tight enough to restrict the motion of the feet/ankle.
If you are unsure, you can check the circulation by slightly pinching the nail of the big toe. If the color returns to the nail within seconds, the circulation is fine, and the bracing is done right.
Overall, by using an ankle brace for your kid you can be rest ensured that your teenage athlete doesn't get any injury in a foot or ankle area.
The guarding brace will keep their ankle protected by avoiding any awkward movements.
Make sure you choose the brace right, pick the proper size, and wrap it perfectly!
Incoming search terms:
ankle pain in children
ankle pain in kids
foot pain in children at night