*This page may contain affiliate links. When you buy through these links, we may earn a small commission at no extra cost to you.
Diabetes is currently one of the fastest-growing diseases in the developed world, with around 90% of all cases of diabetes coming in the form of type 2.
We'll get to what type-2 diabetes is a little later on, but for now, we'll instead focus our attention on the fact that the disease can often be prevented.
When people think of diabetes, they often think of a person's weight and blood glucose levels.
You may, however, have recollected how in the past, those athletes affected by the disease were often at risk of losing their limbs.
Yes, diabetes means a person is at a much greater risk of developing foot problems.
Especially for athletes, playing sports with diabetes is often tough, if not impossible. For many, even running with diabetes (type 1 or type 2) is like climbing a hill with weights loaded on their feet.
That's why in today's article, we are going to be looking at foot massage machines for diabetics.
Contained below, we will be looking at how they help diabetic peripheral neuropathy, why diabetes has been heavily linked with foot problems, and the key benefits of using a foot massager if you are diabetic and are experiencing foot issues.
What Is Diabetic Peripheral Neuropathy?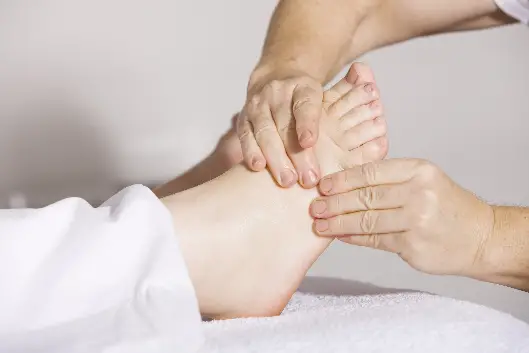 To kick things off today, we're going to start with a bit of a tongue-twister. Yep, we're talking about diabetic peripheral neuropathy – try saying that 3 times in a row after a few drinks!
If you're unfamiliar with peripheral neuropathy, then worry not because soon, all will become clear.
You see, peripheral neuropathy is a type of nerve damage that is caused as a result of diabetes and high blood glucose (sugar) levels.
Believe it or not, it is the most common complication associated with diabetes, yet experts choose not to focus on it.
Peripheral neuropathy can cause loss of sensation, numbness, tingling, and even intense pain in the legs, hands, and feet.
It is estimated that out of all cases of diabetes, between 60% and 70% of people with the disease will likely experience peripheral neuropathy.
That does not mean, however, that they will experience pain and discomfort. Sometimes, the symptoms may manifest themselves simply in the form of very light tingling sensations in the feet that come and go sporadically.
There is, however, a chance of preventing the condition, whether you are diabetic or not, and that is simply by lowering your blood sugar levels and keeping them low and stable.
Diabetes And Sore Feet: What's The Link?
So, we've looked at what peripheral neuropathy is and basically why it occurs, but what is the precise link between diabetes and sore feet?
Well, peripheral neuropathy is caused as a result of dangerously high blood sugar levels. There are three forms of peripheral neuropathy, and they are:
Motor
Sensory
Autonomic Neuropathy
Primarily, if you are diabetic and you experience pain in the foot/feet, this is very likely due to what is known as sensory neuropathy.
For people that are severely affected by this condition, life can be very difficult.
Even something as basic as putting your socks on, or, rubbing your feet over your bedsheets can cause a great deal of pain and discomfort in some more extreme cases.
This pain is often coupled with tingling and numbness in the feet.
So, what actually causes the condition? Basically, the problem is caused when sensitive nerves in the feet, legs, and hands become damaged.
The abnormally high levels of glucose in the bloodstream cause the nerves to become damaged and overly sensitive to even the softest of stimuli.
Once the nerves become damaged because of the excess sugar in the system, it means that they malfunction and are unable to effectively carry the messages between the brain and various other parts of the body.
Not only can it cause pain and discomfort, but it may also cause numbness.
This means that you could suffer a cut to the foot, and not feel it. This is very dangerous because if it was a severe cut you would be at risk of bleeding to death.
Even in the case of a mild cut, however, you must identify the injury as soon as possible, so as to avoid infection and further complications.
15 Best Foot Massager for Diabetics
According to most of the podiatrist, diabetic peripheral neuropathy or diabetic leg pain can be well relieved by using foot massage machines at home.
However, as there are numerous brands and varieties available in the market it becomes difficult to find one that is most suitable to provide you the best relief.
Below we list some of the best models and make that can be considered for purchasing.
Hopefully, you will find the best for your problem within these top-selling options.
1- MedMassager Foot Massager
MedMassager foot massager is one of the most powerful electric massager available on the market for diabetics.
It comes with a variable speed motor to operate at 11 speeds (from 1,000rpm to 3,700rpm) to enjoy maximum comfort while getting full control.
This best foot massager for diabetics also features a full-sized oscillating footpad with an arch-bar that helps target the essential pressure points for ultimate pain relief in the feet and legs.
The device comes with rugged solid construction that can be used easily on hardwood and tiled floors.
This MediMassager foot massager is most recommended by therapists as well as doctors and is ideal for home use in USA.
It is, in fact, a must-have for patients suffering from severe circulation issues and pain in legs due to diabetes and neuropathy.
Above all, this massager unit is FDA certified for therapeutic use, and it comes with 1-year full replacement against defects and failure.
2- Medi Rub Massager 2000 Plus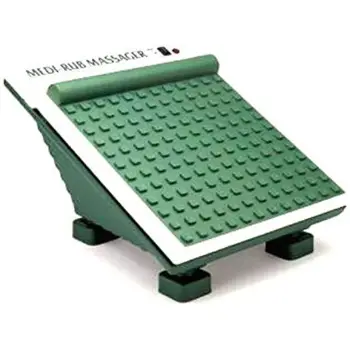 Medi Rub Massager 2000 Plus is another great massaging unit for diabetic neuropathy pain relief. It works by increasing the circulation in the feet and lower legs, thus alleviating the pain caused.
This massager
comes with exhilarating 2-speed heavy-duty motor which creates brilliant oscillating action to stimulate thousands of nerve endings located in the soles of your feet and toes.
You should definitely check this foot therapy machine if you are suffering from severe foot pain due to diabetes.
3- Theraflow Dual Foot Massager
The reflow Dual Foot Massager roller is designed to create manual massaging action, which is not only effective in soothing the pain due to neuropathy but also the plantar fasciitis pain, arch pain, and overall body stress.
This massager uses acupuncture/ acupressure therapy to promote better circulation which ultimately helps you to relax and refresh your tired, sore and achy feet.
Made up of high-quality polished Theaceae wood, this portable and lightweight Theraflow massager is quite sturdy, stable, and highly durable.
This shiatsu acupressure massaging device also includes a reflexology chart with full instructions on how to use it for maximum comfort and relief.
4- Peanut Foot Massager Ball
Peanut Massage Ball by Vive is another great pain relief device that is much helpful for patients suffering from severe foot pain due to diabetes.
These lacrosse balls help to increase circulation and targets the painful trigger points to provide maximum relief to sore feet muscles and inflammation. Additionally, these are also helpful in relieving the symptoms of plantar fasciitis.
The compact size (2.5" in diameter) Peanut Foot Massager is an ideal option for myofascial release, loosening knots, and providing deep tissue massage.
These massage balls are also useful for pre and post-workout as it increases flexibility and range of motion before workouts.
Furthermore, these ergonomically designed peanut massage balls come in a convenient to carry nylon gear bag so that you can carry it with you to use them at gym or office.
Its 60 day unconditional guarantee from the manufacturer ensures that the product is highly durable and you can buy them with confidence.
5- Cloud Massage Foot Massager
Cloud Massage Foot Massager is yet another foot massager for neuropathy which is a great pain reliever for patients.
This is highly effective for those suffering from problems like tired feet, sore leg muscles, plantar fasciitis, etc.
With its deep-kneading shiatsu massage (with heat therapy, air compression pressure, and vibration), it helps in enhancing the blood flow circulation so that you get faster relief from painful feet, calves, toes, and ankles.
Unlike other foot massagers that force you to keep your knees together and legs at a 90-degree angle, the easily adjustable bar feature of this Cloud Massage Foot Massager enables you to keep your legs at an optimum comfort angle.
The best part of this diabetic foot massage machine is its 100% no hassle warranty so that you can buy the massager with full confidence.
6- Spiky Foot Massage Ball
Like above massagers, Spiky foot massage ball is also an excellent tool for relieving neuropathy and plantar fasciitis pain.
Its porcupine-like spiky outer layer offers the best stimulating effect, helping increase circulation to combat the pain in your hands, feet, and legs.
Made from phthalates-free PVC, these spiky massage balls comes in a combo pack of hard & soft sensory ball sets which is also effective in relieving stressful muscles through reflexology.
7- Footmate System Foot Scrubber Massager
FootMate System Foot Massager is an all-in-one foot cleaner, foot scrubber, and foot massager system that you will love to have for your daily use.
It is an American-made, highly durable tool to clean and massage your feet when you feel tired.
In addition to cleaning and scrubbing the most neglected areas of your feet, it stimulates healthy circulation so that you can feel rejuvenated after a hectic day.
This Footmate shower foot scrubber comes with an ergonomic design and a gentle inner brush and firm outer bristles that helps in soothing the soles and treating rough skin of your feet.
As this diabetic foot care system benefits in reducing the foot odor, blocking of toxins and speeding the healing process, the most satisfying results you get with this tool are much better than achieved by pumice stone, loofah, or a standard brush.
You can use this scrubber and massager system while getting a bath or shower. The best thing is it does not require you to bend over to do all the scrubbing and massaging.
This is, therefore, a must-have for the elderly and people suffering from back problems. It is also a great reliever for pregnant women and athletes.
8- TheraBand Foot Roller Massager
TheraBand Foot Roller for Foot Pain Relief is yet another simple solution for those suffering from tired feet and legs.
It not only works for patients of diabetes and neuropathy but also is effective for runners, walkers, cyclists and other athletes.
Using this Heel Spurs Reliever, athletes can maintain proper conditioning in the foot, which helps them deliver better athletic performance and decrease pain during exercising.
The best foot massager with ridges for self-myofascial release also helps in preventing soreness in the feet and in relieving plantar fasciitis pain.
Not only that, this massage ball roller for arch pain is very easy to clean and slip-resistant. As it's made up of natural latex material, it won't scratch your floors.
The best thing about the tool is it conforms to the shape of your foot easily so that you can get the best relaxing self-massage all the time.
9- SAMYO Palm Shaped Massage Glove 
SAMYO Palm Shaped Massage Glove is a versatile body massager that is suitable to massage any point in your body.
You can not only use it to massage your leg and foot but also your head, neck, back, chest, or belly area.
This hand-held massaging tool comes with 9 pcs rolling the metal ball and a massage roller that can be rotated in 360 degrees to use anywhere and anytime you feel.
It helps in eliminating fatigue, aches, and pain and even reduces the appearance of cellulite by improving circulation.
The back of this massaging tool is made up of soft PVC brushes and it can also be used to massage your body while having a bath or shower.
10- Foot Log Foot Massager
The Foot Log foot massager is a scientifically designed massaging tool and an awesome exerciser that can help relax your stress and tension every day by stimulating the circulation in the body.
Specifically crafted with soft, flexible material, it is effective enough to help relieve the tired feet experience each day, especially when you feel hurt and severely fatigued.
This Foot Log foot massager tool is lightweight and highly durable so that you can use it anywhere you want at any time.
It uses no power or batteries and is therefore easy to use. For answering all your queries 64-page manual is also included with this device.
11- HoMedics Shiatsu Elite Foot Massager
Are you looking for some deep kneading massage that could stimulate a real foot massage?
If so, then this sophisticated HoMedics FMS-200H Shiatsu Elite Foot Massager is the ultimate machine to get.
This Homedics shiatsu foot massager comes with 4 innovative counter-rotating massage heads to offer great relaxation.
The LED illumination and easy-to-use toe-touch control options allow you to choose massage modes or heat temperature according to your needs.
Investing in this HoMedics foot massager will not only provide you an affordable piece of luxury but also help improve your lifestyle by enhancing health and keeping you tension-free all the time.
Being one of the leading brands, HoMedics brings out this advanced shiatsu foot massager for a great kneading experience at a great affordable price.
Stop your search for a classic foot massager as you have this sought-after heated massager to go for.
Just shop for the massager online at the Amazon store, where you can get it at amazing discounts.
12- Miko Deep-Kneading Shiatsu Foot Massager

Miko shiatsu foot massager is another ultra-sleek, light, and portable designed massaging device for home use.
You can use it while watching TV, working, reading, or anywhere else. You can easily slide it under your sofa or bed when not in use.
This Miko foot massager with heat and air pressure comes with 5 different pressure settings to target specific pressure points of the feet so that you get ultimate relaxation fast and easy.
It also comes with 2 independent foot chambers to provide wonderful massage to the bottom and sides of the feet.
While using 30 minutes a day for about a week, you can get faster relief from problems such as plantar fasciitis, muscle tension, tough knots, and other pains with this Miko 360 shiatsu massager.
Just make sure that you go through Miko foot massager instructions provided by the manufacturer before using it for the first time.
13- Human Touch Reflex-4" Foot And Calf Massager
Last but not least on our list is Human Touch Reflex 4 Foot and Calf Massager, which comes with patented figure 8 technology that surrounds your feet and calves completely to offer a great healing massage.
The highly effective massage session you enjoy with this Human Touch foot massager imitates the massage you get with the expert hands of a highly trained massage therapist, thereby helping you get maximum comfort and relaxation.
Reflex4 foot and calf massager comes with powerful rollers to massage your feet from the lower side, helping you relieve your soles and heels greatly.
Furthermore, the ergonomic design of this Human Touch Reflex 4 massager offers an enhanced tilt angle that matches the body's ergonomics completely so that you enjoy nothing but the most comfortable massage.
The device also features an easy-carry handle and non-skid floor protectors that ensure portability with comfortable, quiet operation.
14- Zeny® Shiatsu Foot Leg Massager Machine

Zeny Shiatsu Kneading and Rolling Foot Leg Massager is a great massaging device for you, which is designed ergonomically to provide ultimate relaxation to your foot soles and calf muscles.
The automatic 4 optional mode massage program allows you to choose from kneading, rolling and massaging to provide reflexology therapy effect to your organs. With 3 custom modes, this Zeny shiatsu foot massager press your foot arches, tiptoe, and foot sole with adaptable kneading speed.
With this Zeny electric foot massager, you can choose to manually press your needed areas with adaptable speed and two massaging directions. Care has to be taken that you never use this device with wet hands.
Furthermore, this foot and ankle massager from Zeny comes with a remote control to adjust and change the kneading massage speed in high, medium and low directions.
The Zeny foot and calf massager is easy to clean with dry cotton and is available in the color red. The machine weighs just 6Kgs and consumes 220V power.
Above all, Zeny foot massager comes with a complete detailed instruction manual which makes the device easy to use for all.
15- Naipo Shiatsu Foot Back And Neck Massager
Naipo shiatsu foot massager is another great device that can help you enjoy full body (neck, shoulders, back, hips, arms, legs, and feet) massage at home.
It features 8 deep-kneading Shiatsu massage nodes and 3 different intensity speeds (low, medium, and high) to provide a soothing experience to tired, tight muscles.
The built-in advanced heating function in this Naipo shiatsu foot massager helps to provide healing warmth to the muscles and ligaments, enhancing the blood circulation for faster pain relief. The massager is easy to clean, and it comes with a removable dust-proof bag.
Furthermore, this Naipo foot massager device is ergonomically designed to offer the best massage no matter where you are; you can use it in your home office or even in a car while traveling.
The auto shut down (in 20 minutes) functionality makes this electric foot massager safe to use for all ages.
Why Do Diabetics Need Foot Massagers?
If you suffer from diabetic peripheral neuropathy, or even if you don't but are worried that you might, the good news is that there are certain things you can do to help treat the condition and potentially even avoid it completely.
If you are diabetic, there's a chance that you may have experienced some pain and discomfort, especially in the feet. If this sounds familiar to you, it may be worthwhile looking into the possibility of investing in a foot massager.
These devices are specially designed to be used on the feet to help mimic the effects of a hands-on massage.
There are countless benefits associated with the best foot massager for diabetic neuropathy, especially if you happen to be type 2 diabetic.
A few of the more prominent benefits we are going to be looking at today include the following:
✅ Improved circulation –
One of the most important benefits associated with a foot massager for diabetics is the fact that using the device will help to significantly improve circulation.
Having good circulation in the feet, and in other parts of the body, is important for a wide range of different reasons.
Good circulation will help improve nerve health and function, it will help to warm the feet up, it will help to restore feelings and sensations in the lower extremities, and it will even help speed up wound healing in the event of the patient suffering a foot injury.
✅ Reduced pain and discomfort –
Another reason why so many diabetics are now utilizing foot massagers is that they experience huge reductions in pain and discomfort in the feet virtually right away.
Massage to the foot is ideal if you happen to be experiencing any levels of pain and discomfort in the feet, even if they're mild and barely noticeable at all.
Just one short massage session carried out between 3 and 5 times per week can significantly reduce the amount of pain that the individual in question experiences because of their condition.
✅ Reduced inflammation –
Inflammation in and around the feet is another cause of pain and numbness, and it can also often result in limited mobility as well.
Individuals with diabetic peripheral neuropathy often experience very limited levels of mobility and flexibility.
Foot massage helps to reduce painful inflammation in and around the feet, which in turn means that those affected gain back more mobility and flexibility.
Suddenly, moving the feet more than a few inches isn't a painful chore, which can only be a good thing.
✅ Improved mood –
Finally, although you may not realize it, a foot massager can also benefit you psychologically as well.
How?
Well, when you receive a foot massage from the device, your brain produces and secretes endorphins.
Endorphins are known as 'happy chemicals' because happiness is exactly how they make us feel. The more endorphins we produce, the happier we feel.
Not only that, but as you experience less foot pain, you will sleep better, improving your mood. Plus, you'll experience less pain each day anyways, and the benefits of that are plain and obvious.
Foot Massager Considerations when Buying
With the changing technology and requirements, a range of different foot massagers has sprouted all through the market.
Now, if you have already planned to buy a shiatsu foot massager, there are a few important factors you need to check before buying one.
✅ Your Requirement:
While all the shiatsu foot massagers are designed to promote relaxation and reduce the tension, some of them offer extra features to target certain areas of your feet/leg to ensure you get maximum comfort.
By investing a bit extra, you can get a unit that targets not only the pressure points under your feet but also the pressure points and muscles within the calf.
Also, there are devices that offer features like heating, kneading, rolling, etc.
You should check and invest in a device that provides you with all the features based on your particular requirement.
✅ Easy to use:
With technological advancements, foot massagers are now made automatic and not much complex to use as they used to be before.
These are often light in weight and come with easy-to-read buttons, switches, lights, automatic shut-off functionality, remote control, and much more, which makes them easy to use for all (including children and seniors).
When choosing the best foot massager, shiatsu care that you get maximum functionality along with portability so that you can carry them along to use wherever you want.
✅ Budget:
Based on the features you are getting, shiatsu foot massagers may cost anywhere from $10 to $300.
It is therefore important for you to carefully check your requirements and get the best machine that lies within your budget.
Care that you do not compromise with a low-quality cheap product as it can do more harm than good and can prove much more expensive in the long run.
✅ Reviews:
Checking the real customer reviews and testimonials is one of the best ways to know more about the effectiveness of the product and its durability.
Do not forget to check them out while buying a good foot massager machine online, as this is a long-term investment you are making for your good health and a better life.
Foot and Calf Massager Frequently Asked Questions #FAQs#
According to diabetes journals, massage is among the fastest-growing therapies that are benefiting a huge number of diabetics residing in the USA.
The fact is that massage therapy has been recommended and used for diabetes for about 100 years. It has been giving incredible benefits to the users in fixing the issues caused due to diabetes and pain in the foot.
Since the blood sugar or glucose levels are very high during diabetes, injections are often given to regulate the blood sugar level in the body.
When massage (hot stone massage, shiatsu, acupressure, etc.) is delivered at the injection sites, it helps in increasing the insulin absorption in the body, thereby managing the glucose levels and pain caused.
How To Give A Diabetic Foot Massage?
What Does Diabetic Foot Pain Feel Like?
In truth, we can't just give you one single answer here because we don't know. The reason we don't know is that pain is subjective, and different people experience different symptoms and different levels of pain and discomfort.
Some people suffering from peripheral neuropathy, for example, may only experience a very slight tingling and mild numbness in the feet. This, while slightly irritating, will generally not affect their overall quality of life.
Others, however, may experience a very intense shooting pain and burning sensation in the feet. Sometimes this may simply come and go sporadically, whereas, at other times, it may come about as the result of applying very slight pressure to the feet.
As we mentioned above, something as seemingly basic to most people as putting on a pair of socks, or getting into bed, can cause intense pain in the feet that some may even find unbearable.
Typically, however, a few common symptoms of diabetic peripheral neuropathy include:
Tingling in the feet
Numbness
Pins and needles
A dull ache
Limited mobility in the affected areas
A burning sensation
Intense pain that comes and goes
Intense pain and burning sensations when even the slightest amounts of pressure are applied to the feet
Does Fish Foot Massage Work for Diabetics?
Although fish foot massage (a pedicure spa treatment done by dozens of fishes like Garra rufa) is said to be an effective beauty treatment for many, it does not prove to be beneficial for diabetics.
Fishes that are employed to give your foot massage generally nibble/bite the dead skin from your feet and can provide you with cleaner and smoother-looking feet.
But for people suffering from conditions like diabetes or a suppressed immune system, getting this type of massage is not a good deal.
In fact, according to PETA (People for the Ethical Treatment of Animals), an American animal rights organization, there is a high risk of getting such kinds of massage at fish foot spas that are generally not hygienic and do not work for people's welfare.
With that said, the risk of getting the infection may be low at reputed spa centers, but it cannot be completely excluded.
Is Massage Good for Varicose Veins?
Studies reveal that although getting a massage helps in relieving swollen and inflamed muscles, it may not help to cure varicose veins completely.
Using a shiatsu foot and calf massager is therefore not much effective in treating the varicose veins. Instead, you should try getting alternative treatment options like sclerotherapy and laser therapy to get rid of varicose veins.
Can I Use Foot Massager for Back Pain?
Your foot massager may help relieve the back pain depending upon the functionality it comes with and the location of pain you are using it for.
Certain foot massagers are designed to benefit only the foot area and are ineffective for your low back pain.
However, there are many that come with extra features and are designed to relieve tension in calf muscles. These can also help in reducing the lower back pain and sciatica pain.
Foot Massager during Pregnancy: Is It Safe?
A swollen foot is a common problem for pregnant women. The weakness and edema pain can be severe in the legs, ankle, and feet if pregnant women also suffer from diabetes or peripheral neuropathy.
Although a foot massager can provide great relief and relaxation to the swollen feet of a pregnant woman, it is always safe to use this kind of device after consulting your doctor.
Many times, due to the electric current and intensity used in these massagers, it is not recommended to use shiatsu massagers for pregnant women.
However, if you want to get the healing benefits of the massage at home (without attending spa sessions), you can contact your obstetrician to check whether she recommends a massager for you or not.
According to a few doctors and gynecologists, a soft & gentle foot massage is safe for pregnancy; however, using a massager machine may not always be the safest idea.
Similarly, if you suffer from other health conditions or use a pacemaker, you need to check with your doctor to confirm whether you can use an electric foot massager safely or not.
Based on your condition and overlaying symptoms, your doctor may suggest you use these machines or not.
What Are Foot Massage Slippers? Does It Work?
Foot massage slippers, better known as acupressure slippers, are special footwear that massages the foot whenever you wear them.
These slippers, unlike ordinary footwear, have holistic healing benefits and can help to treat stress, and restless leg syndrome, reduce pains, cure insomnia, and a host of other health benefits.
The working principle of natural foot massaging slippers is based on an ancient Chinese therapy – Acupressure – that works to restore the life force in the body.
The Chinese believe that positive energy flows in our body for our well-being, and so they use nerve pressure points to stimulate the flow of this positive energy.
Medically, the foot is the nerve endings of numerous nerve that connects different organs and parts of the body to one another.
It is also the part of the body that bears the entire body weight and, consequently, one of the most worked body parts.
Taking care of the feet daily with massage to stimulate blood flow to them as well as the various nerve endings will go a long way to improve our overall well-being and help in the reduction of stress.
Since it might not be feasible for you to sit daily to massage your foot for the extended period necessary for achieving all the above-listed benefits of foot massage, you might want to consider investing in a foot massage slipper.
A good foot massage slipper (like an IQ massage slipper or an acupressure massage slipper with natural stone) automatically massages your foot when you wear them.
No additional effort is needed on your part to maximize the benefit of the slipper.
What Are the Disadvantages of Using Shiatsu Foot Massager?
Although the shiatsu foot massager offers ultimate relaxation without any side effects or risks, complications- if any experienced- it is good to contact your doctor as soon as possible.
Especially if you are suffering from a certain health condition, it is best to check with your doctor or the manufacturers' precautions and warnings before trying these massagers.
They can help you know whether the device you want to use is appropriate for your condition or not.
Like they say, getting too much good can become bad; it is good to limit the time of usage so that your body do not get addicted to it.
Especially if you are using an electric foot massager, it is good to use it only for a few minutes in a day or two to relieve your condition.
The higher price of shiatsu foot massagers is also a disadvantage for many, as they need to pay extra for getting extra features.
However, compared to the real foot masseurs and spa centers, it can really help you save food money, especially when you want to get the benefits of Shiatsu quite often.
Diabetic Foot Pain Treatment: What are Few Other Options?
If you are diabetic and suffer from foot pain, a foot massager is a great investment. However, these devices can only do so much. A few other treatment options include:
Gentle exercise
Reduce stress levels
Regulate blood sugar levels
Consider over-the-counter pain relief
Stop smoking as smoking reduces circulation
Increase vitamin B and D intakes as these promote nerve health
Consider using orthotics for diabetics or diabetic shoe inserts with your footwear
Overall, investing in a good foot massaging device can offer great relief to your diabetic feet.
You should definitely try it in addition to other important medications and treatment options recommended by your doctor.
Incoming search terms:
foot massagers for neuropathy
best foot massager for diabetics
diabetic foot massagers for neuropathy