Have you recently been through an accident and require to give your legs complete rest and support? Then in such case you can rely on ankle braces or support equipment that will let you continue stand straight and complete your daily activities effectively.
But what if you require to have a device which can help you in leveling your opposite foot or leg (which is injured and packed) so that you walk straight.
The brand new Evenup shoe leveling device is bit different than any other normal braces or wraps as it will help you in providing the perfect support on your leg without feeling the pain and tension that was caused due to the recent ankle surgery or fracture you have been through.
Evenup shoe lift orthotic is the recent addition of foot support from ProCare and is focused towards providing you with the perfect support and leveling that could ever be possible.
The brand new Procare Evenup Shoe Balancer comes with an innovative design that can easily match your height and needs. You just need to buckle it up to the opposite leg. The adjustable option in the Evenup shoe balancer will give you an option to conveniently balance your shoe level to various heights.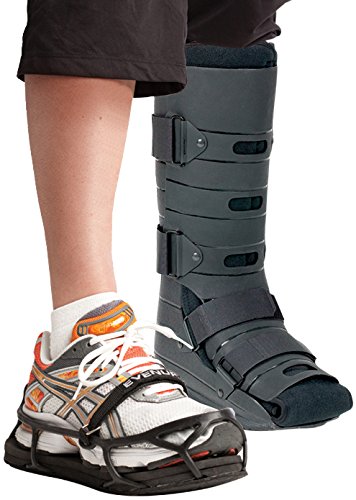 Your broken ankle can be perfectly supported to two different heights by using the ProCare Evenup balancer. You can either use two layers so as to add up a height level at ¾" or a single layer that will add up to ½" to your existing levels.
This added extra layer using ProCare balancer will help to bring in a proper alignment to your body. This will also help reduce any kind of strain on your body that is caused due to strain due to ankle surgery or unnatural gait.
There is a rubber strap that is attached to the evenup shoe leveler that will help you adjust the balancer according to your convenience. The adjusted ProCare shoe balancer will help you hold the supporter without any extra effort or making you feel inhibited about using a shoe balancer.
This Evenup shoe leveling device contains an inner layer of support providing you with a comfortable walk. This provides a soft cushion like support for your leg.
Yet another added advantage of using the ProCare shoe balancer is its universal property. ProCare evenup shoe lift is designed brilliantly so as to ensure that you don't end up buying two different kinds of supporters as it can easily fit into either left or right leg.
What Are The Benefits offered By Procare Shoe Balancer?
In a nutshell, ProCare shoe balancer offers you with the following benefits:
Innovative design making it attractive
Best for leveling your leg for easy walking
The adjustable strap makes it easier to use
Reduces strain caused due to ankle surgery
Universal property makes it fit into both legs
Excellent foot support making your healing and treatment phase easier
The ProCare Evenup shoe lift orthotic replaces all the traditional methods of shoe leveling options which may not work so great. An added advantage that shoe balancer offers you is its product life cycle.
With this shoe balancer you get an opportunity to balance your opposite leg which is placed into a walking cast or a walker boot. With this you get an exact relief to:
Hip pain
Ankle pain
Back pain
This high quality product is developed by keeping all the standards of production. This makes the product earn greater repeated usage instead of replacing the same after your first use. Simply saying, you can use this shoe balancer for your life time or can give it to somebody who is in need in future.
Why ProCare Show Balancer is Highly Recommended?
Many doctors and physiotherapy experts have now realized the importance of evenup shoe balancer walker system and recommends ProCare as the best shoe balancer in the market. This shoe balancer provides you with ultimate relief to any kind of tension and pain in your body that is the result of an injury or ankle surgery you have endured.
This is an ideal gift that could ever be given to someone who is in pain due to ankle surgery or a fracture. It is of great help if you gift them anything that will sure relieve them from their pain.
A pack of ProCare Evenup shoe balancer comes with a brand new unused kit of shoe balancer and a user manual that will help you with suggestions about usage of the product.
So, in case you or any of your family members has been through ankle surgery and require an additional support, then their best partner is ProCare shoe balancer. You can trust it for all of its features and its innovative feature that makes the equipment your best value for money.