*This page may contain affiliate links. When you buy through these links, we may earn a small commission at no extra cost to you.
For many of us, the feet are arguably the most important limbs in the human body. We use our feet to get from A to B, and some of us need them a great deal more than others.
When it comes to exercise and physical exertion, because the feet, and indeed the ankles, take such vast amounts of punishment, this can sometimes cause them to become damaged.
Pain in the feet and/or ankles can be excruciating in some cases and will need rectifying as soon as possible. Finding a solution to foot and/or ankle pain, however, is not as simple as you may have thought.
Generally speaking, experts recommend heat or ice if you pick up an injury or experience pain and discomfort.
Heating pads for feet and ankle pain are relatively simple yet incredibly effective, which is why we're going to learn more about them in today's article.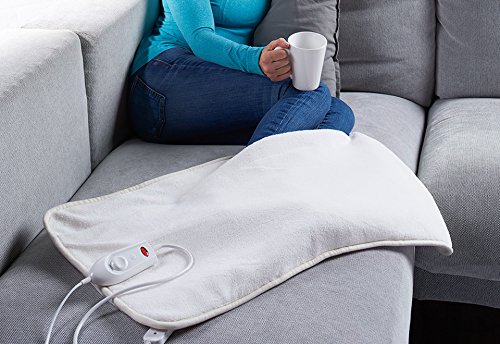 Benefits of Using Heating Pads For Ankle Pain
By now, you've probably figured out that we have a lot of great things to say about heating pads for ankle pain and foot pain, but just what are the key advantages that these pads can provide?
Typical examples of heating pad benefits include the following:
1- Simple to use –
A heating pad could not be easier to use.
Simply heat the pad up (this will depend on what type of pad you are choosing to use) apply it to the foot/ankle and sit back and relax.
Not only are they easy to use, but they are also very relaxing as the warmth feels very pleasant on the skin, especially in cooler parts of the year.
2- Improved circulation –
Improved blood circulation in your feet helps remove unwanted toxins in your body cells.
This will certainly help improve the nutrient flow to these cells, which ultimately helps in reliving the pain and swelling in the feet.
Studies show that giving a good heat massage can help improve the blood circulation in the feet and thus helps in overcoming many problems such as varicose veins, edema, and other similar old age problems.
3- Reduce muscle spasms –
If you happen to be experiencing muscle spasms in and around the affected area, this will undoubtedly cause you a great deal of pain and discomfort.
Applying a heating pad to the foot, ankle, or surrounding areas is a great way of preventing and reducing muscle spasms, thereby helping to alleviate your pain.
The heat helps the muscles to relax, which in turn prevents the spasms from occurring there and then. Fewer/no spasms mean less pain and discomfort for you.
4- Reduced inflammation and pain –
Inflammation is a natural response in the body, but too much of it can be extremely detrimental to your health and well-being.
Inflammation is also one of the leading causes of ankle pain, so the more you can reduce it, the less pain you will experience.
Heat pads have been proven time and time again to significantly reduce inflammation, which in turn means that they help to reduce pain and discomfort.
If your foot pain or ankle pain is caused by an injury, there will likely be a lot of inflammation to deal with.
Filled with a variety of materials such as buckwheat, rice, flax seeds, etc these wraps can be utilized to help soothe tired muscles along with all the inflammation.
10 Best Heating Pads for Feet and Ankle Pain
Heating pads for ankle and foot aches come in various sizes and designs.
To make it easier for you, we have reviewed some of the top options that are the best selling in the market.
You can choose one of these electric foot massagers that suits your requirements best.
1- Sunbeam Heating Pad King Size
Sunbeam Heating Pad is one of the best electric heating pads for sore ankles and feet that you will love to use.
It features an easy-to-operate digital LED controller so you can conveniently switch between 6 personalized heat settings for faster healing of your aches.
Its XpressHeat technology heats up the pad in just 30 seconds, which is 3 times faster than any other ordinary pad. Its auto-shutoff feature helps to operate the pad safely without worrying about energy wastage or excessive heating.
Sunbeam XPressHeat heating pad
offers a machine-washable fabric pad in luxurious microplush so that you are provided with the maximum comfort, you are desiring.
The best thing about the pad is its King-size design which measures 12″ x 24″.
You can enjoy great muscle relief on body parts like legs, feet, spine, shoulders, etc. Furthermore, its extra-long 9-foot power cord enables you to use it conveniently wherever you want.
Above all, to make your purchase safe, it comes with 5 years of warranty. This can simply serve you for years to come.
2- PROALLER Heating Pad
PROALLER heating pad is another great option when it comes to choosing an electric heating pad for painful legs.
Not only does it provide warmth and pain relief to cold feet, but also it is helpful in conditions like arthritis, spinal pain, cervical pain, abdominal pain, shoulders, and arms pain, etc.
Proaller foot warmer heating pad
offers 3 heat settings so that you can enjoy the maximum comfort as per your desire wherever you want – you can use it on your bed while laying on Longue or while working in your office.
This electric heated foot warmer features an extra-large design (22-Inch wide and 21-Inch deep) which is large enough to share the pad with your loved one. It also includes a 15-inch cover with ultra-plush fabric that will help protect your shins from cold air.
This ultra-soft flannel heat therapy wrap also comes with 10 feet extra-long cord for easy use and a 2-hour auto-off to save energy and prevent excessive heating.
Above all, it comes with 90 days warranty and ETL Certification, so you need not worry about your purchase anymore.
3- Serta Heating Pad
Serta heating pad is made up of luxurious ultra-plush fleece fabric and a soft fiberfill center that offers the best durability and maximum comfort to tired feet.
This electric heated warming pad for feet, back, waist, and abdomen feature an easy-to-use programmable warming controller with four different settings to adjust the desiring heat level.
Serta electric heating pad
also comes with automatic preheat function and 4 hour auto-off function for best safety.
This heated electric warming product is easy to care for and machine washable. Furthermore, it comes with a proper warranty for the best customer satisfaction.
4- GENIANI Heating Pad
GENIANI Heating Pad comes with ultra-fast heat technology to provide you the faster relief from painful muscles in the back, legs, neck, and shoulders.
Depending on your requirement, you can choose the low, medium, or high temperature for heating therapy.
This XL Moist and Dry Electric Heating Pad make use of soft and flexible microplush fibers so that you can feel most comfortable while using the pad daily.
Just using it for a few minutes will make you forget about all your body pains so that you feel fresh and enjoy yourself with your family after a hectic day.
Above all, to make your purchase risk-free, GENIANI offers 5 years warranty on their products.
5- Carex Bed Buddy Warming Footies
Carex Bed Buddy Warming Footies comes with a microwaveable insert and soft, warm fleece that offers maximum comfort and warmth to your toes and feet.
You can simply slip your feet into these warm, soft booties to get pain relief instantly.
It is made up of 100% Polyester, and its moist heat therapy helps to manage chronic foot pain, arthritis pain, joint pain, and tight muscles easily.
If you are suffering from stiffness or sore muscles in the feet, you can use these bed buddy foot warmers in bed the whole night to enjoy a better night's sleep without any pain.
Carex Health has been a leading manufacturer of self-care medical products for over 30 years.
You can, therefore, use their heating pads and warming footies safely for relieving sprains, muscle strain, headaches, PMS or PMDD, chronic pain, etc.
You can even use it for recovering from surgery or illness or just for feeling warm and cozy.
Although the product is safe and easy to use, you are advised to check the heating instructions and microwave heating times before using it for the very first time.
6- Sable Auto Shut Off Heating Pad
Sable offers XXXL Pad with moist heat that is good for relieving painful back, legs, and other body parts.
The moist heat therapy is less dehydrating to the skin and allows the heat to absorb better and relieve pain faster.
The Sable heating pad for legs and back features a heavenly soft microfiber and thick, comfortable hypoallergenic microplush along with heating wire so that you are provided with uniform heating on all the body parts easily.
This FDA-registered heating pad heats up fast within seconds and comes with 10 electric temperature setting modes to enjoy maximum comfort as per your desire and need.
This heating pad also allows you to set a timer (from 10 to 90 minutes) to turn off automatically after the selected period for added safety.
Its intelligent temperature control stops heating the pad after it reaches the set temperature, making it safer to use at night. The pad restarts automatically as the temperature lowers.
7- Pure Relief XXL Heating Pad
PureRelief heating pad is another great heating wrap for legs, feet, and ankles that you can use for pain relief, warmth and comfort.
The pad comes with a moist heat therapy option to provide deeper penetration, and it heats up quickly to provide you instant relief from aching muscles.
This Pure Enrichment heating pad comes in an extra-wide 20" X 24" design to provide you maximum coverage for the lower back, legs, shoulders, and other large muscle groups in your body.
Its super soft, gentle, machine-washable microplush feels so comforting that you can use it even on bare skin.
Wrapping around painful areas for about 20 minutes daily can help increase blood flow so that you get easily relieved from conditions such as arthritic pain, muscle ache, and stiff joints.
Above all, this XXL heating pad comes with a controller, storage bag, user manual, and 5 Year Warranty that enables you to use it with peace of mind.
8- Sunbeam Heated Mattress Pad
Sunbeam Comfy Toes Heated Foot Warming Mattress Pad is one of the best options for those who want to enjoy the warmth at night while sleeping on their bed.
This foot warming mattress pad comes with 3 heat settings, and it fits on the end of your bed to provide your cold feet the warmth it needs.
Its 3-hour auto-off function comes for peace of mind so that you can get the heat without any risk of getting the pad overheated.
It also features a PrimeStyle Controller with ThermoFine technology to deliver the most comforting and consistent heat throughout the night. The heat delivered is auto-adjusted based on room and body temperature.
This Sunbeam mattress heating pad is super-soft and cozy as it is made up of machine-washable, dryer-safe 100% polyester.
Above all, its 3-year limited warranty makes your purchase completely risk-free so that you can enjoy the warmth without worrying about its quality.
9- Vive Heating Pad
Heating Pad by Vive is another great option to provide targeted relief to your sore, aching muscles.
Its consistent and soothing heat therapy and optimum size work well to deliver the best relief from a painful back, abdomen, hip, legs, period menstrual cramps, and more.
This large-sized heating pad is flexible enough and contours to the body so that you can get concentrated pain relief fast.
It also features four moist or dry heat settings and easy to uses a digital controller for enjoying personalized comfort whenever you need it.
A two-hour automatic shutoff feature is also provided with the pad to prevent overheating.
This Vive heating pad for legs and feet comes with an ultra-soft micro plush cover with two snap closures and two integrated straps so that the heating pad does not slide or slip while using.
Furthermore, its extra-long power cord and storage bag make it convenient to use anywhere and store when not in use.
You can purchase this heating pad for ankles with full confidence as it comes with 2 years of guarantee from the manufacturer.
10- UTK Far Infrared Heating Pad

UTK Infrared Heating Pad uses natural jade stone material for heating to deliver much more effective, deeper, and long-lasting heat therapy to users suffering from different types of body pains.
UTK is specialized in the infrared therapy industry. Its Far Infrared Natural Jade Heating Pad provides the negative ions and heating with low EMF, which is more effective than the traditional electric warming pads.
UTK Far Infrared Heating Pad
is FDA registered and is therefore completely safe for home use.
It also comes with a travel bag for easy carry and a 1-year warranty to ensure that you purchase the product with full confidence.
Types Of Heating Pads for Pain
First up, if we assume that you have picked up some form of foot or ankle injury, or if you are experiencing any pain or discomfort in these areas, you'll want a solution and you'll want it quickly.
When most people suffer an injury, one of the first things they will do is reach for painkillers. Painkillers, however, do not address what is causing the pain, they simply mask it.
This means that once they wear off, the pain is still there, and the cycle repeats itself. These drugs are also bad for us, especially when consumed in vast quantities.
Heating pads applied directly to the affected area, however, can work wonders. Heating pads come in all shapes and sizes, and there are many different types available to choose from.
Used to reduce pain and alleviate swelling, heating pads are very simple to use yet incredibly effective.
With many heating pads ready to use in a matter of seconds, it's easy to see why so many physically active individuals have plenty in stock at their homes.
Here's a look at some of the more typical types of heating pads that you will likely find.
1- Electrical heating pads –
Ah, where would we be without the invention of electricity?
The answer to that is probably somewhere dark and gloomy. Not only would it be dark and gloomy, but it would also likely be cold.
An electrical heating pad could prove very useful if you experience pain or discomfort in any part of your anatomy.
These pads come in various sizes, and the size you opt for will depend on where your pain is.
As it's the foot and ankle that we're focussing on today, we'll stick with small-sized ones. Typically, these infrared heating pads are attached to an electrical cord, which plugs directly into the mains.
These are probably the most basic types of a heating pad, but don't let that put you off, as they do the job they are meant to do.
They have an outer layer made from a non-flammable material, while the inside is made up of an electrical coil that heats up when the power is switched on.
You simply wrap the pad around your foot, switch it on, sit back and let the heat do its magic.
Many can even be controlled by remote. You must remember to switch it off and unplug it from the mains when you are finished with it.
2- Microwavable heating pads –
Microwavable heating pads are also very simple to use, they're usually cost-effective, and they're very efficient if you're on the go or are not close to an electrical outlet.
Microwavable heating pads
are normally made with a non-flammable material and are filled with grains such as wheat or barley.
The pads are then placed into the microwave and heated up for a minute or two.
Once heated, the grains hold their heat for well over an hour, meaning that you simply take the pad out of the microwave, apply it to your foot or ankle, and sit back and relax.
The grains can sometimes have an unpleasant, slightly fusty smell, which is why some manufacturers add essential oils such as lavender, which release a calming and relaxing scent as they are heated.
3- Chemical heating pads –
Hoorah for science. Without science, who knows where we'd be, or if we'd be here at all. Science has resulted in the discovery of many things, including the discovery of exothermic chemical reactions.
Chemical heating pads are fantastic for camping trips, for use during outdoor sports and activities, or for times when there is no electricity or appliances on standby.
These pads normally contain a chemical such as sodium acetate, which reacts with a piece of metal when pressure is applied to the pad.
During this reaction, heat is produced via a crystallization process, which will stay warm for over an hour.
Best of all is that you can reuse these chemical heating pads by simply dropping them in boiling water, as the process repeats all over again.
4- Flax Seed Heating Pads –
Using Flaxseeds in your heated feet wrap offers you a great many benefits. Some of these include:
These wraps never give a cooked grain smell when heated again and again
It offers gentle, moist heat that delivers instant healing and comfort to the painful parts
Flax seeds contain natural oils that are capable of holding heat longer than any other filters, such as herbs, corn, or rice.
Instead of grain, flax seeds include flower seeds, containing 30-40% oil that stays inside the seed to provide you instant warmth every time you use the wrap
Flaxseed heating wrap and warmer can be bought for personal use or can be given as a perfect gift to people who often suffer from feet, neck, back, and shoulder pain.
A flaxseed microwave heating pad can also be made easily at home with easy to follow flaxseed wrap pattern. You can buy bulk flaxseed online and can make it in a DIY way.
However, if you are not among the DIYers who love making things at home, you can buy these ready-to-use flaxseed pads and warming bags online.
Few Other Types of Electric Foot Warmers
1- Bed Foot Warmer
Often people get foot and leg cramps in the mid of the night; well, an electric bed foot warmer is your one-stop remedy for this.
It wipes out the problem forever, and you will certainly not have to get out of the bed to stretch your legs and feet to make the cramping stop.
Those days had long gone when people used to put on socks or use a heating pad which is very small to work efficiently.
Today, you have a wide range of any kind of bed foot warmers available in a variety of sizes and even as big as a twin-size bed.
The bed foot warmer is best used by putting it on timer control as it is not suggested to keep it on for the whole night.
The period for which you set it depends on your personal preference, but you can set it for an hour before going to sleep so that it may go off till your bedtime.
The bed foot warmer makes your bed covers warm so that your cold feet can feel the warmth when you go inside.
You can regulate the thermostat of the bed warmer to low as it keeps a check on the electricity bill.
2- Heated socks
There are several people who go for heated socks rather than wearing normal ones because of the warmth they offer.
Some of the socks are rechargeable and run by Lithium battery packs which can be recharged. You can also wear it on your belt or in your pocket.
So, now you no longer have to worry about wearing socks that may sag due to the weight of the battery.
The power of Lithium batteries lasts longer, and as they are rechargeable, you don't have to spend anything extra on replacing the batteries.
This is yet another reason why people choose electric socks.
There are several other kinds of electric socks which are majorly made to be worn indoors as they are plugged into the wall outlets.
Though they don't offer the freedom you get with other kinds of heated socks, they come in very handy and can be worn when working at the desk, watching TV, reading, or doing any other indoor activity, which doesn't require a lot of movement.
So, for indoor stays, they are preferable.
3- Heated Slippers
As per its name, they are heated footwear that makes use of state-of-the-art technology to produce heat and keep you warm during cold climates.
There are several technologies used to heat the warmers like battery-charged slippers etc.
4- Electric Heated Floor Mat Warmer
It is an electronically heated floor mat crafted to radiate your body heat and eventually keep you warm even at low temperatures.
The moment you put your cold feet on the heated mat warmer, it performs the task quickly of containing the heat at your feet and then radiating it to your other body parts.
The device takes up electricity the same as a small light bulb and usually heats itself to 130 degrees in just 4-5 minutes to perform the task.
5- Leg and foot electric heating panel
These have become extremely famous electronic foot warmers available in compact heating panels to be mounted below your work desk.
It is made especially for leg and foot heating comfort as it radiates your leg and feet warmth during harsh and chilly winters.
The leg and foot electric heating panel is recommended for managers and executives working on the desk in their office or in the house.
Important Factors To Consider When Buying

Finally, before we leave you to go and address your ankle issues, we'll leave you with a few things to consider before you commit to buying a heating pad for ankle pain.
These include, but are not limited to:
Price and budget
The nature of the pain/injury
Where do you plan on using the heating pad (i.e., indoors or outdoors)
Which type of heating pad seems most appropriate to your situation
In addition to all the above, factors such as consumer reviews, the model, the manufacturer of the heating pad, and the warranty they offer are also important to check before you pick a heating wrap for your feet.
No matter what product you choose for warming your feet and ankles, it is important to note that you should not use them if you have been suffering from a medical condition such as diabetes, thrombosis, or post-surgery.
Also, if you are pregnant or have any kind of mechanical inserts in any parts of your body it is important that you consult with your doctor before you use any of these foot warmers or massagers.
Ice Or Heat – What To Use For Foot Pain Relief?
If you suffer an injury or experience pain, 99% of the time, it can be treated with either: heat or ice. So, which do you use?
Well, that depends on several factors. Here's a look at the differences between heat and ice therapy for foot pain.
Ice –
There's obviously a lot more science to it than what we're about to look at, but here are the basics: Ice is best for use on injuries. Not only that, ice is best for use on fresh injuries.
If you suffer ligament damage in the foot or ankle or any other type of tissue damage for that matter, ice should be applied to the injury as quickly as possible.
The ice helps to alleviate and reduce inflammation, which is one of the main reasons why we experience pain when picking up an injury.
You see, many over-the-counter pain medications provide anti-inflammatory benefits, which is how they help to alleviate the pain. Ice has the same effect, with the added bonus of providing no dangerous side effects.
Heat –
Heat, however, which is what we're focussing on today, is for chronic pain and muscular aches.
Low-level heat pads are fantastic for helping to alleviate pain and discomfort in and around the feet and ankles.
Heat also helps to reduce swelling and inflammation, which means that it too can help to dull pain in the affected area.
The two methods are very effective, which is why some experts recommend alternating between hot and cold therapy for maximum results.
Incoming search terms:
heating pad for feet
heating pads for ankles
best heating pad for ankle