Leg injuries, fractures, and ankle sprains are nothing new for athletes. The most depressing part is that it restricts movements making the person immobile for days or even for weeks.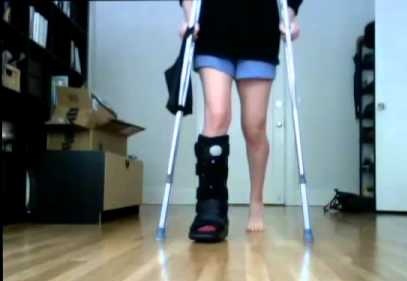 The best way to heal your leg injuries, sprains, or fracture problems is to let them heal under the doctor's prescribed way, which includes wearing "Walking Boots."
Well, hearing about medical walking boots may surprise you a bit.
But to let you know, these are specifically designed Pneumatic walking boots that are meant to cure orthopedic foot and ankle problems effectively and faster.
Types
Walking boots for ankle support are basically of two types:
Tall air cast boot
Short air cast boot
Depending on your foot condition, injury, and your height, a podiatrist can recommend between these two types.
Tall ankle boots are generally advised to wear when your ankle gets sprained. However, short boots are generally recommended for ankle or foot injuries.
Benefits
Medical walking boots (also called cast boots, Aircast boot, cam walker boot, walking cast, or fracture boots) not only benefit conditions like an ankle sprain and fracture but also help in relieving problems such as:
Heel Pain,
Stress Fracture,
Foot Fracture
Toe Fracture
Tendonitis
Ball of Foot Pain
Metatarsal Stress Fracture
Pneumatic Vs. Non-Pneumatic Walking Boot
Often there arises a lot of confusion when it comes to choosing between pneumatic walking boots and non-pneumatic boots (or normal boots).
As many people still have no good idea of the difference, they end up buying the wrong type of walking boot for ankle support, sprain, or foot injury.
Hence, to help you figure out the best, we are taking this little in detail before you go and buy the one.
Pneumatic walking boots use air to support, which applies compression to one's ankle/feet.
The support and compression can be adjusted through a simple operational knob, and the air chambers of the pneumatic boots automatically get adjusted as per the user's requirements providing them the necessary rigid support.
The pneumatic walking boot comes equipped with several orthopedic healing features that let the user heal their leg injury in a very careful manner.
The primary feature allows the user to inflate the liner within the boot offering an additional compression to the ankle or in the lower part of the leg or foot.
This feature works well for post-surgery individuals, as it controls the inflammation and reduces the pain while improving the recovery time.
The pneumatic walking boots are highly recommended for:
Sprained ankles
Pressure sores
Broken foot
Foot fracture
Post-surgery leg injuries
Toe fractures
Metatarsal stress fracture
Non-pneumatic boots are very much similar to the foot cast we see users wearing. These are sturdy boots made for optimal comfort and support to various leg injuries.
These boots stretch underneath your kneecap, reducing the pain and protecting the foot for enhanced rehabilitation.
These come with a rounded sole that accommodates your natural gait pattern offering greater maneuverability.
The shock pad absorbs over 60% of the force from your heel, and it well manages the swelling. Also, it comes with an adjustable strapping for different size accommodations.
These boots are widely used and recommended for curing:
Tension fractures
Foot sprains
Soft tissue injuries
Post-operative surgery
Stable fractures
The non-pneumatic boots (also known as "CAM Walkers") are available in 2 categories – Hi-top walkers and Low-top walkers.
Depending on the kind of injury, sprain physicians, as well as the orthopedic surgeon, do recommend wearing these.
In most cases, physicians recommend Pneumatic walking boots (rather than Non-Pneumatic) as these are more functional and keep you off from walking dependency, offering better and quick healing.
Walking Boot Vs. Cast: Which Is Better For Broken Ankle?
Doctors suggest that minor ankle injuries (and even minor fractures) can be easily treated simply with a period of immobilization, which can be achieved by wearing walking boots or a cast.
However, when it comes to choosing between a cast vs a boot for a broken foot, you should be a bit practical.
Although walking boots and cast may seem to be similar, depending on what kind of broken ankle bone you have, your orthopedic would recommend wearing them differently in different conditions.
A walking boot is most of the time recommended for injured feet/ankles to provide a certain amount of stability and immobility.
Whereas a walking cast (also known as a plaster cast) is used to cure simple foot fractures as these tend to be more rigid.
The cast is typically a padded lining offering protection to the affected ankle.
However, when compared to walking boots, the casting doesn't offer easy mobility (which is actually a key part of repairing a broken ankle).
While buying one, you can now find walking boots and cast with unique features.
Going from cast to walking boot, you can have controlled compression (which can be either soft or stiff) depending on the prescribed recommendation from a doctor.
The controlled compression feature of these boots helps in healing the bone correctly at a faster pace.
The primary aim of the walking cast differs depending on the medical condition, but what is most important is the healing post-operatively or to avoid surgery.
10 Best Medical Walking Boot for Ankle Support, Sprain, and Fracture
As there are a huge variety and brands of medical walking boots available on the market, it often becomes confusing to choose the best one for your condition.
Below are the ten best walking boots for an ankle sprain that you can check. Hopefully, these reviews will help you in buying your best walking partner.
1- Aircast SP (Short Pneumatic) Walker Brace / Walking Boot
This Aircast walker brace or walking boot comes to your aid while you are recovering from an injury. This is specifically designed to provide support, mobility, and protection to your foot and ankle.
This helps in your day-to-day activities and is intended to cure fractures or sprains on your ankle and foot.
While you can use it as a recovery option, this shall help you with recovering from soft tissue injuries, forefoot or midfoot injuries, and also post-operative use.
The sole is a low rocker that does not add up any additional weight to your leg. It is light in weight and improves your mobility without adding any pressure on your leg.
This pneumatic walker walking boot is light in weight and can be trimmed based on your leg size and offer complete protection.
This Aircast walker brace or a walking boot for gout can be worn either on your right leg or left leg.
2- Aircast AirSelect Standard Walker Brace / Walking Boot
Additional layers of support limb that shall provide you with full shell protection, helping with complete protection post your injury or surgery.
The soft strike technology used in this walker brace helps in absorbing pressure and dissipating shock that could initiate on your leg while walking.
This walker brace is lab tested and provides you with a natural gait that helps in absorbing compression and reduction of pressure on your leg.
You can wear this walker brace either on your right or left leg.
The beneficial part of this Aircast Airselect walker brace or walking boot is that it has an open frame with proper ventilation support along with rubber traction.
This Aircast walking boot is also skid resistant that shall help you with complete support and layer of protection required for you to recover while you are injured or suffer from any sprain.
This can be worn by yourself and provide you with easy cleaning and maintenance options.
3- Mars Wellness Premium Short Air Cam Walker for Fracture Ankle
This Mars wellness short air cam walker fracture ankle or foot stabilizer boot comes with a soft base and sturdy support, provided with a better and easy option for recovery while you are injured.
This air cam walker boot is an ideal support system helping you to recover after a surgery, injury, or strain on your legs.
You can also use this lightweight walking boot for ankle fractures for grade 2 and 3 sprains, helping you increase stability and reduce compression on your leg.
There is a comfortable foot liner with a hook and strap along on this boot that you can use to adjust for better support and easy fit.
This adjustment of the strap and hook helps in reducing the compression of your leg and makes you rest your leg without causing pressure on your injury or sprain.
4- BraceAbility Short Broken Toe Boot for Fracture and Foot Injuries
This BraceAbility broken toe boot helps you with fracture recovery and is ideal protection after foot and ankle injuries.
Before buying this walking boot for a broken toe, you can go and check the website for the size chart. This is an ideal option when you do not want to adjust the strap and hook or go through discomfort.
You can wear this BraceAbility walking boot on your right or left foot while ensuring you recover from your injury at ease. Men's shoe is available in size 8.5-10.5, while women can choose from 9.5-11.5.
This walking boot for the broken ankle is clinically proven, and lab tested to protect you from the broken or injured toe, reduce stress on the foot help you with walking support post your leg injury or surgery.
There is a comfortable liner on the base for better support and foam grip that helps in immobilizing your foot and is still able to make you walk.
The Velcro straps help you with customizing the strap according to your leg size without experiencing any walking boot discomfort.
5- United Surgical Short Air Cam Walker Fracture Boot
If you want to keep pace with your daily activities even after a leg injury or surgery, then this united surgical short air cam can be of great help to you.
Wearing this leg boot strap can help you with continuing your daily activities at ease.
You can use this bootstrap for a variety of leg injuries like an ankle sprain, injury on soft tissues, and surgery on the knee or ankle fracture.
Wearing this cam walking boot shall help you to mobilize your movement, thereby helping you with the easy and better post-recovery syndrome.
The boot has a better shock-absorbing technique ensuring that your movement is easy while adding comfort and better design.
This uniquely designed brace is light in weight with a better and more comfortable cushioned base.
It is an ideal and completely designed walking brace that will help you carry on doing your daily activities easily and comfortably.
6- United Surgical Air Cam Walker Fracture Boot Medium
This tall boot walker cum brace has a tall boot that is typically recommended by the physician that is ideal for injury or fracture on the ankle or lower leg.
This kind of walking boot
provides you with an additional layer of support that can help you with better mobility and increased walking support, especially when you are down after surgery.
Based on a recommendation from your physician, you can either choose for tall or medium-sized boot. While choosing an ideal size for you, make sure that you also consider your calf muscle size.
This shall help you choose an ideal model, and you do not need to make many adjustments to the strap and hook.
This cam walker boot is the best value for your money. It comprises four layers of foam pads that give you ideal comfort and hold your leg comfortably.
7- United Surgical Air Cam Walker Fracture Boot Large
This united surgical air cam walker with sizing instructions is flat and makes you comfortable while taking each step.
You can feel it natural bracing your leg to provide you with support and mobility that is required after your surgery or leg injury.
There is a sizing chart available with each model based on size, dimension, and comfort that you can choose.
The material of this United Surgical walker boot is made using natural foam and gives you the support required while you take every step.
There are multi-layer airlock and ventilation system that helps with naturally inflating air circulation on all sides.
It is plastic molded with an additional layer of steel enforced for better stability and durability. This boot brace is light in weight ensuring there is no additional pressure created on your leg while you try to walk.
8- Walking Boot and Durable Foot Cast By Vive w/ Adjustable Straps
Lightweight shoe with adjustable straps – that's the best about walking boot by Vive. It is durable and gives you a run for your money.
You can easily wear this light weight adjustable walking boot on either right or left leg.
There are three adjustable straps that allow you for better walking support as compared to bandages or casts. This post-operation shoe allows for better healing of your leg after an injury or surgery.
Both men and women can use this walking boot for an ankle injury. Layer foam is used for better support, and you can also easily clean and keep it safe for future use.
The best thing is you can easily flaunt these walking boots for the sprained ankle as your regular shoe while it shall help you provide mobility and durability after an ankle sprain or injury.
Above all, this Vive shoe for post-operation support also has a 60-day post-purchase guarantee that you can avail yourself of.
9- ProCare XcelTrax Air Tall Walker Brace / Walking Boot Large
This Procare Air tall walker brace or, ideally, a walking boot is of great help to people who have immediately completed surgery or sprained their leg recently.
It is lab tested, and physicians have approved using a walker brace as part of post-surgery care. Using this support walker brace can help you with walking during the initial days after your surgery.
There is a layer of cushioning on the base that is made of soft nylon and helps to absorb complete shock from walking.
There is an integrated pump design that can inflate and adjust easily, also ensuring that you do not feel the pressure on your leg while walking.
You can use this walking boot for a stress fracture on either your right or left leg.
The boot is designed after considering ergonomic factors and provides you with a complete layer of support and design that is required while you are in your healing phase.
10- CoreLINE Fixed Cam Fracture Walker Boot with Metal Uprights

Short and medium-sized ergonomically designed Coreline fixed cam feature walker boot helps you with reducing pain due to injury or sprain.
While you might find walking difficult after an injury or sprain on your legs, you can use this boot support to ensure that your daily mobility is not affected.
There is increased stability, comfort, and then accommodation of your leg while also ensuring that shock is absorbed perfectly.
This boot walker brace
helps in reducing the impact caused by your heel hitting the floor while you walk.
With this walker brace, you are ideally limiting or restricting the movement of your legs thereby helping your leg heal at a faster pace and time.
There is also a great reduction in pain as compared to walking without using this brace as support.
It is also possible for you to choose from either a small or medium-sized design brace based on your injury and its impact on your mobility.
Buying The Best Walking Boot

Till now, it's clear that walking boots can act brilliantly to help heal your sprained, injured, or broken ankle very fast by providing extra protection, immobilization, and support.
It is the best way to help you walk on a fractured ankle too soon without any risk.
In case you are still confused about whether you need a boot for a sprained ankle or not, it is best to consult with your doctor/podiatrist to get the best answer.
Based on your problem, your doctor may recommend buying the best set that makes you comfortable while your injury heals.
Although the boots mentioned above can serve your purpose well, you must talk to your doctor in detail to make the best choice according to your condition.
Do I Sleep With My Walking Boot On?
Do I sleep with my walking boot on or off?
This is one common question that most people ask those who have experienced a fracture and are recovering from it while wearing a walker boot.
A simple answer to this question is YES.
In fact, in most cases, doctors usually recommend wearing a walker cast boot while sleeping – as there is a high risk of getting your foot re-injured at this time.
While sleeping without an air cast boot, you may knock your leg on the wall, or your partner may accidentally kick your broken leg.
If required, or you feel discomfort, you may take off your boot when resting but not while sleeping.
How To Avoid Walking Boot Discomfort?
Many people often complain about their walking boots causing swelling or ankle pain.
Well, if you find that your walker boot is causing a great deal of discomfort (while sleeping or even awake), here are a few things you can do to enhance the comfort…
✓ If you sleep on your back, raise your leg above the heart by using a proper leg elevation pillow. This will avoid the chances of getting your leg swelled
✓ If you are a side sleeper, consider putting a pillow between your legs to increase your comfort level. This also aligns your back and helps in avoiding the pain
✓ Loosen your bootstraps (about an inch or so) in a way that does not allow too much movement. Make sure that the blood flow in the leg is not obstructed
✓ Use a gel heel cup if you feel the pain concentrated in the heel region. These heel cups provide better cushioning to your heels, thereby avoiding the pain that disturbs your sleep
Do You Need Crutches with A Walking Boot?
Although it is not essential, many times, the user wearing a walking boot for a broken foot will require having crutches to be mobile.
Using a crutch or a walking cane will ensure that your weight doesn't put pressure directly on the fractured foot area, which is the main reason for hindering the healing process.
Also, it helps in providing extra support and easing the pain if felt.
While using a cane or a crutch with an ankle walking brace or boot, make sure that you hold it on the opposite side of the injured foot, leg or ankle.
For example, if your right foot is fractured, you should place your walking crutch under your left armpit.
In a few days, if you feel that you can walk comfortably without a crutch or cane, you can discontinue using it after getting approval from your doctor.
What Type of Socks to Wear Under Walking Boot
Using a sock liner such as this one is sometimes recommended for protecting the skin when you are wearing a walking boot for tendonitis.
You can wear these socks onto the foot which you need to place into the boot.
This type of cushy athletic sock can be stretched towards your knees, and it avoids any kind of irritation caused due to the walking boot's strap.
It, therefore, proves beneficial for people with somewhat allergic skin.
Does Wearing Ankle Brace After Walking Boot Help?
To answer in short, yes, it does in many cases.

As soon as you feel that your broken leg or foot is getting recovered, you can discontinue using your ankle walking boot.
In place of a heavy boot, you can instead try putting an ankle brace to support your recovering ankle.
This will add extra support while avoiding any chance of getting your feet re-injured.
How Long To Wear A Walking Boot For Sprained Ankle?
Walking without proper support can cause further damage, especially if you have broken or severely sprained your ankle while sporting.
And for this reason, you need to use a brace, walker boot, or other supportive gear to walk comfortably without posing any risk to your injured foot.
Depending on the grade of sprain/injury you have, you can be advised to wear a cam walker fracture boot for about 4 to 6 weeks.
The time interval for which you need to wear these boots may extend to about 8 to 10 weeks if you need to wear a boot after foot surgery. This is required to provide you with faster recovery.
Tips for Wearing a Walking Boot and Maximizing Its Benefits
Podiatrists often suggest that you wear these boots for about a week or more (1-2 months in case of fracture) to improve the conditions.
This helps you to stay on your feet (while your feet are healing) so that you can perform your important daily tasks without any suffering.
A few additional tips you may follow to maximize the benefits offered by your pneumatic walking brace or walking boots are:
Walk less and sleep more: Walking less and resting more is no doubt an effective way to recover your healing ankle faster.
Doctors advise not to start walking on a broken ankle too soon, right after you get your walking boot on.
Special care has to be taken in case of a broken ankle, where you require to rest more. In this condition, it is advised to sleep with your walking boot on but with loosened straps.
The good idea is to surround your leg with a soft pillow while sleeping with your walking boot. This provides optimal comfort, support, and safety while sleeping.
Get Arch Support: When you have just purchased your walking cast boot for a broken foot, be sure that you wear them with a shoe insole or adjustable arch support.
These arch supports and adjustable heel lifts will help add stability to the foot but also helps to prevent any uncomfortable pressure applied to the foot. Thus helping to aid the faster healing process.
Use Even Up Device: In addition to shoe insole, it is sometimes beneficial to use a level-up device or shoe balancer to check your uneven gait, which may be causing you back and hip pain.
If needed, you should also get a proper ankle brace and a knee-high sock for extra comfort and protection to avoid the chances of your walking boot causing ankle pain.
Do Not Forget A Water Proof Cover: Consider investing in a walking boot weather cover (like this one) which helps to keep your walking boot dry and safe in all the conditions (like rain, sand, snow).
These weather covers for orthopedic boots are made up of high-quality breathable fabric which is waterproof, easy to use, and easy to clean.
Incoming search terms:
boot for sprained ankle
boot for ankle sprain
how does an ankke frscture ge eesrjng a boit