*This page may contain affiliate links. When you buy through these links, we may earn a small commission at no extra cost to you.
Life is uncertain and can become dependent when one tends to grow old or at the time of injury.
With the growing age, people experience several health problems and often fall prey to conditions like arthritis, Parkinson's, joint problems, ankle injuries, etc.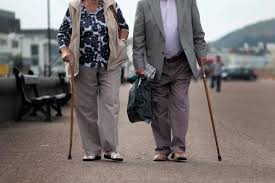 Not just senior citizens but people who have met with some serious accidental injuries (or experiencing weakness and have become dependent when walking) need a helping hand.
Walking Cane can prove to be the best aiding help to such conditions.
In addition, walking canes are also beneficial for people suffering from body pain such as lower back pain, hip pain, knee pain, foot pain, arthritis pain, foot or knee surgery, etc.
If you are buying a walking cane online for someone who is old and needs support to walk or balance OR for someone recovering from an injury, you may come across terms like walking sticks and crutches.
And with so many options out there, it becomes very confusing to figure out the right one that is best suitable for the condition.
If you are confused about which one to buy for your loved ones or for your personal use, read on to determine and get the most suitable one so that you can seek maximum benefits…
7 Different Types of Walking Canes
Usually, walking canes for balance problems are available in wood, aluminum, and steel.
These are designed to offer maximum comfort to the user and are therefore very practical for daily use.
When choosing a walking cane for seniors or the elderly, the first and foremost step is deciding their specific requirements.
Primarily there are 7 types of walking canes widely used.
Based on the below-mentioned cane types, you can choose the one that is most suitable for them.
1- Traditional Single Point Walking Canes
It is a usual walking cane type that comes with a single point of contact with the floor.
These may be available in various handle types, including (C neck, derby, offset, etc.).
Primarily, these walking canes are bought for individuals who need minimal aid in complimenting their balance.
These canes are made out of wood, aluminum, or steel which come with fixed or adjustable height features.
2- Functional Grip Walking Canes
Different from C curved handles, these walking canes come equipped with a vertical grip.
Therefore, this gives the user a better and firmer grip, reducing stress on the forearms and wrist areas.
These canes are majorly useful for blind people.
However, these walking cane for the blind is also widely loved due to their feature to provide amazing comfort and stability that adjusts your weight without letting you slouch over.
3- Tripod Or Quad Canes
These canes have 3- 4 points of contact touching the grounds, offering amazing stability along with ensuring that the user has a safe balancing walk.
Speed may be the issue here in these walking cane with feet, as all the points need to come in contact with the ground, which can significantly slow down the pace of walking.
4- Hemi Walker Cane
This is basically a combination of a quad cane and a walker.
It has a much larger/wider base than any other cane type and is, therefore, best suitable for providing additional support and balance.
These types of canes are best suitable for very old-aged people or patients who are unable to walk due to conditions like arthritis, foot surgery, recovery, etc.
People who are currently walking with walker support and are planning to move to a cane can find this much useful.
5- Cane Seat
This type of cane can be said to be a combination of seat and cane which is specially designed in the form of a seat, chair, or stool to sit and relax.
This serves as your best walking stick when folded and your place to rest (seat) when opened.
Seniors and ladies who love to walk far distances in the morning but fear getting tired can use these types of folding cane seats to rest their feet and ankles while walking.
6- Adjustable Folding Cane
Adjustable folding canes are the perfect option for those who travel often.
Carrying a traditional walking cane is definitely a hassle for those who travel for weeks or for months.
A cane that is completely adjustable and can be folded to fit inside a bag can be exciting for them.
Just ensure that you have locked down the cane section before you carry them again for safe and secure walking.
7- Dual Handle Cane
These come with two handles for the additional safety of the users.
The additional lower handle provided in the cane actually helps to pull or lift the body up while standing – from a seated position.
For this unique functionality, these are sometimes also referred to as get up and go cane, sit-to-stand canes, or self-standing canes.
Overall, canes for walking support and balancing are much more than a traditional cane which just serves the purpose of supporting.
These are today designed differently and can be purchased according to one's lifestyle, routine and specific requirements.
10 Best Walking Cane Reviews
Best Options for Seniors Who Need Better Support, Balance, and Stability
As the market is loaded with lots of different options, we have reviewed some of the best walking canes below so that you can easily choose the one that is best suitable for you.
Check them out and pick the one that suits your walking style and requirement.
1- HurryCane Folding Cane with T Handle

Feel like a seamless extension of your body, this Hurrycane freedom edition folding cane with a T-shaped handle that can be used for both indoor and outdoor purposes helps in making your mobility problem easier.
This cane has a handle that has a perfect grip to hold your weight and align your weight perfectly.
This helps in ensuring that you do not lose your balance while trying to get up or walk.
This HurryCane folding cane has a handle that can be adjusted based on your height factor and make it comfortable for you to walk.
This handle opens up when you perfectly need them by acting as additional support when you perfectly need them.
In case you are sitting or idle without the need for cane support, then this best walking cane for balance shall fold up easily on its own.
A pivoting base allows you to stay in contact with a walking stick all the time.
2- HealthSmart Adjustable Quad Cane and Sit To Stand Walker

With weight support of up to 250 pounds, this Quad cane walker helps in better standing and walking support.
This walker is lightweight with a compact design that you can carry along.
Also, this stylish cane makes your walking trouble easier by providing rubber-covered handles.
You can also adjust this Quad Cane walker to your resistance and height, ensuring this works as the best support for your mobility issues.
The soft handles make this best walking cane for seniors user-friendly.
Such kind of rubber handles is supportive and nonslip ensuring the user does not tip or fall while trying to get up or walk.
This handle also comes with an exclusive warranty from the manufacturer and seller.
Other than handles, there is also a firm grip on the footing to avoid any kind of slip or fall.
Hence, this Quad cane walker helps with improving your mobility and confidence at the same time.
3- My Get Up & Go Cane by BulbHead
Finding it difficult to get up from your place after a few minutes!
This can be a common problem in many and apart from exercise and other lifestyle changes; an alternate solution to this is to use a Walking cane.
My Get Up & Go Walking Cane
for comfort and support make your life easier by helping with mobility and comfort you need while you are unwell.
This best walking cane for the elderly has a cushioned handle to hold while you try to get up.
You can spread your weight on it, and this shall, in turn, help to ensure that you get the ideal support you need when you try to get up.
The GetUp and Go Cane walking helps you to push your limits and get up without straining your legs or spine.
There is a storage compartment in the handles for user comfort and also an LED light that can help you with your walking need.
4- Folding Walking Cane from Vive
This walking cane that can be used by men and women alike is collapsible, lightweight, and helps in better portability and mobility.
It provides you with the comfort required when you really need external support to get up and walk.
This walking cane
is collapsible, and you can reduce or adjust its size based on your current requirement.
Since this cane is collapsible, you can also carry it with you easily due to its compact size.
You can easily put them into your wheelchair bag, making this walking stick the most compact design currently available.
Exceptionally lightweight yet sturdy, this folding cane by Vive can handle human weight up to 250pounds.
You can increment or decrement the height of this cane stick from 33 inches to 37 inches, adjusting it for you.
This walking cane is also designed to keep ergonomic factors in mind ensuring that no additional pressure is put on you or your targeted muscle groups.
5- Quadpod Offset Cane by Hugo Mobility
Hugo Mobility Quadpod offset cane with an ultra-stable cane is a sturdy, aluminum design that can be used by people between 5 – 6.5 inches.
You can also adjust the height of this cane in a simple way up to 99cm.
It is lightweight, and you can use them without adding any external pressure on your muscle groups. This cane is compact, and elders can use it without trouble.
This Hugo Mobility walking cane
can stand independently on its own.
The foot has rubber soles giving it an ultimate grip that can help you stand and move independently.
There is a cushion top handle on this walking cane that has wide space helping you to hold your hand effectively.
There are push buttons on this cane walking stick that can help elders with adjusting the height of the stick on their own.
This walking cane stick for support also has an adjustable strap that can be put on your hand.
This strap can ensure that you are safe while walking and that you do not lose grip.
6- DMI Deluxe Adjustable Walking Cane by Duro-Med
Finding it difficult to use your normal walking stick!
Then it is time for you to now switch to a Deluxe adjustable walking cane that can adjust its height based on your height requirement.
This way, you can eliminate any kind of unwanted pressure you are putting on your body by bending forward or putting pressure on your body.
By adjusting the height of your walking stick, you are simply ensuring that you are not putting your body into trouble and thereby helping you comfort and change mobility.
There is a convenient strap attached to this walking stick can be wrapped to your wrist thereby helping you not lose balance or fall off while trying to walk independently.
The strap can also help in reducing muscle fatigue and helps in reducing arthritis and other ailments of your body.
There is a convenient hook-shaped handle on this walking stick that you can use to hand it on nails or door handles while you are not using it.
7- LED Folding Walking Cane from Sminiker Professional
Built with 3 LED lights, this walking stick helps you in walking even in the dark. Now, this is an important challenge, using a walking stick at night.
At night you must be accompanied by someone to walk straight and reach your destination.
Using this Sminiker professional LED foldable walking stick is an ideal solution to this need.
This foldable walking cane
has 5 different levels of adjustment scale that you can use to make this walking stick adjustable to your need.
This folding cane walking stick stands up on your own and folds back once you have settled down.
The aluminum sticks' base support and cushion handle make it comfortable and easy to handle.
While placing an order for this walking cane with led light, you get hold of a sleek and chic design bag that you can carry along while you are traveling.
You can also fold this walking stick to accommodate it in your handbag.
8- Folding Adjustable Height Cane Seat by Drive Medical
Do you want a multipurpose seat and a stand to support you when you completely need them? That is what a Medical folding lightweight height cane seat can do for you.
This walking cane with a seat attached can open up to a comfortable seat when required, and folding it gives you a sturdy stick to hold.
This walking stick is manufactured with aluminum tubing that provides it with the perfect support required for a user.
The contoured leg of this walking cane stick is vinyl coated with an adjustable height capacity up to 38 inch in height.
The seating capacity is around 9 inches in diameter and can hold a weight of 250 pounds.
This multipurpose seat and walking stick come in an attractive black and gold design.
The package comes with a bag designed to carry this walking cane for ladies wherever you go making you never go out of style.
It is indeed the best in town and can help you with taking rest and walking independently without others' help.
9- Designer Offset Handle Cane By Nova Medical Products

Nova Designer Offset Handle Cane with butterfly design on it is sturdy for use for people who need it.
Though it is sturdy, this cane is light in weight, and you can use them without putting any external pressure on your hand or joints.
This offset handle cane
weighs only 1 pound, and you get the benefit of using a sturdy walker.
It is ideal for handling weight up to 300 pounds, and the wrist band on its end provides ideal support as required by you.
The handle on this cane with butterfly design is adjustable with a height from 30 to 39 inches based on your convenience.
Now, this shall help you with walking with this stick by taking easy steps and then ensuring that there is no pressure created on any other parts of your body.
The cane is fade-resistant, and the foot is made with a foam grip that is soft and provides balance as required by its user.
10-

Palo Medical Apallo 2 Walking Cane
The Apallo 2 walking cane is another great portable sit-to-stand device that doubles as the best walking cane for seniors.
It comes with an awesome pivoting lower handle which helps in providing enhanced leverage to rise and sit safely.
This best walking cane for stability
also features high-intensity push-button LED light and shock-absorbing ergonomic handle for increased comfort of the users.
Due to its durable aircraft aluminum, the cane is made very lightweight and easy to carry.
The cane is completely adjustable and can be adjusted from 29 inches to 40 inches.
This enables all types of users (with varying heights) to use this cane efficiently.
Furthermore, a durable non-skid rubber tip is provided in the cane, which reduces any chance of slipping.
Also, it includes a hidden storage space inside the handle, which can be utilized for placing small things on the go.
When Do I Need A Cane?
Well, the answer may differ from person to person.
As various people need a cane for various different purposes or benefits, it is best to get a recommendation from your doctor whether you actually need it or not.
If you are trying to figure out whether you need a cane without consulting your doctor, here are a few questions you can ask yourself:
Can you walk freely without any trouble daily?
Are you comfortable walking up and down the stairs?
Are you comfortable walking with pain daily?
Can you walk freely with complete stability and balance?
Are you afraid of injuring yourself (by falling) when walking?
Do you hold the furniture or any other nearby objects for support while walking?
If the answers to any of the above questions are "Yes," it's the right time to consult your doctor and find a good walking cane for yourself.
Remember that when your doctor recommends you to use a supportive cane for walking, he/she may have a strong reason for it.
So never delay your decision to use a cane as it may make your condition worse in the short as well as long term.
Walking Cane Vs. Crutches
It's tough to make a choice between crutches and a walking cane as both of them have unique features and provide varied benefits to the individual.
Crutches, as we have seen, are specially designed to reduce the weight on extremities.
These mobility products help the user to manage their mobility independently.
People with thin structures find crutches easy and comfortable as they are less tiring and mobile.
When using crutches for mobility, one requires putting a good amount of strength and balance.
Doctors prescribe a specific type of crutches depending on the injury, age as well as looking at the physical condition of the person.
Of all the mobility aids, a walking cane is the easiest and less cumbersome to use for all.
Because it's a multi-purpose thing (from an age-old person to an injured one), a walking cane makes it easy to become mobile.
Depending on the individual's medical condition, one requires choosing from the different walking canes.
Walking Cane Vs. Walking Stick

Walking cane and Walking stick may sound to be very much similar phrases, but they are not.
Rather, a walking cane and walking stick are 2 different products offering different functionalities.
Walking canes are designed to help support balance.
People who need support while walking; require something more stable to shift their weight.
Hence walking cane seems to be a handy aid in such circumstances.
Now a day; you'll come across several types of orthopedic walking canes, which are specifically designed for people suffering from certain injuries as well as old age individuals who need appropriate support when walking.
These orthopedic canes are much in demand because they offer exclusive safety, and come equipped with shock absorption ensuring better grip and stability to the user.
On the other hand, walking sticks are majorly fashion items.
These are more of a fashion accessory offering any major comforting help to the user.
Made out of a variety of mix of materials, these have different shaped handles.
However, the truth is, these sticks are not comfortable for those who are seeking something very sturdy and reliable to walk.
While using walking sticks in the long run, people have witnessed pain and discomfort in their hands.
Hence, it is important to know which product you are basically looking for and what the purpose is.
How To Measure For A Cane?
Picking the wrong size is one of the biggest mistakes you can make when buying a balancing cane.
When the cane you choose is too small or too large, you may not able to grasp it properly.
While you hunch over it, these canes can also lead to problems like back strain, slips, and falls.
For measuring yourself properly for a cane, follow these steps:
Wear the shoes/sandals you wear most often
Stand naturally and comfortably with your hands on the side
Get the help of someone to measure you from your wrist to the floor
This will help you in getting a measure of the accurate shaft length of the cane you need to get.
How To Measure and Adjust A Cane Height?
The above method – for determining the size of cane length you need to get – works only when there is a user available.
In case the user is not around, and you want to buy a cane with an appropriate size, you can do the measurement by using the below tips…
Get half of the height of the user
Get the length of an existing walking cane
Remember that the 1st method mentioned above is not very accurate and you should use it only when there is no other option to measure the cane height.
When using a cane for balance, people often have questions in mind about "cane height adjustment," "how high they should adjust it," and "how to do it properly".
The fact is – your cane (made up of wood or metal) can work best for you when it's adjusted and sized appropriately according to your height.
Just in case you have bought a cane that does not fit your style or height, you can adjust to customize it according to your needs.
For metal canes
Most of the canes made of metal come with an adjustable design.
You simply need to loosen the tension screw (present near the bottom) and then push the small button which is usually present on the side of your cane.
Now slide the metal parts of your cane to make it shorter or longer as per your requirement. Once done, tighten the tension screw.
For wooden canes
Balancing canes made of wood can be made shorter by cutting off the excess part from the bottom.
Since you cannot make the wooden canes longer, make sure that you do the measurements carefully and do not cut the cane too much.
How to Use A Cane for Balance Correctly? (Video)
Check out the video below to understand clearly how to use a cane for balance (and conditions like back pain, hip pain, and bad knee).
The steps and tips mentioned here are good for balance problems, back pain, hip pain, bad knees, and bad ankles.
Important Features to Get When Buying a Walking Cane
If you are planning to buy your very first walking cane for balancing and support, it is good to check for some of the essential features.
This will help you in getting the most suitable option, which is good for you and can serve you for long without any difficulty/problem.
1- Light Weight:
This is one of the most important features to look for. As you want your cane to be sturdy, it does not mean that it should be heavy in weight.
It is good to opt for a cane that is made up of high-quality, sturdy material such as wood or aluminum, which is not only light in weight but also durable.
2- Adjustable Height:
The cane you choose should be of the proper height, which is best suited to the height of your body.
It is, therefore, best to opt for a cane that comes with an adjustable height feature.
With this feature, family members of different heights can also use the same cane whenever required.
3- Rubber Grip:
No matter what type of cane you choose, the grip of its feet should be covered with high-quality material like rubber.
This will help you walk steadily without the risk of getting a slip on all types of floors.
The Conclusion
A walking cane can be a life savior for anyone who suffers from balance problems.
Especially for elders, it's a must-have device that can make walking easy without others' help.
If planning to buy one online, it's important that you check the different types available and pick the one that is right for you or your loved one.
Incoming search terms:
best walking canes for balance
best cane for balance support
canes for walking support