*This page may contain affiliate links. When you buy through these links, we may earn a small commission at no extra cost to you.
TENS stands for transcutaneous electrical nerve stimulation.
The Tens therapy, with the use of low-voltage electrical current (produced by a portable device), helps provide significant pain relief to the sufferer by stimulating the nerves.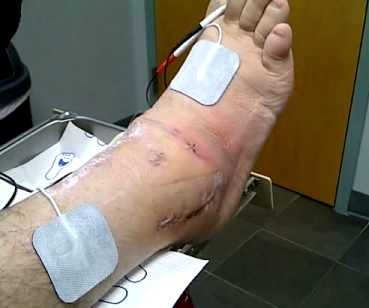 TENS therapy for pain relief is now widely used all over the world for relieving chronic aches like:
back pain,
neck pain,
foot and leg pain
Transcutaneous electrical nerve stimulation therapy not only helps in relieving tired muscles but also helps alleviates joint and bone problems.
Although TENS therapy for Plantar Fasciitis pain has been proved quite beneficial for relieving all types of pain, it is most important that you consult with your doctor before trying this out.
Your doctor, based on your condition, can help you find the best Tens unit for your feet and legs so that you can enjoy maximum comfort without any risks involved.
What Is TENS Unit, and How Does It Benefit?
TENS unit electronic pulse massager is an excellent muscle stimulator and stress reliever that is making a great buzz in the market these days. These are mainly used for relieving nerve-related pain conditions (both chronic as well as acute).
TENS electronic pulse massagers and devices not only offer premium health benefits but also it's easy to use and carry with you, as these are extremely lightweight and compact.
The best benefit of this technology is it comes with different massaging modes such as Acupuncture, Cupping, and Shiatsu which enables you to get the advantage of ancient Chinese therapeutic therapies at home.
With its several controllable settings such as tapping, knocking, kneading, and beating (that function on specific areas of the body including feet, shoulders, arms, wrist, waist, back, and neck).
TENS unit placement for plantar fasciitis overall helps in relieving your body and muscle pain within a few minutes.
How Does It Work?
These electronic devices come with pads that when placed in contact with the skin (or painful body part), deliver electricity from its electrodes to your skin ( and along the nerve strands under the skin).
Using tens on feet and placing the pads on pressure points is many times recommended by doctors to get enhanced relief from severe chronic pain.
According to a few studies, electrical stimulation of the painful nerves helps release endorphins, which are considered a natural pain reliever hormone in the body.
Several other studies also showed that painful sensation in the foot or ankle region is minimized due to the interference of the pain signals (from the body to the brain) caused by nerve stimulation.
Whatever the reason, the real benefit lies in the decreased pain and healthy well-being experienced due to the usage of these advanced machines.
10 Best TENS Unit for Foot Pain And Plantar Fasciitis
As seen above, TENS unit placement for foot pain is one of the most recommended by doctors to live pain-free.
However, as there are a variety of different options & brands to choose from, buying the best TENS units or EMS unit many times becomes much confusing.
Below we review some of the best Tens and Ems for plantar fasciitis models/brands to make your buying easier. You can check their detailed reviews and consumer ratings before buying them online.
1- truMedic TENS Unit Electronic Pulse Massager
truMedic TENS Unit is one of the best TENS units for foot pain that you can choose, for at home over the counter use.
This TENS machine works as a wonderful electrotherapy massager unit which is quite popular for providing relief to aching, stiff, or sore muscles in a body.
The unit is lightweight, portable, easy to use, and much efficient for all types of pains including foot pain and plantar fasciitis.
It looks like a simple remote control yet it is packed with enough power to provide a great relaxing massage to your body all over.
The large LCD display is the added advantage of this TENS unit for foot drop.
This is provided to show you exactly what is happening, including the type of massage "Massage, Beat, or Knead" and the time left on the cycle.
Few additional features that comes with this most powerful TENS unit are:
It's fully automatic
5 Auto Stimulation Programs
Fully-adjustable Speed & Intensity
3 Selectable Massage Settings
Overall truMedic TENS Unit is one of the bestselling TENS unit foot placement devices that can help you relieve stress, soreness, muscle pull, chronic pain, and stiffness.
You can get this unit online at sites such as Amazon at a very low cost.
Shopping here, you can rest assured that you are getting the genuine branded product directly from the manufacturer.
In case you want to explore more, check few other device recommendations below.
2- Santamedical Electronic Tens Unit

Santamedical Electronic Tens Unit is another great TENS placement for foot pain which is very easy to use at home.
This is light weighted and portable-sized handheld pain relief pulse massager which is easy to use. It comes with an LCD screen that displays the current status of the device including massage style, intensity and time remaining.
The settings in this Santamedical TENS unit are provided with different controls and 6 auto modes that are fully adjustable.
This lets you choose your own massaging style from intense to smooth.
In addition to the above, 4 attachment pads and 4 AAA batteries are provided with this Santamedical tens electronic pulse massager.
You can use the device for about 15-20 days for getting complete relief from painful conditions.
3- TENS 7000 2nd Edition Digital Unit

TENS 7000 2nd Edition Digital TENS Unit by Roscoe Medical is another great versatile TENS device that comes with all the required accessories for easy home use. As it is portable in nature, you can even take it to your work or for travel.
This TENS 7000 unit
comes with an easy to understand quick start, electrode placement guides which makes it much easier for you to use it for the very first time.
Some of the best essential features included in this TENS unit foot massager are:
Dual Channel, for use with 2 or 4 electrodes
Adjustable timer in 5-minute increments from 5 – 60 minutes, or (C) continuous
Adjustable pulse amplitude, 0-100 mA peak into 500-ohm load each channel
Asymmetrical Bi-Phasic Square Pulse waveform
999 hours of total recorded time to store up various sets of operation records
A low battery indicator displayed on an LCD screen to show when the battery is low
Auto shut off feature and 1 year of warranty
4- Kedsum Tens Unit Rechargeable Muscle Stimulator

Kedsum TENS unit is an FDA-cleared rechargeable TENS unit that comes with 8 pads and 16 pre-programmed massage modes.
This pain relief machine works to provide instant relief by delivering electric pulse impulses through electrodes to the nerve fibers of the painful body part.
Furthermore, due to the dual output design of this mini massager muscle stimulator, can be used by two different persons or at two different body areas simultaneously.
It also includes the following features which make it one of the most recommended TENS devices:
Adjustable 10-60 minute timer
Easy to read and understand animated backlit LCD display
The rechargeable internal lithium battery allows up to 10 hrs of continuous use
5- AUVON Rechargeable TENS Unit Muscle Stimulator
People suffering from a sports injury, pain, sprain, foot, arthritis or intense pain can now get immediate relief using Auvon TENS Unit muscle stimulator device.
This portable TENS unit machine is safe to use and most importantly a drug-free method to get rid of the pain.
Auvon rechargeable TENS unit is packed with ample power which offers low-frequency electrical muscle stimulation that massages your body.
It is lightweight and a small device that can be easily carried in your purse or wherever on the go. It is easy to travel calmly knowing that you have your pain reliever with you.
This TENS device
comes with standard 2mm connector lead wires & electrodes which are commonly used in the medical area, which makes it easier for you to find compatible accessories. Few additional features include:
It has 16 user-friendly pre-programmed massage modes with modifiable timing.
You can go on with your treatment without any interruption for a continuous 10 hours. The power indicator keeps you aware of battery life.
The device comes packed with 1 main unit, 4 square electrode pads, 2 lead wires (1/2 Wire), 2 x pad holders, 1 USB cable, and an adapter.
There is a user manual and a 12-month warranty card within
6- TENS Unit Portable Electric Stimulation Machine by Vive
If you are looking to ease off your tired muscles and enjoy a therapeutic pain reliever for your entire body; the TENS unit by Vive can be the best choice to go for.
This TENS unit device
is a great pain management device which lets you create a customized treatment.
It is a petite unit that easily fits in your pocket and ready to use whenever on the go.
Some other exciting features which make the device one of the best Tens units for home use are:

The device comes equipped with 16 pre-programmed massage modes and that includes 2 electrode cables, 4electrode pads, 1 pad holder, and 1 USB battery charger with cable.
The TENS unit has a user manual that comes with a good understanding of 8 massaging modes and the position chart for different parts of the body
The device makes it easy to read as it is illuminated with an LCD Display offering a clear view of the screen especially; even at night
The device has an adjustable button to increase or decrease the intensity as per the pain requirement
It comes with a rechargeable lithium battery which gives power for up to straight 10 hours
7- iReliev TENS Unit Electronic Pulse Massager
If you are looking out to get rid of your everyday pain and not interested to gulp down a couple of medicines every day; the safest method is to use this iReliev TENS Unit Electronic pulse massager. The features include:

The device comes equipped with 2 combine therapies in 1 device
The tens unit device efficiently blocks pain as well as EMS strengthens helping muscle recover; curing you quickly.
It comes with 14 pre-set therapy modes which are extremely user-friendly and versatile.
This highly effective TENS unit device generates safe and active output sensation helping to block the pain and increases the level of endorphins which is a natural pain reliever.
The EMS unit delivers rhythmic massage-like impulses that help increase blood flow to promote muscle recovery, strength, and performance
Whether you're looking for your first ever machine or considering upgrading your current TENS unit, iReliev TENS Unit Electronic Pulse Massager will be the best choice that you will be making which helps in relieving pain and overall promoting good health.
8- iReliev TENS + EMS Combination Unit Muscle Stimulator

Electrical stimulation/shock for plantar fasciitis is one of the best ways to get relief. This can be achieved best by using a TENS or an EMS unit.
TENS and EMS combo unit is many times recommended as these can offer extra benefits at a very low cost.
If you are looking for the best EMS and TENS stimulating combo units, look no further and get the most advanced; iReliev TENS + EMS Combination Unit Muscle Stimulator for Pain Relief & Arthritis & Muscle Strength.
When you are suffering from aching and sore muscles this best TENS and EMS combo unit can help to alleviate the pain very effectively.
This robust petite unit
comes with adjustable settings which are user-friendly. The user can pre-set as well as program the function as desired. Some additional features of this combo unit include:
The unit has 25 levels of 80 mA intensity, with a 5-60 minute adjustable timer, lock function, along dual-channel versatility
The unit supplies low voltage pulses to the skin to stimulate nerve fibers effectively blocking the pain signal to your brain.
It is believed to increase natural endorphins–a natural pain reliever.
The unit comes with 14 therapy modes which comprise of 6 EMS Muscle Strengthening & Recovery Modes, 7 TENS pain reliever modes, and one arthritis TENS
9- Pure Enrichment Pure Pulse Duo EMS and TENS Combo Device
The Pure Enrichment Pure Pulse Duo EMS and TENS is a combined stimulation unit offering the best of both worlds.
Designed out of advanced technology, this best TENS EMS combo unit is lightweight and great for people on the go.
The unit is petite, which can easily accommodate in your pocket or purse. Save your money by visiting them and invest in this fine unit.
Some additional features of this TENS and EMS combo unit include:
The TENS unit comes equipped with 8 preset program modes and the EMS unit has 6 present programs mode.
The unit is designed with dual channels for intensity levels on each channel.
The LCD provides you to select the program, intensity level, as well as therapy method, and the time left for the treatment
Overall there are 25 intensity levels to pick from
The unit stimulates and maneuvers your muscles, helps in endurance building, muscle strengthening. Moreover, it can be operated to improve blood circulation, muscle spasms, and to intensify the range of motion.
10- FDA TENS and EMS Combination by Massage Therapy Concepts

The FDA TENS & EMS is a combo unit device designed in a striking silver color. The unit is a 2-in-1 double value equipped with 12 modes for the best electrotherapy around.
This Massage Therapy Concept's TENS and EMS unit is programmable from 10 – 80 minutes offering you plenty of time for your therapy session.
With this unit, you are able to administer treatment to different muscle areas at the same time to save time.
The Features of this TENS EMS unit also include:
The display shows you the battery level with its indicator. The user realizes that the lithium battery is low when stimulation is not as strong hence; require to be recharged. The charge lasts about 15 hours.
The timer provides 2 functions: one indicates the battery charging time and the other reveals the massage time you have set.
The unit is programmed for various modes that are Tuina, Acupuncture, Tapping, Guasha, Cupping, Back pain, Shiatsu, Pressure, Deep Tissue Massage, Body Building, Weight Loss, and Combination.
This unit has 20 levels of adjustable strength and intensity settings which you can customize for each output terminal as per your desires
TENS Unit Safety Tips and Precautions
TENS therapy for pain management is one of the safest therapy which most of the physical therapists and chiropractors use and recommend for their patients.
However, if you are using it for the very first time, you need to know a few safety tips and precautions which will help you in using the device safely.
Do not overuse the therapy/device. Especially if you have very mild pain in your foot or back it is suggested to use a brace or sleeve instead of a TENS unit.
If you are using a TENS unit for the first time, do contact your physician to know about its settings and the duration for which you need to use it.
Before applying the pads of the device on your skin, make sure that you have thoroughly cleaned your skin surface using warm water or alcohol. Also, care that you should not place water near to you when the electrodes are on.
Stick the pads carefully to the skin. In case it's not sticking properly you can make use of medical tape. Also, switch the spots on your skin while using the pad so that no particular area suffers or gets irritated by overuse.
Besides the above safety tip, you should also take care of these precautions so that you do not experience any TENS unit side effects.
Do not fall asleep when you are using a TENS machine
Avoid using TENS unit machine in pregnancy
Do not use the device if you have cardiac pacemakers
Do not use the device for body pains such as headache or migraines
Do not use the device when operating any machinery or vehicles
Keep the machine out of reach from children and use it under the professional supervision of a physician (especially when using it for the first time)
Make sure that you read the instructions manual carefully before operating the device for the first time
TENS Vs EMS for Foot: What's The Difference?

Transcutaneous electrical nerve stimulation or TENS unit for foot neuropathy is sometimes also referred to as Electrical muscle stimulation or EMS.
Although both these devices deliver low voltage electric impulses to stimulate, these differ slightly based on their working.
TENS
This is used to stimulate the nerves – which then helps in stopping the pain signals to reach the brain.
TENS units are more specifically used for relieving chronic pain such as arthritis, foot pain, back pain, sciatica, labor pain, carpal tunnel syndrome, etc.
EMS
Electrical stimulation for an ankle sprain is generally used to bring contractions in the painful muscles – done by delivering signals similar to that coming from the central nervous system.
EMS or electric muscle stimulator units are generally used for muscle strengthening and relaxation, preventing disuse muscle atrophy, increasing blood circulation, rehabilitation purposes, etc.
Which Is The Right One to Have for Foot Pain?
As TENS and EMS machines have a completely different mechanism of working, these are and should be used for different purposes.
Before buying one you should carefully analyze your requirement and then choose the one that is best suited for you.
For instance, if you are suffering from chronic foot pain due to arthritis or plantar fasciitis, using TENS on feet (and not EMS) is the recommended option for you.
Many people who have somewhat mixed requirement can also go for TENS EMS Combo Units.
Although these come at a bit extra cost, the investment is worth making if you want to get the dual benefits of EMS and TENS for pain relief.
Frequently Asked Questions Regarding TENS Machine

Q: What is the frequency of using a TENS unit?
A: You can continue to use the TENS unit on a daily basis till the time it offers relief. Some patients get relief for a full day with a 30-minute session, while others may need to use it for an hour or so.
The best tip of how often to use a TENS unit the comfort and pain relief it gives.
Some patients find a break of 3-5 days periodically helpful. If you think that your TENS unit isn't working effectively for your pain relief, then a small gap will restore its efficiency.
Q: For how long is it secure to use a TENS unit?
A: A TENS unit should be used until the time it offers relief. As stated below, if the pain relief starts getting less with time, then you should take a break.
It permits your nerves to relax a little. If you start feeling pain after the break, then your TENS unit will help you get relief from it.
You can also use your TENS unit with other treatments. Consult your physician about your conjunction treatment plan which suggests a timeline for utilizing your TENS unit.
Q: Can you use the TENS unit at the time of sleeping?
A: It is normal to use your TENS unit at the time of sleep, especially if your pain rises at night. But, it is not wise to go for it.
Sometimes, the gentle electrode buzz may transform into skin irritants, if they get pressed too hard on the skin or any of the patches get detached.
Hence, it is suggested to be completely awake and in complete control of your unit to observe any changes or irritation which may occur.
Q: Where should you put the electrodes?
A: Electrode placement is essential to get the desired results from the TENS unit. The right location should depend on the area where you feel the pain.
The most essential thing is to position them correctly so that the current reaches the painful location or the nerve which causes the pain or the acupuncture points.
Q: Where not to put your TENS unit?
A: As a general rule, the electrodes of your unit should not come in contact with any kind of metal present on your body (such as jewelry, belt, etc).
Few other body areas where you should completely avoid placing the electrodes include:
On a tumor
On your cuts or sores
On your eyes and throat
Inside any of your body part
Directly over your bones and spinal cord
Q: Do you need to give any special care to the electrodes?
A: Well yes! When the electrodes are not in use, you should stick them on the plastic film given with the electrodes.
Don't stick them face to face or they may destroy themselves. If by any chance the electrodes lose their glue, moisten the surface with some water drops.
You should replace the electrodes when they stop sticking firmly to your skin or have been put to use more than the suggested number or once they fail to conduct current efficiently
Q: Does your skin need any extra care while using TENS?
A: Yes, you should wash the area where the electrodes are placed once with the help of soap and water. Dry it properly.
Make sure you don't use body lotions or creams where the electrodes are stuck as they don't allow electrodes to stick properly to the skin. It also lessens the electrode's life.
Q: Do you require any prescriptions for TENS?
A: There are some states which make it mandatory to use a prescription to own a TENS unit. It is important to consult your doctor to find out what the rules and regulations are.
We don't need a prescription to own one of our units, but people may require it for their records.
Q: Does a higher intensity level mean higher power?
A: No, it is not so! People often think that the higher the intensity level is, the more powerful the device will work. This is a myth.
Q: How much does the unit cost?
A: One can get top-notch entry-level TENS units for a price of $20 these days. While at the best, the devices for home use can be priced at hundreds of dollars. The higher features and specs of the machines command higher prices.
Q: Should you purchase a rechargeable device?
A: This is completely your personal choice and the budget you have for it. Going to a rechargeable machine means a higher initial investment but it may cost less in the long run.
The major argument for the rechargeable TENS unit is that you don't need replacement batteries and hence the cost of the replacement battery is zero. So, you don't have to fiddle about the unit and change the old set for a new one.
But you do have some counter-arguments to check out:
First, you should always remember to keep the device charged. Not like a standard battery-powered machine, you simply cannot just change it when it's out of juice.
There are some units that can be used even when they are being charged, but you need to sit close to the power outlet for that.
It makes the situation a little messy because you don't just have the machine lead wires on you, but the charging cable too scattered all over around you.
So, with a unit that utilizes standard batteries, you can keep some spare batteries and make it work in a straightaway manner
Q: How should take care of your TENS unit?
A: There are a lot of points to consider for the right caring and maintenance of your TENS unit. After using it, the wire leads should be removed from the patches and the unit should be turned off.
However, you can keep the patches on your skin if you want to use the unit again after a few hours.
But, if you wish to remove the patches, you should take them to put cautiously and store them in their case.
This way, the patches will last longer. Also, make sure you use them on clean skin and store them nicely after every use.
You don't have to clean your TENS unit periodically. Ensure it is turned off after every use and wipe it with a soft and moist cloth.
Do not make use of any cleaners on the unit. If you don't want to use the unit for a long period, remove the batteries and store them in a dry and cool place. Make sure you don't bend or crimp the wires.
Incoming search terms:
tens unit for foot pain
tens unit for feet problems
tens machine plantar fasciitis