*This page may contain affiliate links. When you buy through these links, we may earn a small commission at no extra cost to you.
Plantar Fasciitis is all about experiencing pain at the bottom of the heels; this is why it is popularly called Heel Pain.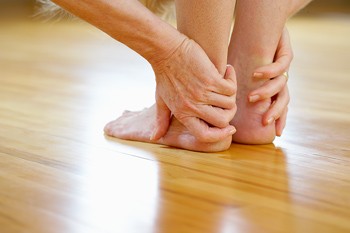 Plantar Fascia is a small ligament connecting your heel to the front of the foot and also supports the foot arch and helps you walk.
This is a common orthopedic complaint that occurs when the plantar fascia ligaments receive much wear and tear due to daily life activities.
These ligaments typically act as shock absorbers that support the foot arch, and hence too much pressure on the feet causes damage to them.
Causes of Plantar Fasciitis
Obesity or overweight is the major cause of Plantar Fasciitis as you are putting more pressure on your plantar fascia ligaments.
Pregnant women also experience bouts of plantar fasciitis, especially during late pregnancy.
Persons who are very active at jobs, such as restaurant servers or factory workers, and at the ages of 40 and 70 are at the highest risk of Plantar Fasciitis.
A few common foot problems that can develop plantar Fasciitis include;
High arches
Very flat feet
Poor arch support
Tight Achilles tendons
In addition to the above, heel pain due to Plantar Fasciitis is also caused by too much running and jumping.
This is the reason why sportspeople like runners, dancers, and athletes suffer from this kind of pain more often.
Symptoms of Plantar Fasciitis
Pain and stiffness at the bottom of the heels are the major symptoms of plantar fasciitis.
This increases gradually and affects both feet over time.
Some persons may feel the pain as dull, while others have severe pain, and some experience burning or ache on the bottom of the foot that spreads outward from the heel.
Usually, the pain worsens in the morning as people take their first steps out of bed or if they have been lying down or sitting for a while.
Heel stiffness may sometimes prevent them from climbing stairs. Extended activities can increase pain and cause inflammation.
Doctors will do a physical examination to check for tenderness in the foot and locate the exact location of the pain.
This will ensure whether or not the pain is caused by a different foot problem. The doctor may bend the patient's foot and push on the plantar fascia to check if the pain gets worse when you turn.
He will notice moderate redness or swelling and will measure the strength of muscles and the health of nerves by checking muscle tone, reflexes and sense of touch and sight, coordination, and balance of the patient.
He may recommend an X-ray or MRI scan to check if there are any severe issues, such as a bone fracture.
7 Best Ankle Brace, Sleeves, and Socks For Plantar Fasciitis And Achilles Tendon
We, at times, can suffer from different categories of foot or ankle pain like injury in the ankles, plantar fasciitis, Achilles tendon, and other pain caused due to daily work.
An ankle brace is one of the most important solutions for all your ankle or foot pain problems.
Many doctors do prefer braces and support for treating Plantar Fasciitis. Night splints are popular braces helping to stretch the calf and the foot arch.
These braces hold the foot in a bent manner and lengthen the Achilles tendon and plantar fascia night long, hence preventing morning pain and stiffness.
The 7 best ankle braces for plantar fasciitis and Achilles tendon are reviewed. All these braces, sleeves, and socks are equally suitable for men and women.
You can check these reviews in detail to buy the one that is most suitable for you.
1- BLITZU Plantar Fasciitis Sleeves
BLITZU brings in an ankle brace made of advanced compression therapy technology for instant pain relief from Achilles and tendonitis.
These plantar fasciitis sleeves give you excellent plantar fascia support and ceases pain in the ankles, foot, heel, muscles, and tendons.
Blood circulation will be improved while reducing inflammation and speeding up the plantar fasciitis healing process.
This is a unique compression sock fusing the stability of kinesiology taping with compression fabric for an excellent performance.
The unique design supports the facial meridians to provide massage and stretch therapy. Extra compression and support are provided for people engaged in active sports, which helps them prevent new injuries.
This ankle guard is sophisticated with a premium open-toe splint design that lets you wear it alone or under another sock.
The durable, high-quality fabric keeps the socks dry throughout the day. The company offers 100% money back or replacement if you are unsatisfied with the results.
2- ASOONYUM Plantar Fasciitis Socks Night Splint
ASOONYUM brings in Pro Night socks for people suffering from nighttime plantar fasciitis. With increased compression intensity, these pro night socks enhance blood circulation and decrease pain in the foot area at night.
This best ankle brace for tendonitis offers rejuvenating relief from osteoporosis, arthritis, tendonitis, pain, sprains, and discomfort.
These socks
are designed for people engaged in running, basketball, soccer, cycling and training.
Amazing comfort and lightweight are guaranteed with the moisture-free and easy-to-wear design.
The ultimate soft and breathable fabric of this best night splint for plantar fasciitis keeps your foot area dry throughout the night. It offers excellent foot brace support for the ankle, arch, and heel.
You can experience great relief from edema and Achilles tendonitis. Buy it today and help your feet reduce soreness and swelling in the ankle, foot, and lower leg region.
It is a comprehensive size that is perfect for men and women of different ages.
3- Foot Sleeves and Compression Sock by CompressionZ
Many people suffer from foot pain and problems that affect the quality of their daily life.
If you are one among them and looking for effective pain relief, you have CompressionZ Foot Compression Sleeves that guarantee excellent compression and support for the foot.
This compression sleeve and sock is recognized as the best ankle brace for Achilles tendon, offering you sturdiness and stability. It comes with a snug fit but still lets you for a full range of motion.
It is widely chosen for relief from plantar fasciitis, metatarsal, Achilles tendon, and heel pain symptoms.
CompressionZ sleeve is one of the best ankle compression sleeves that helps you for a speedy recovery from foot injuries. Anti-itch material keeps the brace breathable and comfortable for a long time of use.
It is properly insulated to keep the foot and ankle area warm and also to provide great support for the heel and arch region.
It is made of anti-bacterial material that reduces odor, and its breathable design ensures improved blood circulation.
4- Plantar Fasciitis Compression Socks / Ankle Brace by 1st Elite
Suffering from ankle and foot pains? You have advanced compression socks from the 1st Elite brand.
These socks
are equipped with graduated compression and an anatomic design that helps you relieve the pain due to Plantar Fasciitis.
They are available in unbeatable fit for your feet, so you will feel good and improve blood circulation. Breathability is the highlight of 1st Elite compression socks as they don't make your feet feel bulk and sweat.
This best ankle brace for plantar fasciitis comes with a replacement and full refund guarantee. If you are unsatisfied with the product, the company will refund or replace it without asking questions.
The ankle brace is available in appealing colors and relieves you from pains due to Achilles, swelling, sprains, Achilles tendonitis, ligament tears, and other injuries.
It is equally suited for men as well as women. You can buy this wonderful product at Amazon today at an unbeatable rate!
5- CopperJoint Compression Ankle Sleeve and Recovery Brace
This thin, durable and comfortable ankle brace offers you the perfect level of support and keeps your sore ankle warm and secure.
You will feel more secure, feel-good comfort, and relief from pain while being able to move around easily. It provides a cooling effect and does not cause any skin issues like itching or rush.
It is easy to wear and fits snuggly, and you don't feel any sweating even if you use it all through the day.
With strong elastic, this ankle brace restores its shape after each removal. It has a healing ability, and this is why doctors prescribe this after surgery.
This longer, durable product helps with joint and muscle recovery, and you will feel rejuvenating relief from arthritis, pains, and aches.
Your blood circulation will be improved, and the oxygen airflow to the muscles gets stimulated. Optimal muscle support is ensured between workouts and while doing everyday activities.
6- TheraPAQ Foot & Ankle Pain Relief Ice Wrap for Plantar Fasciitis

This one-of-a-kind foot and ankle wrap is designed to provide hot and cold therapy for your foot region to treat injuries and pain due to plantar fasciitis.
You may have injuries and pain that limit your actions and don't let you do your best. You have been looking for the best and most effective way to treat irritating ankle and foot pain.
You have a solution at Amazon now! TheraPAQ brings in a must-have foot and ankle wrap that is made of breathable neoprene wrap with flexible Velcro straps.
This best ice pack for plantar fasciitis is non-toxic and available in reusable gel packs. This premium ankle brace for Achilles assures maximum comfort and excellent pain relief.
The flexible Velcro straps guarantee perfect fit and keep your ankle and foot snuggly wrapped. It has two specially designed pockets to hold non-toxic gel packs and is CE and FDA-certified.
It relieves strained, weak, and arthritic feet and ankles and treats plantar fasciitis.
7- Plantar Fasciitis Sleeve Compression Socks for Men and Women by RiptGear
RiptGear branded plantar fasciitis sleeves are designed to reduce inflammation, swelling, and tightness around the heel, ankle, and Achilles.
It applies strong compression over the foot area, including the arch, sides, and around the heel. Blood circulation is improved, which increases blood and oxygen flow to the foot region, hence reducing pain and promoting faster recovery.
Great comforting support, faster recovery, reduced fatigue, and improved blood circulation are some highlighted features of this ankle sleeve.
It features a thin open-toe design and moisture-wicking material that keeps your feet dry and healthy throughout the day.
Excessive stretching and fatigue can lead to muscle and tissue inflammation and soreness, which can be reduced to a great extent by using RiptGear plantar Fasciitis sleeves.
The company offers a 100% satisfaction guarantee. If you are unsatisfied with the product, the company will replace or refund the product.
This wonderful ankle sock is now available at Amazon at an unbeatable price rate! Hurry to make a steal!
What Does Plantar Fasciitis Feel Like?
For people who suffer from plantar fasciitis, pain in the bottom of the heel or in the arch of the foot is common.
The pain may feel like a bruise or an acute pain for many. However, this sort of pain tends to go away by itself gradually when you start walking around.
Does Plantar Fasciitis Cause Ankle Pain?
As mentioned above, plantar fasciitis pain can affect your heel, arch, or both. It may most of the time, go away soon.
But in rare cases, if the problem gets severe and your fibrous tissue (plantar fascia) gets swollen, it may also irritate a nerve in the foot. This can then cause pain to radiate into the ankle.
The only remedy to this is to use a high-quality ankle compression sleeve or a protector brace so that you can easily avoid the complex, painful condition.
Does Ankle Brace Really Help Plantar Fasciitis?
Since pain from plantar fasciitis and other foot problems arise basically due to poor arch support and injury, wearing an ankle brace does help greatly in relieving the pain to significant levels.
If you are suffering from any such foot problem, you can use an ankle stabilizer brace for supporting the arches during the day.
Also, you can consider wrapping a night splint that will help the tissues properly heal overnight.
These ankle supports wrap around your midfoot and also along the inside of your painful ankle, keeping the arch suspended from above.
This relieves the pressure exerted on the fascia throughout the day and relieves the inflammation and pain due to plantar fasciitis.
What to Consider When Choosing Your Ankle Brace?
When picking an ankle support brace or splint, it is important to know that there is a wide variety available on the market to choose from.
Check out the most essential factors in selecting the right ankle brace:
✅ Material
The adjustable and lightweight ankle braces are made with light neoprene, which prevents moisture from building up and avoids stretching while staying easy on the body and durable.
You can also go for the breathable polyester and nylon mix seen in a lace-up ankle brace. it is long-lasting, lightweight, and offers all-day comfort and easy fit-in for any footwear.
A strapped elastic is sited with Velcro for customizing the pressure and attaining a safe fit.
The breathable mesh lining is attached to maintain the freshness of your skin. It is decked with supportive 8-strap figures for better adjustability and compression.
The bamboo charcoal mix seen in compression sleeves enhances the flexibility and lightweight of the braces and is very soft to touch. It regulates temperature and offers easy support to the heel and ankle.
✅ Types of braces
Wrap: The advantage of wrapping braces is their ease of sliding on and off. The Velcro strap can easily be customized as per your personal needs.
It makes them a preferable choice for those with swelling to make sizing simple. They offer mild support and slim-to-fit braces to easily slide inside any footwear.
Laced: Laced braces can be tied up the ankle-length and then wrapped with stability straps for better support.
Though they aren't simple to put on, the support level is higher, which makes them a perfect option for athletes who need severe ankle support.
The semi-rigid design adds to the stability during movement, and the open-heel makes it easy to be paired with any type of shoes.
Rigid: For severe injuries, a rigid ankle brace may be the right choice.
They come with a boot design and have a tough security shell that restricts motion to help in quick recovery.
Rigid braces are suggested by doctors for a severe ankle injury.
Compression sleeve: The compression sleeve brace easily slides on and off and gives comfort all day.
It offers soft support with specialized compression and is a good option to enhance blood flow and relieve ankle swelling.
You can put them on with socks while playing any sports.
✅ Size
Most ankle brace comes with a one-size fit design and can be adjusted as per your foot for a perfect fit.
The lace-up braces come in small, medium, and large sizes, while the compression sleeves are available in S/M and L/XL sizes.
Getting a comfortable fit is simple. Choose any ankle brace, and you should easily slide in your feet with 2 finger space between the skin and brace.
✅ Support level
The braces offer support mild to maximum. Their benefits are mentioned below:
Mild: For small injuries, mild support braces like sleeves are recommended. They are flexible braces that offer compression with little support in case of minor sprains, arthritis, etc.
Medium: Mid-range braces are good for hands as they can cure different conditions while being adjustable. rigid at the same time.
A mid-support brace is your option if you have arthritis, tendonitis, or athletic injury. A semi-rigid ankle brace is a good option for it.
Maximum: Maximum support ankle braces range from semi-rigid to rigid braces with additional features like tight lace to make the joints firm.
They are a good option for severe injuries like rolled ankles where the athletes have to keep their ankles stiff. Laced ankle braces offer the best support level in this case
Best Treatment and Home Remedies for Plantar Fasciitis

There are some home treatments for plantar fasciitis found better to reduce swelling and pain. These are
Apply ice for 15-20 minutes 3-4 times a day.
Change and lower your exercise activities
Use arch supports in shoes and do stretching exercises to relieve pain
Nonsteroidal anti-inflammatory drugs are proved to be reducing inflammation in the ligament.
Medical treatments for plantar fasciitis include:

A corticosteroid injection is taken directly on the damaged area of the ligament to reduce the pain.
Doctors may use ultrasound devices to understand the best area for the injection.
Physical therapy is recommended to help stretch plantar fascia and Achilles tendons. Therapy includes exercises to strengthen lower leg muscles and stabilize walk and reduce the workload on the plantar fascia. Information here on WebMD reveals the exercises that help.
The doctor may recommend extracorporeal shock wave therapy, wherein sound waves are thrown against the patient's heel to stimulate healing inside the ligament.
Surgery is recommended if the pain is very severe due to partially detached plantar fascia from the heel bone. Gastrocnemius recession is a popular surgical method that lengthens the calf muscle.
Besides the above, you can use special arch supports for your shoes to help reduce the pain by spreading pressure as well as preventing further damage to the plantar fascia.
Boot cast is also many times used to freeze your feet and decrease the strain on the ankle. It is one of the most recommended treatment methods when braces or sleeves do not provide much help.
To conclude, you should not ignore the condition as it may develop severe heel pain and can change the way you walk as well as cause injury to your legs, hips, knees, and back.
Incoming search terms:
ankle support for faxciitis plantar
ankle brace for plantar fasciitis
best brace for achilles tendonitis