*This page may contain affiliate links. When you buy through these links, we may earn a small commission at no extra cost to you.
Strong ankles undoubtedly play a vital role in preventing and recovering from ailments like ankle fractures, sprains, and strains.
And it is no doubt that one of the best ways to achieve strong ankles is by performing ankle strengthening exercises daily.
This article provides you with a detailed description of such wonderful ankle and foot strengthening exercises to provide you with physically powerful ankles in an effective way.
Let's check out more about them below…
Importance of Ankle Strengthening Exercises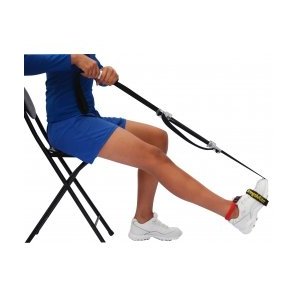 The muscles that imperceptibly get weakened earliest in your body are the muscles in the lower leg that occur around forty years of age.
Walking normally will be difficult if this issue is immediately and properly addressed.
Different types of ankle strengthening exercises are thus recommended and should be carried out to avoid any issues that may be caused due to weak ankles and muscles.
These exercises are generally divided into specific categories, each aimed at fortifying a particular part, ultimately strengthening the ankles.
Professionals such as sports persons, dancers, runners, etc., take the help of these exercises to strengthen their feet and ankles so that they can perform better in their respective fields.
Best Ankle Strengthening Exercises After Sprain
If you are too concerned about strengthening your foot and ankle, performing exercises daily is a way to achieve this.
Especially if you have ever suffered from an ankle sprain due to ankle injuries, then these ankle strengthening exercises after a sprain will help you a lot.
Not only do these foot and ankle strengthening exercises help strengthen your bones, but they also help you avoid any future injuries.
Ankle plantarflexion
For performing this ankle exercise, stand in front of a table, keeping your hands on it for balance. Raise yourself by lifting your toes.
Stay in this position for 6 seconds and then slowly return to starting position. Repeat it 10 times.
Ankle dorsiflexion
For doing this exercise, stand in front of a table and place your hands on it to balance your body.
Lift toes off the floor in the air and place body weight over your heels. Stay in this position for six seconds.
Return to the initial position. Repeat this exercise 10 times.
Ankle inversion and eversion
For this ankle strengthening exercise, first and foremost, sit your back straight against a wall.
Keep knees straight and feet in your front.
Now turn your foot inward and hold it for 6 seconds. Now turn your foot to the outward direction and hold it again for another 6 seconds.
Repeat this ankle strengthening exercise after a sprain 10 times with both right and left foot.
If you find it difficult to perform this ankle exercise, make use of the band to provide resistance.
The 'alphabet'
In this ankle strengthening exercise, sit on a chair, keeping your feet off the ground.
Now write the entire word 'alphabet' in the air with the right foot.  Now use your left foot to write the word 'alphabet' in the air.
This magical ankle strengthening exercise uses every muscle present in your ankle.
A few more ankle strengthening exercises and tips that can help are:
Perform seated calf raises using light weights to strengthen your ankles. Do 10 repetitions.
If you exercise on an elliptical trainer, pedal it only with your feet' balls to strengthen your ankles effectively.
Walking backward on a treadmill also helps in getting strong ankles. Start at a slow speed and then gradually increase. Do not hold on, as it will diminish all the positive effects of performing this ankle exercise.
Include jogging, brisk walking, hiking, and aerobic exercises in your lifestyle routine to strengthen your ankles easily. Even squatting exercises and inline skating does wonder in getting strong ankles.
Jumping rope proves useful in strengthening the muscles and also ligaments.
Walking on the heels, with the forefeet facing upwards, strengthens the shin, especially the tibialis anterior.
Lifting the heels and walking on the balls of the feet will fortify the calf muscles – the gastrocnemius and soleus.
Performing these ankle and foot strengthening exercises on a regular basis will help you in strengthening your ankle after getting the sprain.
In the long run, these will help in avoiding any future chances of getting your ankle or calves injured.
Below are some of the best exercise equipment, devices, and machines that can be utilized to make exercising easy and enjoyable.
10 Best Ankle Strengthening Equipment and Machine
As discussed above, performing ankle strengthening exercises is a great way to get a stronger ankle and foot in the long run.
However, people just ignore them due to the nonavailability of equipment and knowledge about how to perform these exercises in the best possible way.
Below we mentioned some of the best ankle exercise equipment and machines that can prove helpful for you.
You can get them online to perform these ankle exercises more smartly and easily.
1- ProFitness Wooden Balance Board
This Profitness wooden balance board is focused on increasing physical strength and helping with the coordination and flexibility of your core.
This wooden ankle balance board helps you recover from any injury caused due to old age, health trouble, or while playing sports.
This wooden exercise board is non-slip and you need not worry about balance and stability.
With this wooden ankle balance board in your home, you can focus on strengthening exercises and other balance training while ensuring safety as your priority.
This Profitness wooden balance board is easy to carry and has a portable design that can be carried wherever you go.
As this can offer the best ankle strengthening exercises for dancers, you can even try it before your dance classes.
Unlike other exercise boards that require you to be careful, this ankle exercise board comes with better options to balance your body weight and then ensure that your exercise cycle is safe.
This wooden exercise board is safe to use for kids from the age group above four.
In case you are not satisfied with the product, then we guarantee that you get a money-back offer of 30 days.
2- North American Healthcare Foot Rocker
The North American healthcare foot rocker is another great exerciser for strengthening weak ankles.
It helps provide optimal foot position that helps with better flexibility and plantar fasciitis and also gives you treatment for chronic conditions.
This product has been developed by experts in the field of sports, thereby providing you with ideal support for your foot.
This positioning of your foot shall help with increasing your flexibility and stretching.
You are relieved from any kind of pain on your foot, heel, leg, and back while stretching yourself on this foot rocker.
Yet another added benefit of this foot rocker is that it is ideal for any kind of user and helps with the strategy of one size fits all concepts.
With this awesome foot rocker you are guaranteed relief from tendonitis, arch pain, and other chronic discomforts that could hamper your daily living.
You just need to do a 30 seconds stretch three times a day, and you are relieved from chronic pain that has been troubling for a long period.
3- YOFIT Foot Stretcher and Foot Rocker
Are you worried about pressure in your calf muscle or hamstring?
If you are thinking about a solution that you require immediately helping with stretching your calf muscles or hamstrings, then here is an ideal solution for you.
YOFIT foot rocker and stretcher
help in improving your flexibility at the same time increasing ankle mobility and cures any pain in your calf muscle or hamstrings.
This foot rocker can be worn by athletes and regular users who are inclined towards physical activities.
This foot rocker is made of strong materials that are built to last for a longer period.
This shall also ensure that this foot rocker shall never bend or lose its shape despite regular usage.
The base of this foot rocker has rubber soles attached to ensure that your home floor is not damaged or any marks are created while you stretch.
4- CUXUS 11 pcs Resistance Band Set and Ankle Straps
This Cuxus resistance band is attached with 5 exercise bands that can be easily attached to a door anchor or any other handles at ease.
This band can help make your workout and yoga practice easier and more flexible.
These resistance bands are removable, and you can use them easily at your convenience.
These resistance bands
for ankle strengthening are made with natural latex material with D ring buckles that shall let the rope stay strong while you are using them.
This is one of the highest quality straps that you could ever find for your ankle resistance band exercise needs.
This band is 48 inches in length and can be used by anyone with a weight of up to 75lbs.
You can get in touch with their customer support team in case you are not satisfied with the product.
Their team guarantees 100% satisfaction to users and is available to handle your queries pre and post-purchase.
5- Resistance Bands Set Exercise Bands for Men and Women
Love workouts; buy the resistance band set exercise bands that shall help you with making your workout easier and better.
This is the best fitness band in town for your upper and lower parts of the body and is made with light, medium, and heavy bands that you can choose based on your workout.
This yoga CrossFit workout band
shall be of great support for women who wish to work out at home and not hit the gym.
This resistance band is compact, and you can carry them along wherever you travel.
This means you need not miss your workout at any time. These ankle exercise bands shall also help you achieve or focus on strengthening your complete body in minimal time.
With this resistance band, you can make your workout fun and enjoyable.
With the products like these, you are guaranteed complete satisfaction, and also the team provides you with backup support for your queries and doubts about their product and its usage.
6- Houseables Incline Slant Calf Stretcher Board
Houseables calf stretcher board comes in a size of 18*12*2 inches that is made of thick plywood and laminated board.
This board is completely adjustable based on your requirement and how you wish to stretch your leg muscles.
This helps in relieving or providing an additional layer of support to stretch or adjust your leg.
This is the best method that has been followed in physiotherapy sessions these days.
In case you have suffered from an accident or chronic pain in your leg, then this adjustable board can be of great relief to you.
Though it is simple in its appearance this Houseables board has helped a huge number of people in getting relieved from the pain in their legs.
This product is sold as three separate wood panels that can be easily fixed with minimal effort.
You can also read through the manual to understand how this works and the point at which the wooden block needs to be adjusted so that you get relief from your pain.
7- Ankle / Wrist Weights for Women, Men, and Kids
Ankle or wrist weights are an ideal partner while you walk; work out, or even go jogging.
These ankle exercise weights can be easily fitted to your leg and then carry on with your daily activities.
You can choose your required weight and wear them while you work out. These wrist weights are fully adjustable and safe to use for men, women and even kids.
You can also wear these weights on your legs or even hands based on your workout pattern.
If you are a home workout, this is a must-have in your gym equipment list.
With these ankle exercise weights in your home, you can combine various training exercises and also gain better control over them.
This ankle weight can also help strengthen your core and provide you with flexibility and strength training.
This weight is made using a Nordic lifting ankle, and the weights are sturdy and made with industrial standards.
8- Vaunn Medical Pedal Exerciser Fully Assembled 
Vaunn medical pedal exerciser that can be fully assembled is your perfect option for physiotherapy.
In case you have mobility issues or wish to strengthen your leg muscles, then this foot and leg exerciser is your ideal choice.
This peddler helps in improving blood circulation in your body and also ensures that you build your leg muscles.
You can also use this leg peddler as an alternate to strengthen your arms too.
As this Vaunn peddler can be assembled on your own you also have option to adjust the peddler based on your unique requirements.
This peddler is made with strong chrome material that is durable and shall last for years to come.
There is a rubber platform on the base so as to ensure that this peddler does not lose its grip or lose its balance.
This peddler also comes with lifetime durability and ensures that it does not rust and has now become the most preferred choice among users.
9- DeskCycle Desk Exercise Bike Pedal Exerciser
Deskcycle desk exercise bike pedal exerciser is small and only 10 inches in size. You can easily fit them on your table and exercise comfortably.
It has a better pedaling option than other equipment on the market and provides you with smooth and quiet pedal motion.
This means you can work out your targeted exercises without the need for a gym in your desk space itself.
The 5 function display on this exerciser machine shows the speed, time, calories and distance you have covered during your exercise.
You can also use the online calorie calculator to know how many calories you have burnt while sitting on your desk.
This ankle exercise machine can help in losing weight and also focus on gaining improved health care benefits and also improving your mobility and strength.
An added advantage of this peddler is that you can fix it on your table at ease and work out in your comfort zone.
10- Platinum Fitness PFP2500 Fit Sit Deluxe Folding Pedal Exerciser
Platinum fitness fit sits deluxe folding pedal exerciser leg machine can be of great benefit provided that it is the preferred choice for fitness and rehab purposes.
You can use this exercise machine as a leg and arm exerciser and comes with an electronic display option.
The LCD readout of this leg exercise machine has an option that shows off your workout pattern, revolution, and count, and the most interesting part is the detailed display of calories burnt.
The machine is equipped with Cool reverse technology that helps ensure that your machine does not heat up, while this is the most common problem found in other machines of similar nature.
Now the attractive part here is that you can choose your peddler from various colors that can make your workout space look attractive and keep your mood high while you workout.
This ankle strengthening machine is compact, and you can easily fold and store it once your workout is complete.
This factor makes it the best choice of workout equipment among many.
Yoga For Foot And Ankle Pain: Does It Help?
Yoga has been around for over 2,000 years and is being used as a healing therapy for lowering our stress levels, enhancing muscle strengthening, balancing hormones, lengthening and reprogramming our spine, focusing our minds, and much more.
When it comes to yoga for foot and ankle pain, it can be said that YES, it benefits significantly.
As such, there are many different poses that can be tried out.
If you are a beginner, it is recommended to try these poses gently, and then after some experience, you can work your way up.
Some of the best yoga poses for ankles and foot pain/sprain relief are:
Runner's Stretch
Virasana – Hero's Pose
Vrksasana – Tree Pose with a block
Baddha Konasana – Bound Angle Pose
Adho Mukha Svanasana – Downward-Facing Dog
Viparita Karani – Legs Up the Wall with a V stretch
You can try the above yoga poses daily at home for the best results.
If you want, you can try these poses using yoga foot straps to make things work better and in an easy way.
Yoga and exercises for strengthening the ankle not only help to prevent future injuries caused due to accidents but also helps in recovering various other foot ailments like arthritis pain, muscle cramp, foot fatigue, etc.
Care that yoga for foot or ankle injury should only be tried when the injury/pain has completely subsided; not doing so would only make things worse.
It's important to commit to yoga and reserve some time in your busy schedule to practice it daily.
You will definitely feel the healing results fast if you stay with your practice with full dedication.
Believe me; it also may give you a sense of accomplishment and self-love because you are doing something special and healthy for your body.
Incoming search terms:
best ankle strengthening exercises
ankle exercise
exercise ankle equipment