*This page may contain affiliate links. When you buy through these links, we may earn a small commission at no extra cost to you.
When it comes to getting fit and healthy, cardiovascular exercise is incredibly beneficial and is very highly recommended.
Cardio comes in various forms, though walking and running still appear to be the most popular.
People are constantly switching up their training and are looking for innovative and exciting ways of getting more out of their workouts, which is why ankle weight sales have shot up dramatically as of late.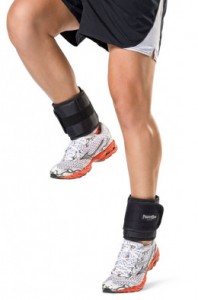 Ankle weights are very easy to use, and they're simple in design.
But how exactly are these devices able to help people while walking and/or running?
Well, to find out, we will now be providing you with a detailed guide looking at ankle weights.
Below we'll take a look at what they are, how they work, why they're beneficial, how to use them correctly, and a few risks and side effects to be wary of.
So, if you're sitting comfortably, let's make a start.
What Are Ankle Weights?
Ankle weights are exactly as they sound. They are specially designed weights that have been designed to fit around a person's ankle.
These weights are often used for resistance training while performing cardio.
They attach to a person's ankle just above the ankle joint and then fasten securely while providing additional weight and resistance to the motions of the leg.
By wearing the weight, additional strength and power are built and utilized over time, which not only makes you fitter but also builds lean muscle to improve athletic performance.
The weights are available in a selection of different sizes, and weights; so as you become stronger and progress further, you can increase the resistance by choosing a heavier weight.
Some of these discreet ankle weights are easy to put on under your clothes so that you can wear them for long hours while shopping or strolling around.
Care that while putting on these discreet ankle/wrist weights, choose the low weights that are most comfortable for you.
How Do Ankle Weights Work?
If you are wondering about how effective are leg weights, let me tell you that these work in a variety of different ways to boost up your health condition.
Once strapped around the ankle, these weights provide additional resistance with each footstep that you make.
The great thing about these weights is that they act as compound weights and compound movements, so basically you are recruiting more muscle groups by walking or running.
Muscles in the glutes, hamstrings, quadriceps, and calves are all recruited and worked harder, so as a result, your leg development along with strength and power will increase dramatically.
By wearing leg weights, every step becomes harder because there is additional resistance now in place, so your legs get a resistance-based workout; and as you are working harder, your cardiovascular conditioning will also benefit dramatically.
This essentially means that you are combining your cardiovascular exercise with resistance training.
10 Best Ankle Weights for Beginners

Looking for the right ankle weights for pilates, physical therapy, walking or running – we have you covered.
Below we have listed some of the best options that are available on the market.
you can check in detail about them and pick the one that seems to be most suited for your specific requirements.
1- Nordic Lifting Ankle Weights
Nordic Lifting Ankle Weights is one of the best in class and is top selling in the online markets.
These ankle/wrist weights are designed especially for the added comfort of the users.
Its reinforced stitching and neoprene padding ensures durability so that you can enjoy its benefits for a long.
These Nordic Lifting ankle weights are fully adjustable & safe to use for all ages (men, women as well as kids).
It comes with a large Velcro pad that makes switching the weights from ankle to wrist quite easy.
It also features the reflective trim to provide added safety for outdoor use.
With all the health benefits for your health, these adjustable ankle weights are a must-have for home workouts.
You can also use them for walking, jogging, gymnastics, aerobics, core training, cross-training, gyming, etc.
Above all, these weights for the ankle and wrist come with a carry bag, instructions manual and with 1-year manufacturer's warranty for defects. So why not check them out and get one now.
2- Reehut Ankle Weights
Reehut Ankle Weights is another great premium quality set (1 lb each) for your workout needs.
Made up of durable mercerized cotton and moisture-absorbing material inside, these weights are very soft, breathable, and comfortable to wear.
With its adjustable Velcro closure putting these Reehut Ankle weights on and off your ankle is made super easy.
These small but heavy ankle weights are filled with an iron shot so that you can add extra resistance to your daily walking, jogging, aerobics, and gym fitness.
Besides the 2 lbs pair, these are also available in 3lbs, 4lbs, 6lbs, 8lbs, 10lbs options.
You can choose the weights and colors based on your personal preference while ordering.
3- Healthy Model Life Ankle Weights
Healthy Model offers you the best ankle weights for walking and running that can be used for daily use.
With these weights you can easily increase the resistance as per your fitness needs to gain extra benefits for the long term.
These weights for legs come with an enduring design to offer unbeatable comfort for men as well as women.
And for this very reason, top gyms in New York prefer using these best-used ankle and wrist weights for their customers' fitness.
Healthy Model Life weights
are available in sets of 1lb, 2lb, 5lb and 8lb.
These are easy to carry anywhere you go so that you can make sure that you do not miss out on the fitness session to get healthier and stronger.
Above all, as these weight cuffs for legs come with a one-year replacement or refund guarantee so that you do not need to worry about your purchase at all.
4- Gaiam Ankle Weights for Walking

Gaiam Ankle Weights are another best resistance weight for your fitness training and exercising to make yourself even better.
It's comfortable and easy fit ensures that it builds lower body strength one step at a time without any risk.
Gaiam is a reliable most brand which is in to the fitness industry for over 25 years now. They know it well about all your requirements when it comes to fitness products.
And for this reason, you can use the products designed by them safely without experiencing any side effects.
These Gaiam ankle weights are designed to adjust easily to offer better resistance.
These are available in a 5lb set (2 x 2.5lb weights) and comes with Velcro straps for easy fastening.
5- Empower Adjustable Ankle Weights
Designed specifically for the woman's body, Empower Ankle Weights are the best ankle weights for women that can be used for activities like walking, running, exercising, cross-training, toning, dancing, etc.
With these ankle and wrist weights, you can actually burn more calories fast by adding better resistance to your workouts.
Empower Ankle Wrist Weights comes in adjustable 3lb, 4lb, 5lb, and 8lb sets that can be customized as per your need by using its 1/2-pound weight bars (filled with iron sand).
Made up of high-quality soft and stretchy neoprene it has reinforced double-stitching to provide better durability.
Unlike traditional dumbbells, these Empower ankle and wrist weights can be strapped securely on your ankle or wrists for easy and comfortable exercising.
These are easy to carry and easy to use anywhere you want – like at home, gym, office, or even while traveling.
Overall these Empower Adjustable Ankle Weights are best for women who are multi-tasking allowing you to do more than one task at a time without affecting your family and fitness.
6- Da Vinci Ankle Weights
"Da Vinci" is another reputed name in gaming and sports equipment.
The weights for your ankles designed by them are made up of a soft cloth interior to absorb the moisture or sweat ensuring maximum comfort to the users by keeping their ankles and wrists dry.
The industrial strength Velcro straps are adjustable and easy to strap so that they can fit almost all the ankle and wrist sizes effectively.
Available in multiple vibrant colors and sold in pairs of 1 to 5 lbs (2 to 10 lbs per set), these Da Vinci Ankle Weights can be bought online at stores like Amazon.
Although most of the customers who bought this ankle weight set found it useful, the customer reviews also stated that the stitching of the cloth material can be much better so as to avoid fraying.
So it is best to check on this product carefully and its return policy before buying one.
7- Cap Barbell Ankle Weights
CAP Barbell is another dedicated brand for providing quality fitness equipment at competitive prices. The CAP Barbell 20 lb.
Adjustable Ankle Weights are designed with all the accuracy and perfection to improve your stamina and tone your leg muscles.
Cap Ankle Weights are completely adjustable and can be customized for your workouts by adding or removing the weights easily.
As it comes with external pockets you can adjust the desired weights without taking them off from your ankle/wrists.
Furthermore Cap Barbell Ankle Weights 20 lbs (10 lbs each) come with adjustable hook & loop closures which ensures a secure fit and comfortable wear.
Its 1-size-fits-all design can be used for men and women equally. You can wear them anywhere you want to get the best workouts for your body anytime.
8- Valeo Ankle Weights
Valeo Ankle Weights is yet another option for getting perfect workouts for enhancing your upper and lower body strength.
With the option to choose between 10lbs or 20lbs, you can easily rehabilitate muscles by getting the best home workouts and cross-training exercises.
The adjustable Valeo Ankle Weights comes with 5 individual sand-filled bags of weight that can be secured in individual pockets.
You can adjust the weights by slowly adding them over time as per your desired resistance.
Furthermore, these ankle and wrist weights by Valeo come with an Adjustable metal D-ring double-strap Velcro closure system along with padded and non-abrasive lining for enhancing comfort and ease of use.
9- All Pro Aquatic Ankle Weights
All-Pro Aquatic Ankle Weights are the best for swimmers and are specifically designed to develop strength, endurance & toning in the pool by conforming to the contours of ankles in the best possible way.
All-Pro is a reliable most brand that offers a wide range of weight adjustable products to suit the varied requirements of the users.
All Pro's wrist and ankle weights for swimming are made of high-quality neoprene material to ensure minimal water retention and a smooth fit for users.
By wearing these waterproof ankle weights in the pool you are actually fighting against the added resistance in your legs while swimming.
As different muscle groups are recruited heavily and have to work harder, this 5 pounds ankle weight provides better resistance and strength to the body for pro users.
You should definitely try these weight cuffs for your legs if you want to take your swimming exercises to the next level.
10- Kiefer Ankle Water Weights
Kiefer Ankle Weights set is last on our list which is again a good option for getting the advanced level of aquatic exercise, water aerobics, or dryland exercise.
You can use these ankle weights/wrist weights for arms or legs to develop leg and core strength.
Made up of soft and durable neoprene material these Kiefer Ankle Water Weights comes with Velcro buckle for a secure comfortable fit while performing various exercises in the pool.
You can even clip together the weights to use it as a weight belt for water polo drills.
While ordering a pair you can choose the weights like 2lbs, 3lbs, 5lbs, 7.5lbs, and 10lbs.
Why not check these waterproof ankle weights online and get one now to enhance your aquatic exercises.
Besides Kiefer and All-Pro aquatic ankle weights, Water Gear Ankle Weights are also a good option for swimming.
Do check them out if you do not like All-Pro and Kiefer.
Factors to Consider when Buying
How Heavy:
First of all, when you are planning to buy the weights for the workout you need to examine your strength level, goals, and present level of fitness.
Based on that determine how heavy you want your weights to be. In case you are not pretty sure about the resistance you want, you can start with the lightest option available.
The Comfort Level:
Secondly, you need to make sure that the weights you are buying are made up of high-quality comfortable material. Also, make sure that you choose the right fit that is neither too tight nor too loose.
It's good to choose the one that comes with flexible adjustment capabilities and allows you to wear them comfortably on your body part (ankles or wrist) without getting the skin irritated or chafed.
Your Goals and Activities:
Remember that the pair of weights you need to consider significantly depends on the type of activities you are into.
If you want them just for walking you may need to get a different pair than as required by people who need them for dancing, physical therapy, or sports like gymnastics or basketball.
Also, if you want to use them in a swimming pool you will likely consider the one that is waterproof.
Benefits Of Using the Ankle Weights
Due to the wide range of benefits offered by ankle weights exercises, these are frequently recommended by most chiropractors, physical therapists, occupational therapists, trainers, and athletic coaches in rehabilitation exercises and sports training.
So, what are some of the primary benefits of wearing ankle weights while walking or running? Some prominent advantages include the following:
1- Burn more calories –
If you're performing your cardio in order to lose weight and get in shape, wearing leg weights is a great way to do exactly that.
By wearing ankle weights, the cardio becomes harder, so the body is forced to work harder. When it works harder, it needs more energy.
This energy isn't conjured up from thin air, it instead comes in the form of calories from stored body fat.
By using ankle weights to perform your cardio, you will burn off more calories and will, therefore, burn off more body fat in the process.
2- Tone the legs and overall physique –
Another great benefit associated with ankle weights is the fact that they allow you to tone your legs while performing cardio.
Ankle weights provide additional resistance in the form of the weight you choose to utilize.
This additional weight means that each step is essentially being utilized like any other repetition in the form of free weights in the gym.
The more steps you perform, the harder the muscles in the legs are being worked, and the more muscle you will be able to build.
Over time, by wearing reusable leg weights you will work more muscles in your legs and you will build and tone more muscle as a result.
Now, be under no illusions, ankle weights won't suddenly shape and tone your leg muscles overnight, but if you consistently wear them as part of your running and walking, you will notice gradual improvements in lower-body muscle tone, size, and strength after a week or two.
Ankle weights can also be a good addition to your workout routine when you are specifically targeting the areas like glutes, thighs, knees, and even abs.
Various different ankle weight exercises for the knee, thighs, and glutes can be performed to make your physique look great. If you are not using these leg weights you are already missing those great workouts.
3- Increase stamina and endurance –
The fourth benefit associated with wearing ankle weights is the fact that wearing them will help you to boost your stamina and your endurance.
The main reason for this is the fact that the additional weight you are wearing around your ankles will provide additional resistance and will require you to generate extra force and power when walking or running.
This means that you are conditioning your body to be more efficient when dealing with heavier weights than it is used to. Over time, this will result in noticeable increases in stamina and endurance.
This is one of the main reasons why there are so many endurance athletes now utilizing ankle weights as part of their regular training regimes.
Put simply, walking or running while wearing ankle weights will help you to improve your stamina and endurance, making you a lot fitter from a cardiovascular perspective.
Many people are now using ankle weights in the water while swimming. It is also beneficial for dancers as they can use them while dancing too.
The added resistance is also great for muscle toning in the legs, plus there's the added bonus of there being no impact placed on the joints.
What Are The Risks And Side Effects?

With the smooth, we also have to take the rough, which is why we are now going to be looking at a few common risks and side effects associated with using ankle weights.
1- Trip hazard –
As we touched upon briefly a little further up, as ankle weights have to be fastened securely, there is sometimes the risk of the straps becoming undone and loose.
This would present a very serious trip hazard, especially while running.
If you imagine running along down a steep hill, and suddenly having your ankle weight become undone, causing you to trip over, you can see how potentially dangerous that would be.
Some ankle weights can be fastened with Velcro to keep them fastened tighter and more secure, but again, there is always the risk of them becoming undone and you tripping over them while wearing them.
2- Stress your joints –
As beneficial as ankle weights are when you wear them while walking or running, there is always the risk that they will place additional stress upon your joints.
The weight exerts more force, which is absorbed by the joints and can cause damage to them over time. As mentioned, if you suffer from pre-existing joint complaints, ankle weights could potentially make things worse.
If you happen to twist your ankle or turn incorrectly, there is also a greater risk of injury, so again, that is something that you should bear in mind.
3- Aggravate previous injuries –
If you are already suffering from an existing injury, even if it is something fairly basic, there is always the risk that wearing ankle weights could put you at risk of aggravating that existing injury.
Say you previously damaged your Achilles tendon in your ankle, if you were to wear an ankle weight, this additional pressure placed upon the injury will come as a shock, and it may exasperate it and make the condition worse.
Ankle Weights – Frequently Asked Questions

How To Use Ankle Weights Properly?
In order for you to get the most out of your ankle weights, it is absolutely essential that you know how to use them correctly.
The first thing you need to do is to select the right weight. To begin with, when you first start using ankle weights for the very first time you should choose a very lightweight.
In fact for a beginner who is just starting out, it's good to choose an adjustable set that weighs anywhere between 5-8 pounds. This will make sure that you start off with the lightest.
A lot of people make the mistake of trying to use weights that are too heavy, as they think that the heavier weights will burn off more calories and help them build and tone more muscle.
Choosing super heavy weights for your ankles and wrists, however, can be very dangerous. Especially when you don't know your own limits, it can lead to joint stress and injury.
With that said, care that you do not get tempted to wear these weights every time you walk or jog.
While that may seem to be an effective way to strengthen your muscles quickly, it may prove fatal particularly for those suffering from joint problems.
Many trainers often recommend to begin small, and each week, gradually increase in weight if it starts to feel too easy.
And for getting the best benefits, avoid adding weights every time you walk or work out. You should use them periodically and give time to rest your joints and tendons.
The last thing you want is to make sure that the weights are securely fastened in place, and that they are secure and tight.
Care for the straps so that it does not become loose, as this could not only result in a tripping hazard, it could also put you at a greater risk of a pulled/torn muscle.
There's also the fact that it would be really off-putting while running or walking.
Below is a video that shows the details on how you can put on ankle weights for proper usage…
How to Make Your Own Ankle Weights?
Homemade DIY leg weights are best to opt for when you are on a budget and yet want to take your exercising to the next level.
One of the best benefits of making a DIY homemade ankle weight is it can be customized according to your needs.
You can choose to weigh it as low or as high as possible. These are pretty easy to make and can be made by just using some common stuff found at home.
What Exercises Can You Do With Ankle Weights?
Ankle weights (no matter whether bought online or homemade) are one of the most convenient ways by which you can easily strengthen your legs at home.
These are best for dancers and athletes who take part in running, and gymnastics.
The best thing about using these leg weights is it provides you an ability to perform a range of different exercises to benefit you're lower as well as upper body.
Here are a few of them you can try while wearing the leg weights:
Walk or run on your treadmill
March slowly while in a standing position
Try leg extension or stretching of your knees while seating
While seated on a chair try lifting your knees up towards the ceiling
Try lifting both your knees towards your chest for building better abs
Try performing plyometric (jumping) exercises to improve your vertical jumps
While in a lying position (on your back) try lifting your leg straight up towards the ceiling
Note that while you are using and adding leg weights progressively for boosting your intensity and performance level, you are also challenging your balance more.
As your leg muscles will require you to work harder you need to fix the strict schedule so that you do not feel exhausted.
Incoming search terms:
best ankle weights for walking
flexible ankle weights with buckles
what ankle weights are best to start off with?