*This page may contain affiliate links. When you buy through these links, we may earn a small commission at no extra cost to you.
Those who love to jog and run face many challenges in keeping their feet, ankles, knees, and legs healthy. One of the biggest issues is the prevention of injuries.
While wearing the proper socks and shoes helps, there are certain types of injuries that are more difficult to prevent.
A metatarsal stress fracture is one such injury that can be quite painful and difficult to handle unless you can identify the causes, treat the symptoms, and take measures that specifically prevent such an injury from reoccurring.
What follows is a breakdown of how to identify, treat, and handle a metatarsal stress fracture to maintain your jogging or running efforts over time.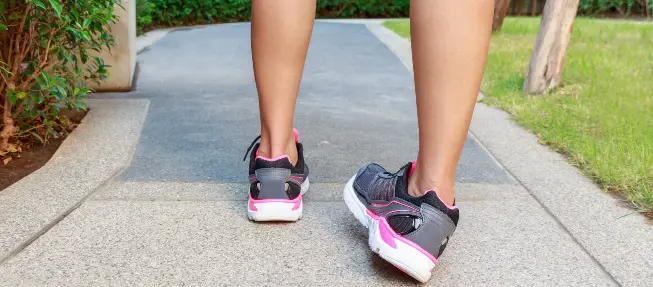 Causes and Symptoms

A metatarsal stress fracture is basically a hairline fracture of one of the metatarsal bones located in the foot.
Such a fracture usually occurs to the second metatarsal bone, and the causes are generally similar for runners who frequently exercise or compete in events.
Overuse of the feet for athletes
Poor biomechanics when jogging or running
When the foot overpronates or flattens too much
Feet with high arches that cause over-supination or not enough flexibility
Getting your foot stepped which causes the initial injury
The second metatarsal bone is particularly vulnerable because the first or larger metatarsal bone is flexed in such a way to put more weight on the second bone, especially when jogging or running.
Knowing that you have a metatarsal stress fracture is not as obvious as you might believe.
This is because the symptoms are generally mild at first and may be mistaken for other issues before being properly diagnosed.
The more common symptoms of this condition include the following;
Pain towards the middle or front of the foot towards the toes
Pain that gradually grows worse over time
Pain that is accentuated by placing more pressure on the front foot
A spot of tenderness or pain on top of the front foot
Swelling in the foot
An X-ray will confirm the injury has occurred, but because of the small size of the fracture, it may not be seen until two or three weeks after it happened.
Stress Fracture Treatment
If you suspect that you have a metatarsal stress fracture, you should get that confirmed by a doctor.
Of course, it may be a couple of weeks before the fracture can be viewed on the X-ray, so during that time, you should do the following;
Rest: It takes about a month for a stress fracture of this nature to heal. You should get another X-ray after that time has passed to see if the bone has properly healed.
So, rest your feet as much as possible during this time.
Work Boot: If you have to walk, then a walking boot will take the pressure off the metatarsal bone.
This will allow the bone to heal properly while still being able to do your work. However, don't expect to run during this time, especially with the boot on.
See a Podiatrist: If you believe the cause of the injury was either overpronation or supination, then you should see a podiatrist for confirmation.
They may prescribe orthotics or shoe inserts to be fitted, which prevents this from happening again.
Avoid Weight-Bearing Exercises: You can keep up your normal training routine, but any activities that put weight on the bone will not allow it to heal properly.
Focus on other training areas instead of keeping the weight off your foot.
Prevention Tips for Runners
The first prevention tip is to check your running motion by having a gate analysis. You can have this done at a running shop.
This will identify any problem areas in your running and help you make the proper corrections if needed.
Once you have that performed, you can do a few things to minimize the chance of getting a metatarsal stress fracture.
✓ Wear Good Running Shoes:
Worn-out shoes greatly increase the chances of getting an ankle fracture, so be sure to replace them every 350 miles or so.
Also, consider using arch support to prevent/remove the pressure off your feet so that you can safely run or walk without getting any stress fractures.
✓ Gradually Increase Distances:
If you are training for an event, be sure to give your feet enough time to build up resistance to the additional mileage.
This means that you should only increase the distance you run by 10% a week at best.
For example, if you are currently running five miles at a time, you should only increase that by a half-mile at most the following week.
✓ Do Not Forget Taking Your Supplements:
Athletes are more likely to experience low bone strength. This is due to lactic acid buildups that leech out the calcium from their bones more readily.
It is therefore important to take lactic acid control supplements and enough calcium and vitamin D supplements to support your bone strength better.
5 Best Shoes for Stress Fracture

Fortunately, there are shoes that are made for those who have suffered a stress fracture or a broken toe.
The shoes are designed to take the weight off the feet at the right locations, so you are less likely to suffer a stress fracture again.
This means you need to be sure that the shoes you purchase are correct. So, you may want to consult with your doctor or podiatrist to find the right pair.
1- Vive Post Op Shoe
If you are currently nursing your feet after the operation, the best orthopedic support shoe for you is Vive's Post Op Shoe.
It offers you everything you expect from a post-operation shoe, with a long-lasting quality that you can count on.
After your foot surgery, the last thing you want is to wobble around with an injured foot in pain.
This post-op shoe is an expertly designed walking cast shoe that features 3 extra strong, adjustable Velcro straps and a Rocker Sole made of hypoallergenic foam, the combination of which is designed to alleviate post-operative swelling, cramping, and soreness around the heel and forefoot areas.
These Vive Post Op Shoe can easily accommodate thick bandages, socks, as well as moderately thick casts.
It provides ample space and protection around the toes that are squared up in front for more protection.
It is a unisex op shoe available in "Small," "Medium," "Large," and "Extra Large" sizes.
Vive's Post Op shoe is the best post-op shoe that can help those who don't want to sacrifice their mobility due to injury or accident.
You can shop for these metatarsal stress fracture shoes online from sites like Amazon.com, which offers you a promising purchase with a money-back guarantee if you are unhappy with the product.
2- ProCare Squared Toe Post-Op Shoe
ProCare squared toe post-op shoe is a medical and surgical shoe specifically designed for different post-op and post-trauma applications.
The squared toe acts as a bumper providing additional comfort and room to the patient. It has a large overlapping toe area that accommodates post-operative dressing and swelling.
The ProCare shoe has got high ankle strapping, which maintains the foot's inappropriate location, and the rigid rocker sole eases the ambulation and reduces the pressure.
This post-op shoe for broken toes features a non-skid sole making it good for those who want to do outdoor walking or remain active.
This post-op shoe has a unisex style which makes it a good fit for males or females, left or right. Furthermore, it offers ease in dressing if required to do every day.
Not only the shoe is comfortable, but it also adds extra protection to injured toes for a less painful experience.
These stress fracture shoes are light in weight, durable, and smooth in walking. The firm ankle strapping ensures that your foot remains in the proper position.
ProCare Post Op shoe is available on Amazon at a very reasonable price and range of sizes for both men and women, with a money-back guarantee.
3- BraceAbility Post-op Shoe for Broken Foot or Toes
If you are looking for a post-op shoe that you can wear out and enjoy mobility then the Braceability post-op shoe works like a charm.
This medical and surgical walking shoe features a stiff rocker sole that offers comfortable walking to your injured shoe.
The breathable material is designed to keep your foot cool throughout the day, especially if your work involves walking.
The squared toe prevents the wearer from stubbing while the medical-grade straps easily accommodate the casts and swelling, ensuring that your foot remains in the right position.
The rigid rocker bottom in this BraceAbility Post-op Shoe supports the arch and reduces pain and pressure on the forefoot and heel.
The shoe's semi-open style offers increased airflow, and the friendly material provides enhanced breathability for all-day comfort during rehabilitation.
This lightweight, orthopedic foam insole provides cushioning and shock absorption for a quick recovery.
The post-op shoe is available for both men and women, accommodating a range of sizes.
This post-op shoe is excellent in providing protection and support after an injury/surgery on the toe, foot, ankle, or leg.
It is widely available in all sizes at Amazon, guaranteeing a full refund if you don't like the product.
4- MABIS DMI Healthcare Mesh Post-Op Cast Shoe Lightweight
While fluid retention and swelling can be the natural part of the healing process after your foot surgery, it is important to keep this minimal.
DMI cast shoe
is ideal for wear after soft tissue procedures and post-op care as well.
The shoe features a heavy-duty blue canvas upper with the hook and loop adjustment for a custom fit. It has an open toe and heel to provide air circulation.
Also features a cushioned and non-skid synthetic sole which makes it the most preferred choice for those who have needs mobility.
This orthopedic cast shoe boasts of having been designed out of an exclusive closure system, which involves flap-like rubber straps hence; effectively securing the majority of the bandage and sock setups inside the shoe.
The users of the shoe proudly suggested that they get complimented about this cross-like appearance which is also highly functional.
The shoe has a style that sets it apart from other post-operative medical boots.
It is light in weight and reasonably priced, available for both men and women in a wide range of sizes at Amazon.
The brand offers a money-back guarantee if you are unhappy with the product.
5- Premium Post Op Broken Toe/Foot Fracture Square Toe Walking Shoe
Looking for a post-op shoe that is effective yet easy on your pockets? The one by MARS WELLNESS is the best post-op shoe providing value for money.
It has all got all the significant features, such as a rocker heel, gripping insole, and square toe that keep your foot safe from stumbling.
Premium Post Op Broken Toe shoe
is one of the best-priced post-op shoes, meaning you can treat your feet for less.
It is designed to suit all the seasons and offers enough room for post-op dressings without being a tight squeeze – which means you can be mobile, ensuring your foot is in the right position all the time.
It comes in a wide range of sizes to ensure a tight and snug fit, so you don't have to worry about your foot shifting around inside.
The velcro straps are easy to put on and take off, and the shoe tends to withstand wear and tear.
The rigid sole of the flat shoe for broken foot injuries is highly supportive.
Additionally, the rocker sole and traction at the bottom of the post-surgery support shoe make movement easier and safer.
This post-op shoe provides increased protection to your injured/operation foot. It easily accommodates casting, providing easy to wiggle and comfier fit.
What Does a Post-Op Shoe Do?
For those who undergo surgery on their feet, many doctors recommend a post-operative or post-op shoe for the patient to wear.
The post-op shoe is designed to provide additional support so that the injury does not reoccur or the stitching does not reopen. The post-op shoe is generally worn until the foot is fully recovered.
The types of surgeries that usually require a post-op shoe include but are not necessarily limited to the following;
Arthritis
Bunions
Cyst Extraction
Hammertoes
Removal of Bone Spurs
Keep in mind that most bone fractures or issues in which no weight can be placed on the foot mean that the post-op shoe will not work.
Your physician will know what type of shoe or device can be used based on the surgery, the condition of the foot, and your overall physical condition.
How Does It work?
The post-op shoe is designed to limit foot movement while walking. The shoe itself locks the ankle in place and offers a strong heal pad to reduce the impact when walking.
The result allows you to walk, albeit in a stiff, unnatural manner, while you recover from surgery. The goal is to allow the injury to heal or let you fully recover from the surgery itself.
Expectations
You should expect not to run or engage in normal walking until the post-op shoe is removed. This keeps you from opening up the stitching or reinjuring the foot.
However, you should be careful not to strain your other muscles, ligaments, and tendons when walking.
Is Running After Stress Fracture Safe?

Basically, you should not jog or run until after all the pain and tenderness have been left. You should start jogging gently and gradually rebuild up to your former level.
Be sure to keep the distances short at first and extend them out gradually over time. Otherwise, you risk reopening the fracture once again.
Be sure to warm up properly, stretch, and eat a balanced diet. Lose any excess weight, and remember to start your run slowly and build up speed gradually.
Let your feet get used to the stress before you start to run.
Why Do You Need Special Shoes for Broken Toes?
A broken toe is a helpless condition that can leave you motionless. The bad thing is that it can take as long as six to eight weeks to recover completely.
So you cannot leave yourself on the bed for such a long time; you may have to do at least some walking during the healing process.
Choosing the best orthopedic shoes for broken toes can help a lot in this regard. If you do not get these special shoes for your broken toe, healing may take much longer than expected.
However, picking the best one that suits your condition can be a daunting task for most.
And for this reason, we recommend you check the above shoes to narrow down your research and make a wiser decision.
Tips for Buying Best Shoes for Stress Fracture In Foot

Picking the best post-bunion surgery shoes or shoes after a broken foot can be a great relief.
However, you need to consider a few factors that can help you buy the most promising shoes for a stress fracture in the foot. Some of these include:
✅ Purpose
Do you need a pair of fracture shoes/boots for your workplace, or your foremost purpose is to protect your broken foot or toes?
Decide on your basic requirement and the pain level you are suffering from.
The severity of the pain (from a stress fracture in the foot) is the best tool to help figure out how much support you will need to recover quickly.
If possible, you should stay off of pain killer medications that can show side effects. Also, avoid the physical activities and movements that can cause your pain to get aggravated.
✅ Right Fit
When choosing a stiff-soled shoe for a broken foot, you need the one that will avoid slippage.
Slipping or wobbling can cause a re-injury, especially for those who suffered from an injured foot before.
So make sure that the shoe (or a sandal) you choose is firm; it should not lose fit as it can cause your foot to shift around as you walk.
When selecting the right fit you should also consider whether you need open-toed or closed-toed shoes for fracture.
If your broken toe shows signs of swelling, it's best to get an open-toed sandal. This will ensure a bit of extra room for extra comfort.
However, if your toe is not swollen, you can get a closed-toe shoe.
However, make sure that the upper front of the shoe is stiff and hard solid to keep your toe protected while it's healing.
✅ Proper Arch and Toe Support
Stress fractures in athletes are common. Most of the time, it is due to a lack of proper arch support.
Getting good arch support from your shoes is therefore important when you are buying them to recover from your injury.
If you are buying shoes for a broken toe, remember that they should make your toe more comfortable. Most people might think of getting a soft shoe to get more comfortable.
But you should get exactly the opposite – stiff shoes with a curved sole that can keep your toes straight while walking.
This will help keep the pressure off your toes while stabilizing the fracture, allowing it to heal faster.
For a better recovery process and healing time, consider getting an arch support insole or a broken toe shoe insert.
This will provide enhanced support to your feet and toes.
✅ Quality Material with Breathability
Well, the material's breathability is the most important factor to look at. This will decide how comfortable the shoe is when used on a broken toe or foot.
As mentioned before, the recovery time may last from a week to a month, so the quality of the material you are buying must be high not only to provide you with the most comfortable support but also to last long throughout its intended use.
Like other ankle tapes and braces, the breathable material of the best post-fracture shoes is also important to avoid all the sweating, which may cause slippage and re-injury, rather than stability.
Overall, when in the market to buy a post-op shoe for stress fracture you will need to purchase shoes that are built to absorb impacts, yet light enough to not pull on the joints.
This means purchasing new shoes every 350 miles that provide plenty of arch support, cushion for the toes and heel, and are flexible enough to maintain their shape during the entire running motion.
Once you find the right pair of shoes, be sure to buy a duplicate pair and change them when ready.
That way, you maintain the same type of shoe that provides the proper amount of support.
Incoming search terms:
best shoes after metatarsal fracture
stress fracture in foot
best shoes for stress fracture