Are you an athlete who struggles with ankle rolls no matter how tightly you tie your shoes or stretch out your feet and ankles?
Maybe you have bad circulation in your feet, and it can leave your feet feeling numb and make it difficult to run or push off and get to top speed quickly.
The numbness can cause you to avoid the physical activity you once loved and looked forward to.
You don't have to live with these problems, and they do not need to be a stable part of your workout.
You likely need a little help to get you where you need to be.
And the best way to get there is to invest in a good pair of compression socks that are specially designed for athletes.
These best compression socks for athletes help with blood flow and will have your feet feeling brand new and healthy as you protect yourself from sprains and strains due to various sports injuries.
Sometimes the best tool in your workout is an article of clothing you have on to help you get the training session you deserve!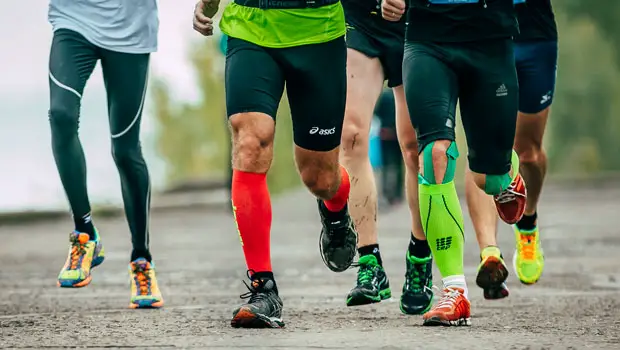 What Is A Compression Sock?
Compression socks (also known as compression sleeves, stockings, and pressure socks) are a special type of sock used for athletics and medicinally for those who are looking to increase circulation in their feet and ankles.
These socks are typically tighter in the areas around the ankle and get looser as they go up to the knee. These socks are designed to increase blood flow throughout the leg.
Since the blood flowing to the lower half of your body is working against the nature of gravity, it is tougher for the blood to return to the heart.
This poor blood flow can result in many serious medical issues and cause you to miss expectations in your training or exercise.
Investing in compression stockings focuses on increasing blood flow by squeezing your leg at unique pressure points that increase the blood flow and save you from the pain and tired joints that come from a lack of blood flow in your legs.
These socks for runners can be either purchased over the counter at your local pharmacy or corner store. Still, they can also be prescribed by your doctor, and your insurance may even cover them if your battle with poor blood flow is a longstanding medical condition.
7 Best Compression Socks Reviewed
Ankle compression sleeves are not only helpful for relieving the swelling and varicose veins but also for avoiding leg pain due to pregnancy, long travel, running, walking, cycling, hiking, etc.

In case you are planning to buy one for your use, here are a few best options available online. Check them out and choose the one that is most suited for your personal needs.
These are a great gift for joggers, athletes, workout fanatics, office workers, and more…
1- Doc Miller Compression Socks
Doc Miller compression socks (20-30 mmHg) are made up of premium quality durable material that is highly breathable and comfortable.
These calf compression sleeves not only boost blood circulation in your legs to prevent injuries but also aids in faster recovery of strained muscles to provide you improved performance and support while walking, running, or sporting.
These sleeves are also available in the open-toe and closed-toe versions that can be used as pregnancy maternity stocking.
Sold as a pair, some of the interactive features that come with these medical-grade compression sleeves are:
Good for men, women, and teens
Perfect opaqueness for professional look and feel
Comfortable material to feel fresher and active for long
Available in toeless, open toe, closed-toe, and calf sleeve versions
90-day money-back satisfaction guarantee with world-class customer service
2- Physix Gear Sport Socks
Physix Gear Compression Socks are equally designed for men & women and it comes with a 20-30 mmHg compression rating.
Not only do these highly durable compression socks help in boosting style and confidence but also your stamina, circulation, and recovery time.
These socks come with moisture-wicking properties that can rapidly air dry in just a few hours. This means you do not need to worry about getting them sticky due to sweat in extremely hot weather.
Ideal for extreme races long runs, half marathons, or CrossFit through mud water wall/crawl/rope climbs; these socks do not have any awkward stitches at places where they'll rub or rip together.
Few additional features that make these socks simply the best are:
Available in a variety of colors
Highly breathable, easy to put on and off
Comfortable material that can be washed easily
Double-stitched Lycra fabric for high durability and comfort
3- Bluemaple Compression Socks
One of the best in our list of compression socks, Bluemaple offers you the unmatched premium quality for relieving all your swelling and varicose veins.
Ideal for athletic sports, running, Crossfit, flight travel, and much more these socks for men and women are available with 15-43 mmHg compression level in a below knee-high design.
Whether you are a nursing mother or a striving father who works long hours in a physically exhausting job, these Bluemaple socks can provide you the best comfort to your tired legs.
These are made with easy wicking and quick-drying fibers to provide better air permeability by maintaining the proper temperature.
Be it summer or winter season, you can wear these all-season socks to keep your legs comfortable.
Few additional highlighted features of these compression stockings for swelling are:
Highly breathable and moisture-absorbent
Available in varied colors and designs to suit your style
Made up of 85% nylon, 10% polyester, 5% elastane
Complete satisfaction with 100% money-back guarantee
4- Jobst Thigh High Stockings
JOBST Relief Thigh High Compression Stockings comes with 15-20 mmHg compression grading and is reinforced heel designed to offer long-lasting durability.
This unisex stocking includes Silicone Dot Band that helps to keep this compression garment in place all day long. And it's Open Toe style provides much room to your toe for maximum comfort.
The material used in this compression sleeve is woven with a 3-D knit structure using air-covered spandex yarn that offers a soft touch and comfortable feel to the socks for all-day wearing.
Furthermore, this JOBST Relief compression stocking is available in light beige color that can match well with all your garments.
Few other highlighted features included are:
Appropriate for both men and women
Extra wiggle room for toe and thigh-high design
Latex-free and contains 80% nylon and 20% spandex
5- HLTPRO Compression Stockings
HLTPRO Compression Socks are made up of 80% nylon/20% spandex and are equally beneficial for women & men.
Available in 20-30 mmHg grading these knee-high compression stockings are best for running, foot/ankle swelling, varicose veins, shin splints, and others.
While athletes can use them for running these are also helpful while travelers, nurses, teachers, office workers, and just anyone who needs to stand a long time on their feet.
Few best features that come with these stockings are:
Soft and easy to put on and off
Excellent quality at a reasonable price
Available in a wide range of assorted colors
Made up of moisture-wicking, poly-nylon fabric
6- SocksLane Cotton Socks
SocksLane cotton compression socks are designed especially for women who are hunting for stylish yet best supportive stockings for long-term comfort to their legs and feet.
These knee-high compression stocking comes with a 15-20 mmHg medical circulation hose and is ideal for nurses, maternity, travel, flight, pregnancy, varicose veins, calf support, etc.
Few other highlights of these best cotton compression socks are:
Made up of 65% combed cotton and high-quality anti-allergy fibers
Naturally breathable, anti-bacterial, anti-odor, and anti-allergic material
Fit perfectly all day long without any chafing – neither too tight nor too long
7- Laite Hebe Compression Socks
Laite Hebe compression socks for women & men are highly fashionable and trendy which means you need not invest in a fashion garment for your feet when you buy these medical-grade compression stockings.
By integrating the art of fashion, technology, and science Laite Hebe has designed for you triple comfort without making you overpay.
These socks provide the much-needed compression & support on the heel, foot, calves, and toe area without squeezing your aching toe joints.
Not only do these best compression socks for athletes help in relieving leg swelling issues but also prevent blood clots after surgery.
Other highlighting features of these compression socks are:
Delivers 360-degree stretch for greater flexibility and durability
Made of highly comfortable, breathable, and moisture-absorbent material
Satisfaction guarantee with a full refund or free replacement if not satisfied
What To Look for When Buying The Compression Socks?
Due to gravity, your leg muscles and feet get swollen and suffer from poor circulation post exercising and trail running.
When you wear compression socks, it helps in lowering down the swelling and any pain or discomfort which you experiencing during or after exercise.
Also, you can recover your sore muscles quickly after a workout by wearing a compression sock that features gradient compression.
Graduated compression means that the maximum pressure or tightest part of the sock is placed at your ankle with pressure eventually falling as the sock proceeds towards your knee.
Professional grade compression socks enhance circulation thereby giving your muscles the advantage of extra oxygen and preventing the danger of DVT or blood clot.
Some of the qualities you should look for in compression socks when buying are:
✅ Length
When buying recovery socks, you want them too big enough to end below your knee and cover your shin and calf completely.
The seam may irritate your knee back if it is very high and won't render the right compression if they are excessively short.
✅ Breathability
If the socks aren't breathable, you cannot wear them.
Producers try to use different materials to enhance sock breathability especially for your toes, feet, and heel which get the hottest when exercising inside the shoe.
A compression sock with breathable material teamed with moisture-wicking enhances the price.
✅ Moisture-wicking
A compression sock may get itchy if it doesn't permit moisture to go and can start smelling.
Wicking works by allowing the fabric to pull the moisture in and permit it to evaporate faster via capillary action.
When you have a material that wicks away moisture, the socks can be used for running, workouts, etc.
When purchasing a compression sock, check for socks made from a blend of elastine and polyester and synthetic fabrics.
✅ Smooth Seams
A garment with smooth seams doesn't irritate your skin. When you wear a compression sock, you should go for the socks which have the lowest seams or have smooth and flat stitching.
Just like other athletic wear, your sock seams shouldn't be noticeable at all.
✅ Medical Grade
If you wish to shop for a compression sock, then make sure you search for "medical grade".
Several brands claim to have the perfect compression levels, but may not mark "medical grade" which brings you to the risk of not getting the perfect quality or tightness for you to get relief.
✅ Compression levels
With the SI unit mmHg, the same as blood pressure, the compression socks are tested for compression which they create after being made.
There is a range of different compression levels that can be found when buying socks which range between 15 to 30mmHg.
While it is important to keep all these above-mentioned points in mind you could be buying a good running compression sock based on your personal preference as well so that you get maximum benefits out of it.
Compression Sleeves – Frequently Asked Questions
What Are Compression Socks Made Of?
Compression socks are typically made of a combination of materials that you will likely find in typical socks.
This is good as you will not need to account for compression socks when purchasing running shoes or athletic gear as if it is a thicker sock.
These socks are typically made of majority cotton – just like your regular cotton socks. They even look like generic socks, for those who use them medicinally no one will know that you are using medical socks.
The next largest portion of the socks is polyester. This helps to hold the ankle and other portions tighter to keep the blood flow continuously throughout the body.
Then there is a combination of rubber and spandex, which work with the polyester to put pressure on the leg in high traffic places and work to alleviate your symptoms.
The spandex is typically what is found in the top of socks that stretch around your foot and up your leg and can wear out over time.
What Are Compression Socks Good For?
Compression ankle sleeve works both medicinally for people who are in pain or have poor blood circulation and as an athletic tool to better compete and train in sports.
Medicinally assisting in blood flow can help prevent all sorts of illnesses and also future sports injuries.
For those who suffer from continual bad circulation, you can suffer from constant pain in your legs, numbness, and deep vein thrombosis.
Poor circulation can also cause varicose veins and diabetes. And for this reason, people traveling or flying on long flights may need to put on these compression socks to avoid all the swelling caused.
For those with diabetes, inflammation, pain, or soreness in the leg you know just how essential it is to take proper care of your swollen feet.
By working with your proper diet and artificially assisting in blood circulation with a pair of compression socks you can mitigate a lot of the damage being done to your feet and lower legs.
For those looking to use these ankle compression sleeves athletically, the socks can help you if you are someone who continually suffers from cramping in your lower legs or feet.
Several athletes who suffer from calf cramping prefer wearing the best compression socks for athletes as they can drive more blood to their calves and help them work through potential issues.
If you are into sports like running, basketball, tennis, racquetball, football, soccer, hiking, cross-fit, or other triathlete activities you should definitely get them for better sports.
Tighter socks on top of tighter tied shoes can lead to fewer rolled or sprained ankles, which means more time on your feet training and less time focusing on recovery and relaxation.
Compression socks can have you training harder for longer periods of time since your muscles will be receiving more blood and will be able to recover more quickly.
What Size Compression Socks Do I Need?
Picking the right size compression sock is crucial to get the maximum benefits out of it without proving harmful.
Below is the size chart for compression socks you can check before buying.
Do note that every brand offers different varieties and sizes including plus sizes.
It is good to consult with your podiatrist and check the size chart of the specific stocking brand you are picking.
This will ensure that the sock you are choosing fits you best and does not cause any risk of getting side effects.
What Are The Different Levels, Types, and Styles?
Supporting Compression Sleeves and Stockings are specially designed to offer different compression grades (strengths or support levels) according to the user's requirement.
In general, the most commonly used compression support levels are categorized into the following grades:
Non-Medical Grade
Mild (8-15 mmHg): For relieving minor problems like leg fatigue, tiredness, and swelling
Moderate (15-20 mmHg): For preventing and relieving minor to moderate problems like fatigue, varicose, and spider veins
Medical Grade
Firm (20-30 mmHg): For preventing and relieving moderate to severe foot problems during pregnancy, varicose veins, and others
Extra-firm (30-40 mmHg): For preventing and relieving severe varicose veins, edema, lymphedema, and others
In addition to grades and levels, these compression sleeves also come in a variety of different styles and types for varied user needs. These are:
Knee-High compression sleeves/socks: These are again available in various different styles, colors, and thicknesses.
Ranging from thick cushion cotton sock to ultra-thin pantyhose material these can be purchased in open or closed-toe styles.
Thigh High compression garments: These compression garments are used by people who need to have full leg compression on either 1 or both legs.
These are also available in open and closed-toe styles with different fabric and color options to choose from.
Pantyhose/maternity garments: These are specially designed compression garments that are meant for ladies during the maternity period.
It's useful when they require bilateral support and compression for pain relief.
Can I Wear My Compression Socks While Sleeping?
To answer in short it's a NO.
Do not ever wear your athletic compression socks or sleeves while sleeping – as the compression levels they provide can be too high for you.
Particularly if you are a healthy person and do not suffer from some major foot or ankle issues it is good to sleep without your compression socks.
For you, compression socks are just for avoiding any possible sports-related injuries and not for sleeping.
I know many athletes, as well as runners, love to sleep in their compression socks, and for good reasons.
You may be tempted to getting a cozy feel in your socks after a big race day. But believe me, unlike normal socks it's really not safe to sleep in your compression socks.
These socks work by offering constant pressure to your circulatory system that fights against gravity to pump the blood back to your heart.
Hence these are good to be worn when you're awake or moving around.
Wearing them when you are lying down on your bed for a long time can put extra pressure on your ankle and calf.
And since your circulatory system now doesn't need to fight the gravitational force it can cut off the circulation.
Now, if you are recommended to wear compression socks at night (due to any health issues or post-surgery) you should rely on the lowest possible compression levels (15 mmHg or low) that are available in the market.
Can My Compression Socks Help With Shin Splints?
Runners who suffer from shin splints already know the achy feeling of lower painful legs. This particularly gets worse when you exercise or travel a lot.
In fact, for many, it may take years to heal the pain and get rid of the problem completely.
Of course, compression stockings for shin splints do help a lot, provided you choose the right pair and wear them smoothly against the leg, without any folds.
However, to those who think that compression socks for shin splints can do a magical effect on their pain, it's worth noting that this is not a problem that can be relieved overnight.
You just need to make a habit of wearing these specially designed socks when you are exercising, at work, or on travel. These do not flare up your problems and can help them get relieved slowly.
Can Compression Socks Avoid Ankle Injuries And Pain?
Yes, they can!
Many athletes swear by compression socks and keep them as a staple of their workout clothing because of the way they help with training.
A tighter sock combined with a tighter shoe will help stabilize the ankle throughout the workout and will work to prevent sprains or strains on the tendons.
Keeping the ankle locked into place will prevent rolls and ensure the ankle and foot and hitting each stride solidly and protect you and your joints.
By driving more blood to the feet and ankle the muscles and surrounding tissue will be able to recover quicker and make the area around these joints stronger.
More blood in the area and more oxygen in the area mean healthier muscles and tendons. Compression socks can help alleviate the numbness and pain that is associated with poor blood circulation.
It can help you prevent varicose veins and the issues that arise from a lifetime of this issue. These are supercharged socks specifically designed to help you train better and better protect your body.
Fewer issues with your legs mean more time training and that training is better spent since the issues that arise with increased training are being mitigated by the compression socks.
Can Compression Socks Cause Swelling or Leg Cramps?
Typically the best compression socks for athletes are safe to wear and provide positive results with no complications. However, when you wear them incorrectly or chose the wrong size it can show a few unpleasant side effects.
Particularly if you are trying to wear the wrong size/fit stockings for long it can prove to be dangerous for your legs and calves. The very first sign you may see while wearing the wrong socks is leg swelling.
When worn for long it may also lead to other complex conditions like muscle cramps in legs or blood clots.
People who suffer from sensory problems or conditions like peripheral neuropathy often do not feel when their socks are too tight.
Wearing these tight-fitting compression socks can hence hamper their circulation and may show other side effects.
Compression therapy is also considered unsafe for people with arterial disorders, skin sensation disorders, dermatitis, or pulmonary edema.
If you suffer from any such conditions you should consult with your doctor, before trying any sort of compression garments, to avoid the side effects and possible risks.
Incoming search terms:
Physix Gear Compression Socks Men & Women (20-30 mmHg) Best Graduated Athletic Fit Running Nurses Shin Splints Flight Travel
best compression socks for varicose veins
ankle hurts with compression