*This page may contain affiliate links. When you buy through these links, we may earn a small commission at no extra cost to you.
It's coming up to the time of year again when people stock up on the marshmallows and hot chocolate, wrap up warm, dust off their skiing and hiking equipment, and head off to the slopes to enjoy all that the great outdoors has to offer.
Skiing breaks and hiking breaks are now more popular than ever, and if you're thinking of heading outdoors and trying your hand at either/both, one of the most important things you'll need to be, is warm.
Electric heated socks and insoles are incredibly popular this time of year, and during the holidays, they make truly wonderful stocking fillers.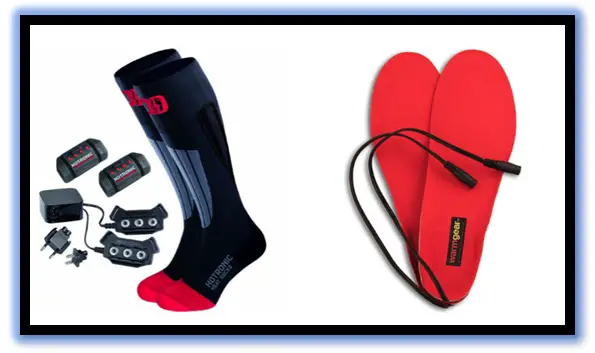 Heated Socks Vs. Heated Insoles: Which Is Better?
If you have a skiing vacation booked, or if you're planning on hiking this fall/winter, keeping your feet warm is essential.
However, picking the right one among heated socks vs. heated insoles can be confusing.
Here we will look at which one to choose for skiing and hiking, the best electric heated socks or heated insoles…
What Are Electric Heated Socks?
Electric heated socks, or battery heated socks, as they are sometimes called, are specially designed socks that have been created to keep the wearer's feet warm in cooler weather.
They're designed with heating elements that provide far-infrared rays and deep penetrating heat.
These socks are electronically operated to heat up and provide continuous heat when switched on.
Depending on your chosen brand, these socks provide anything from 2 hours up to 14 hours of continuous heating.
Pros:
Warm the feet faster
It can be used with different boots
It can be controlled with your smartphone
It can be recharged easily with a rechargeable battery pack
Cons:
Bulky to carry
It can be expensive to buy
What Are Electric Heated Insoles?
Like the battery-operated socks, heated insoles are also meant to relieve your cold feet in that below-freezing temperature.
These are designed to keep your feet at a consistent temperature without getting too sweaty due to heat.
The working procedure of these heated insoles can differ based on the brand and model you purchase.
However, the basic idea will be the same for all of them, which is to keep your feet warm by providing them with artificial heat.
Pros:
Lightweight
Comes at a lower cost
It can be used as an insole for better fitting
It can be recharged easily via USB, Motorcycle's battery
Cons:
Does not warm the feet much
It cannot be used with different boots
Limited options to control the temperature
What Is The Difference, and Which Is Better?
Although the ultimate aim of both these products is the same, there are differences between them, based on which you should pick the one that suits you best.
1- First of all, the basic most – just like other types of footbeds, the heated insoles fit your shoes and not your feet.
This means you do not need to wear them like socks. Once fitted in your shoes, you do not need to remove them repeatedly.
And as soon as you feel enough heat, you can simply turn them off.
Heated socks, on the other hand, are worn on your feet and need to be removed when you do not need them.
2- Secondly, heated socks are often bulky as compared to heated insoles. And for this reason, it can be a hassle to carry and wear.
Since these heated socks come with elements and wiring all along their length, they carry an extra weight you need to bear while hiking or skiing.
3- Thirdly, heated socks can not be used as insoles. Like insoles, these cannot help you in providing better shoe fitting.
But the advantageous part is that you can use them with any of your boots as they do not fit the boot.
Reasons You Should Have Heated Socks or Insoles?
Now we're going to look at a few awesome benefits of wearing electric heated socks or insoles when hiking and/or skiing.
✅ Keep your feet warm –
One of the main benefits of electric heated socks is the fact that they do help keep your feet warm.
Skiing or snowboarding is an activity that is performed in the snow. Needless to say, if you're in the snow, you will be exposed to cold temperatures.
Keeping your feet nice and warm is essential when in the snow as this could potentially be dangerous (like in the case of trench foot).
When hiking, you'll be exposed to all manner of different weather and conditions. And again, keeping your feet warm and comfortable is essential.
✅ Comfort –
Let's face it, one of the main benefits of wearing electric heated insoles or socks is the fact that they feel so nice and comfortable on your feet.
Having warm feet will make your hiking and/or skiing experiences much more enjoyable than if your feet were cold, wet, and uncomfortable.
When you're nice and warm, everything feels better, and life just seems better. This, in turn, means that you'll enjoy your skiing and/or hiking.
✅ Support –
Many electric heated socks and insoles are not only designed to be comfortable, but they're also designed to help offer you additional support to your feet.
The socks help to gently ease pressure and provide additional pain relief. They'll also help ensure that your feet and heels are supported when participating in your winter activity of choice.
✅ Circulation –
One often overlooked benefit of wearing heated socks is the fact that they help to boost and enhance your circulation.
Having warm feet means that your circulation will improve, which in turn will help provide numerous health benefits.
Having good circulation will ensure that your extremities remain nice and warm, it will increase blood flow and oxygen transportation, and it'll help prevent serious health conditions such as frostbite.
Factors You Should Look For When Picking Them Online?
In this next section, we're going to share a few useful tips with you based on choosing the best electric heated socks and insoles.
No matter what you choose (electric heated socks or insoles), there are a few essential factors you will need to consider so that you end up buying the right pair for you.
1- Heating time:
You need to remember that not all electric heated insoles/socks are created equal.
Different manufacturers offer different devices, and as a result, some socks offer much longer heating durations than others.
If you're planning on wearing your insoles and socks whilst hiking for several hours in the winter, you'll want socks that provide long durations of heat.
When choosing electric heated socks or insoles, find out how long the insoles or socks you have your eyes on will provide continuous heat per charge.
As we mentioned earlier, some socks provide heat for around 2 hours per charge, whereas others will provide heat for as long as 14 hours per charge.
2- Material:
Another very important consideration when choosing electric heated socks is the material they're made from.
Heated socks and insoles can come in various materials, so choose ones that feel right for you.
If you prefer thinner socks, look for thinner materials. If you want thicker materials, you can probably guess what we'll tell you to look for.
3- Charge time:
For your socks/insoles to provide their heat, they need a lithium-ion battery. Batteries need to be charged up, so it's important to consider the charge time.
If you need to charge them quickly, look for devices with shorter charge times.
Just bear in mind that socks can take upwards of 8 hours to fully charge in some instances, so if you do need them quickly, just make sure you don't forget to stick them on charge as soon as you get to a power source.
4- Temperature control:
Some heated insoles and socks come complete with temperature control, so you can literally make them warmer or cooler.
You can use your smartphone for some devices and sync it wirelessly via Bluetooth, or alternatively, you can regulate the temperature via remote control.
If you would like the option of making your socks warmer or cooler, look for ones with temperature control.
5- Design:
Whilst your insoles or socks won't really be visible, it still wouldn't hurt to find ones in a design that you find attractive. This is especially true if you are picking the socks instead of insoles.
We understand that you're not wearing them to make a fashion statement, but even so, choosing socks in a design that you find appealing is certainly not considered to be a bad thing.
So, Which One Should You Choose between Heated Insoles and Heated Socks?
Well, depending on your requirements and purpose, you may choose the one that suits you best.
I feel that replacing the batteries can be extremely expensive. So if you have socks that need to replace the battery, it can prove to be highly expensive.
In that regard, I would definitely choose either the socks with a rechargeable battery or the insoles that can be charged easily via USB.
If the budget is not a problem, I recommend buying a pair of both as both of them have their pros and cons. Both of these can prove to be beneficial for your feet.
If you have limited money to spend, I would suggest you buy heated insoles as they are lightweight and less expensive to buy.
Incoming search terms:
heated socks vs heated insoles
https://anklepain info/heated-socks-vs-heated-insoles/
heated ankle socks