*This page may contain affiliate links. When you buy through these links, we may earn a small commission at no extra cost to you.
From bulletin boards to wine bottles to footwear insoles, cork material is being used in the majority of consumer products.
The primary reason behind its soaring popularity is its durability and affordability.
Because it has the ability to mold the shape as per your foot; cork footwear is the most preferred one, especially for people suffering from leg/foot discomfort.
If you are really passionate about trying this great natural product for relieving your foot discomfort, let's discuss some more information right here in this useful guide below…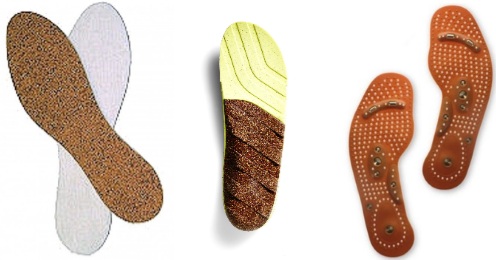 What Is Cork?

Extracted from Cork Oak Trees it is a 100% natural ingredient.
Cork is generally a water-resistant, buoyant, and versatile material used for manufacturing various day-to-day products.
Perhaps; the primary reason you will find the wine corks made out of cork material (no leakages).
Cork is also relatively inexpensive, and it does not require a lot of resources to produce it.
Benefits of Cork Footbeds
Cork insoles
are shock resistant and hence benefit by providing ample cushioning while running.
The best thing about cork footbeds is, it is one of the most sustainable and environmentally-friendly products found.
Its moisture absorbing feature makes it comfortable to wear even during the rainy season – where other insoles when worn in such climatic condition, is not a pleasant experience.
You can, in fact, walk through as many rainy days as you come across without risking the longevity of your cork-soled shoes.
Additionally; when subjected to the heat applied and weight, the cork insoles can easily mold themselves as per the wearer's feet.
✅ It's odor resistant
Cork is a natural material that makes it perfect footwear for those looking for odor-free shoes and sandals.
It easily absorbs moisture / natural sweating from the feet keeping your feet dry and odor-free for a long time.
✅ Heat resistant and durable
Cork footbeds are heat resistant, and durable. In fact, the longer you wear them, the more comfortable they become.
This is because the natural heat from your feet helps the footbed molds taking the form of your foot.
Not only this increases comfort while walking but also it acts like an orthopedic insole for your feet to avoid all the foot problems.
The risk of developing foot ache, knee pain, or ankle-related issues are minimal when you rely on these insoles.
✅ Sturdier for a pain-free experience
Extremely light in weight these cork footbeds are comfortable to walk for people suffering from Achilles tendon, plantar fasciitis, arch pain, and other similar leg aches and feet-related medical problems.
Cork footbed is also a good option because they are sturdier when compared with other insole materials, like gel or plastic.
Irrespective of its ability to mold to a certain extent, the cork materials stay firm compared to other insole materials, therefore, maintaining better foot alignment and arch support.
✅ Low impact and good for your knees
Cork footwear is extremely comfortable, making them one of the best solutions for sustainable sandals and shoes.
Many times medical practitioners recommend wearing cork footwear to those who are suffering from problems related to foot, ankle, and knees.
The fibrous material when carved into insoles develops elasticity. And for the same reason when you walk, your feet get good cushioning for extra support causing less impact on your knees, shins, and back.
5 Best Cork Insoles for Shoes
Cork insoles for shoes, boots, and sandals provide the highest degree of comfort to the wearer when chosen wisely.
Below are some of the best products you can check online when planning to buy.
1- Birkenstock Cork Insoles
Imported, made in Germany, and send directly from Germany Birkenstock Replacement Footbed for sandals and shoes comes in regular width to suit the demand of every user.
Available in Habana delicate color these cork-made insoles are of high quality and are one of the best fit for avoiding pain in your foot.
However, as these Birkenstock cork insoles for Plantar Fasciitis do not come at a cheap price you should check for the fitting and size carefully before you buy them for your shoes, slippers or sandals.
2- Downunders Ultra Walker Footbeds
Designed out of Eva and natural cork material, Downunders Ultra Walker Footbed Green features with deep heel pocket that captures a greater area of your heel bone and forefoot arch support.
Easily trimmed with scissors to fit inside shoes, it is one of the most sophisticated footbeds available in the market.
It is recognized by the majority of the doctors for people suffering from various leg and foot problems.
Comfort comes from the force being spread out over a larger area and the stability comes to the ergonomically positioned contours.
The Downunders Ultra Walker Footbed is more breathable when compared with the insoles featuring it with the deep heel cup that helps collect your foot's natural cushioning, the plantar fat pad.
You can shop the largest choice of inserts, magnetic soft gel insoles, and footbeds online at Amazon. And if you're unhappy with your insole for any reason, they will replace it or give you a refund, no questions asked.
3- Honey Soles Natural Cork Shoe Insoles
Cork is a very simple, natural material that has been around for thousands of years and the key thing is it prevents fungus and bacteria from developing in your shoes.
Honey Soles are specifically shaped to support your feet and feel lightly weighted just like flip-flops inside your shoes, providing greater comfort.
Designed out of high-performance shock absorbing technology; these durable insoles are extremely comfortable to wear it for the entire day.
Cleverly designed with high quality, super-premium materials, hence gives you the strong support that you need if you are going to spend the majority of the time standing/walking.
The soles have a contoured supportive design, which provides correct posture, and foot alignment.
They help with over-pronation which is the leading cause of plantar fasciitis. Easy to use, Honey Soles are inserted in the shoe; replacing your present shoe insole.
It fits best in most footwear with removable insoles. The insoles are shipped worldwide from Amazon. If you don't like them for any reason, you get a full refund.
4- ODMJ Cork Shoe Insoles Replacement Insert
Long-term cushioning insole comfort for boots and shoes these Cork Shoe insoles are antimicrobial. The insole breathes and manages moisture and odor.
This efficiently designed arch support improves the alignment of the foot, offering comfort and stability.
The ODMJ Cork shoe insoles feels like they are custom made hence fits perfectly; strengthening the heel of the foot preventing the vertical foot pressure.
The insoles feature an anti-skid grip promoting better balance and correct foot alignment.
The breathable, odor-absorbing cork insole material keeps your feet fresh even without a sock.
The best part about natural cork insoles is they are naturally anti-bacterial and anti-fungal.
The cork layer wicks away sweat. But sometimes, they do get dirty.
If you see your insoles beginning to get dirty; use a light application of hand soap and water. They are easy to clean and maintain.
The cork insole inserts are available in both men's and women's foot sizes at Amazon. If you are unsatisfied with the product, it guarantees a 100% refund.
5- Birkenstock Men's Super Birki-Clog Footbed Flat
Available in various sizes to suit the demand of users, Birkenstock Professional Men's Super Birki-Clog Footbed Flat is a real deal you cannot afford to miss out on.
Birkenstock is known for its original premium quality when it comes to shoes and replacement cork insoles.
They have been using organic cork and leather to produce the most comfortable and relaxing insoles made up of cork.
The perfect shape of these Original Birkenstock footbeds enables you to balance your body weight evenly over your whole foot.
This ultimately provides the best optimal support you need while walking or running.
Why You Need Cork Shoe Inserts?
Not only Plantar Fasciitis and high arches, but also your excess body weight can cause a great deal of uncomforted feel and pain in your feet.
Especially when you are standing for long hours or walking on an excessively hard surface like concrete, extra stress caused can cause your heel pad to wear down sooner.
And since your natural shock absorbers do not work as expected it can cause plantar fasciitis pain to develop.
Thankfully there is now a choice to make for people suffering from these foot conditions – cork inserts for your shoes or sandals.
Not only for your daily footwear but orthopedic cork insoles are also available for high heels, hiking boots, ski boots, etc. to provide better cushioning and support no matter where you are.
For Whom Are Cork Insoles A Good Buy?
Buying the right kind of insoles or inserts can save you a lot of money and effort in the long run.
It keeps you away from problems like metatarsal arches, flat feet, fallen arches, posture problems, and Plantar Fasciitis
If you into a profession such as sports trainer, athlete, teacher, custodian, law enforcement officer, doctor, nurse, or industrial worker, you should consider getting them sooner or later.
These will help you to move about freely and to participate in your daily activities with a whole lot of fun and energy.
Irrespective of in which profession you are, you should consider using your cork inserts with all the care.
Due to sanitary reasons do not ever share them with others, not even with your family members.
Most of the insoles also shape to contour the individual's foot. And if you share them with others it can change the form.
Besides being hygienic it's also advised to take your insoles out of your shoes when not in use. To air them out naturally I keep them out of my shoes on all the weekends.
How to Clean and Care for Your Cork Insoles?
It has been seen that insoles made of a recycled cork being natural, usually have a higher lifespan than your regular insoles (about 6-8 months) that are made up of foam, gel, or leather.
However, if you care for them you can even make them last longer. While cleaning them make sure that you read the tips and instructions directed by the manufacturer.
There are insoles that can be machine washed, but with cork insoles, you may need to be careful. Washing them improperly or with aggressive force can potentially ruin their structure.
And for this reason, I usually wash my cork insoles for plantar fasciitis using soap and water. I wash them gently with my hands and just a few minutes of care a week keeps my insoles fresh and clean.
Cork Insoles for Plantar Fasciitis: Buying Guide
Natural cork insoles are no doubt one of the best Plantar Fasciitis insoles you can buy for relieving heel pain.
However, before buying them online, you need to check some of the essential factors that will decide the comfort level and effectiveness of the product.
Few of these factors you should seek out include:
☑ Proper Fit
Insoles designed to relieve the plantar fasciitis pain should, first of all, have a good fitting without which you may not go to benefit for long.
The insole you choose to pick should come with a deep heel cup that can provide you with effective shock absorption.
It has been seen that a cork insole or a gel cushion, when placed at the bottom of the heel cup, worked very well in absorbing the shock and easing the pain of plantar fasciitis as well as heel spurs.
☑ Good Support
After finding a proper fit you should insist on getting good support as well.
Especially if you work where you need to stand all day or when your feet do not relax for extended periods of time the balls of your feet are then bound to get painful.
Getting good support for the arch of your foot will help in preventing this problem.
When I opted for an arch support insole that has been designed to prevent/relieve plantar fasciitis I personally felt too high initially.
But with time I experienced that my arch support is helping to make the full, firm contact with my arches of the foot. And they provided good relief of pressure on my heels.
☑ Shock Absorption
Good cushioning that provides your feet with proper shock absorption, can help in preventing foot fatigue and pain in the long run.
Especially when you must be on your feet for long hours without any break or at times when you need to stand, walk or run on very hard surfaces, these shock absorbers come into play to make your feet a bit relieved.
For me extra cushioning, shock absorption and solid support that my cork insoles have provided me had helped a lot.
Also, it helps in providing me the extra stability and alignment when I am at work for long hours.
☑ Comfortable Material
Well, it's a no-brainer! Especially for me, anything I choose for my body should have a comfortable material and high quality. And I hope the same for you.
When you are investing in anything for your body comfort you are actually providing your body with good health and longer life.
So make sure that the cork insoles you choose to have for your feet come with proper branding and the right material as well.
These may then go for long in relieving your foot.
What Other Insole Types are Good for Plantar Fasciitis?
1- Copper Insoles
Copper insoles are one of the most popular choices among people suffering from pain due to plantar fasciitis, high arches, arthritis, and other foot-related issues.
Copper fit insoles are highly effective in alleviating the ache due to the fact that copper is a magnetic metal that is present in these insoles (in the form of particles) to produce its own magnetic charge for faster relief.
Due to the property of magnetism these insoles also work to put off the pressure of your foot.
Remember, inserting copper fit balance insoles in your shoes does not mean that they can cure the pain permanently. However, wearing them in your shoes can have a small positive impact to relieve foot pain.
The podiatrist suggests that you should maintain correct foot posture (while standing, walking, or running) to get faster relief from painful foot problems.
2- Liquid Filled Insoles
These are the kind of insoles that are filled with any liquid or gel-based medium.
Liquid gel insoles for shoes are designed in such a way that it conforms to the shape and size of your feet very easily.
And for this reason, these types of liquid-filled shoe insoles precisely relieve the pressure of your feet (by absorbing the shock and distributing the impact of the force) where it needs the most.
In general liquid insoles are sold on the market in two types i.e. gel insoles and glycerin insoles.
People who lead active lifestyles, people who suffer from some medical foot conditions (like Plantar Fasciitis, peripheral neuropathy, diabetes) or athletes who need to tackle the foot shocks on the field can benefit most from these liquid-filled massaging insoles for shoes.
3- Insulated Thermal Insoles
These are technically the insoles that work by insulating your shoes and keeping them warm in cold weather conditions.
While keeping your feet nice and cozy these thermal inserts allow the warm air to circulate thoroughly inside the shoes.
Usually made up of heat conductive material (aluminum or latex) these thermal inserts act like an element to develop additional heat.
Also, these warm insoles are highly absorbent. This means it removes the moisture from your feet very quickly which again helps in maintaining the proper temperature.
Insulating cold weather insoles for boots are basically of two types. These are:
Aerogel Insoles: made up of special gel to trap the heat inside your shoes or boot
Merino Wool Insoles: made up of finest quality breathable merino wool that comes from a merino sheep
Remember that these snow boot insoles for warmth are usually thicker and are built with a higher profile so that they can build up more heat inside the shoes and can radiate it inside to keep your feet warm even in extremely low-temperature conditions.
And for this reason, you need to make sure that you pick the right size and fit for your shoes.
Conclusion
Extracted from the bark of the cork oak trees; it continues to thrive and reproduce the bark throughout the lifetime making it a very versatile, renewable natural material for footwear.
If you are on your feet for a long time, consider buying a pair of cork footbed shoes or sandals available in trendy styles.
They are natural and incredibly comfortable and ensures to give you relaxed feet all day long.
Being available at various online shopping portals with a money-back guarantee if you are not happy with the product there is absolutely no excuse for not buying one!
Incoming search terms:
cork insoles
cork inserts for shoes
cork insole