*This page may contain affiliate links. When you buy through these links, we may earn a small commission at no extra cost to you.
Uggs are extremely fascinating. No matter its Ugg boots, sandals, or slippers, they are crafted with utmost care to deliver maximum comfort to their users.
Although Uggs are long-lasting, if you take care of them, they can last even longer – thanks to their high-quality material and manufacturing (by UGG Australia).
Crafted with the most luxurious sheepskin, rich leather, and soft, premium suede, these warm boots are globally known for providing unparalleled cushioning and lightness.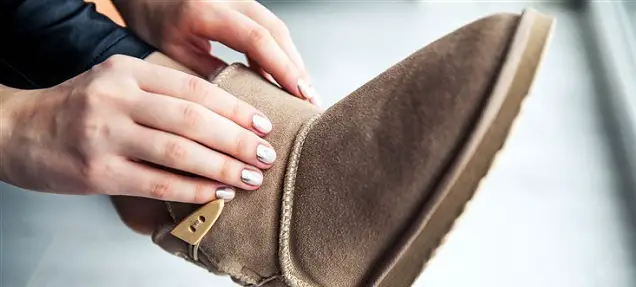 Ugg boots and sandals carry hard soles and can be a great companion for people who love strolling the boulevards or enjoying the outdoors in the chilling winter months.
If you think that you're old worn-out boots, need a bit of revival – just a pair of new insoles for Uggs can do the magic trick!
7 Easy Steps to Replace Your Ugg Insoles
Before you plan to replace your Ugg insoles make sure that you double-check your boots or sandals and make sure that these have an option to change the replaceable insoles.
When you have confirmed that you are replacing your Ugg boot's insoles, you need to follow the below steps:
Step #1
Reach inside your Ugg boots and with your fingers or butter knife, try to lift the current insole away from the footbed to remove it completely.
Step #2
Now open up the newly bought insole package carefully to get your new insoles out.
Step #3
Start inserting into the boot, first with the toe side. Push the toe side of the insole inside your boot and let it go as far as it can.
Step #4
If required wiggle a bit your new insole around just to make sure that it goes well on its way.
Step #5
Once you feel that the insole is not moving further, it's time to slowly push the heel of your Ugg insole down with your fingertips.
Step #6
Now when you have replaced the insole on one of your Ugg boots, perform the same insole removal and replacing procedure for your second Ugg boot carefully.
Step #7
When you have installed your new Ugg insoles, you need to put on your Ugg boot pair to make sure that they mold them to the shape of your foot properly.
Few Important Things to Note
Not every Ugg boot with arch support is designed with replaceable insoles. If it's present in your Ugg boot, you need to check for the proper size you need.
To get the proper size and comfortable fit, make sure that you buy them only from a reliable store.
Secondly, if you are planning to replace your insoles just because your Uggs got wet or sweaty, you may simply remove the insoles and air them out for a few hours.
If the insoles are too dirty or smelly, you may sprinkle in a little baking soda. Let it sit overnight to get rid of the odor easily.
This way, you do not need to invest in a new insole pair.
Are Classic Ugg Insoles Removable?
Unfortunately, the classic line of Uggs does not have removable insoles in them.
However, if you really want to, you can fit a new one on top of the old one, depending upon your feet size and the space you have available in your Uggs.
Which Uggs Have Removable Insoles In Them?
Let's face the fact: Not all Uggs have removable insoles!
When shopping for a new pair of Uggs, most of you will prefer to have UGGS that have removable insoles. And I completely agree with your decision for good reasons.
However, the ugly truth is not every Ugg shoe you will find on the market will come with removable insoles.
You, therefore, need to do your research well and find a pair that comes with it.
Well, to make it easier for you, let's talk about some of the best options that are available with a removable insole.
Without any delay, let's get started and take a closer look…
1- Amie Boots for Women
Women's Amie Boots look much like those Ugg classics with an added advantage – it enables you to remove and add your insole.
These are made up of 100% sheepskin and are available in 7 different colors to choose from.
Its synthetic sole is super comforting, and the best part is you can add your insole into your old comfy Uggs before you match them up with skinny jeans or with a cute-looking short skirt.
2- Women's Atlason Snow Boot
Women's Atlason Snow Boots features 100% leather and Vibram outsole to add that extra grip on the slippery ice.
No matter if you want to slip on your Ugg boot on a casual night out or for work, these are most comfortable all the time.
And since these are designed waterproof, you do not have to worry about getting your feet wet when walking through the ice in those extreme mercury dips (cold weather rating to -32C)
Available in colors such as chestnut, charcoal, navy, and black these calf-high boots should be a must-have in your closet.
Most importantly, these Atlason snow boots also feature removable insoles so that you easily make your Uggs even more comfortable.
Due to its premium quality leather material, it can serve you for years to come.
3- Men's Butte Snow Boot by UGG
Butte Snow Boot for men are crafted from 100% cow leather and suede – these are also waterproof.
No doubt these Ugg snow boot comes with a removable insole so that you can replace them whenever you want.
By customizing these Butte snow boot your way, you can make them highly comfortable as per your foot design and arches.
Featuring premium quality Vibram outsole, these will comfortably stay on your feet all day long, no matter whether you are in your office or on a date with your love.
Since these are extremely light in weight and are available in the two-tone color, you can use their long hours, literally for a whole wintery day.
4- Henrick Stripe Perf Boat Shoe for Men
Men's Henrick Stripe Perf Boat Shoe is again made with 100 percent leather and has a comfortable synthetic sole
These boat shoes come with removable enerG insoles and its treadlite outsole makes them extremely comfortable.
Available in 7 different colors, these Ugg boat shoes are so light that you will not even realize you're wearing them for a whole day.
Why Choose Ugg Boots With A Removable Insole?
While Ugg boots are known for their luxurious warm feel, comfort, and better arch support, there are many users who claim that Uggs are bad for knees and flat feet.
Well, there are critics all around, and we can't control them. For everything in this world, there are people who love it and also ones who hate it.
I found that your Uggs can go bad if you do not choose them wisely.
And for this reason, I always recommend buying the Ugg boots that come with removable insoles. This is simply because it allows you to customize the feel and comfort based on your specific needs.
Also, removable insoles allow you to get them cleaned very easily. You can remove them out of your boots to periodically clean them for freshness.
Do not go for a classic line of Ugg boots, as they do not come with removable insoles.
How to Trim the Replacement Insoles for Better Fitting?
You may need to trim your Ugg slipper insoles just in case the insoles you received are a bit bigger.
Don't worry; trimming your insoles is a simple process by which you can easily customize them at home to make sure that they fit correctly in a specific pair of shoes, boots, or sandals you have.
Things You Will Need
Trimming your new Ugg boots insoles can be done with products you have in your home. All you need is:
A pair of sharp scissors
A marker pen like Sharpie® or any other
And of course, your new insoles that need the trimming
Steps to Follow
Now that you have all that is needed, it's time to trim. You can follow the steps below:
Align the insoles by putting the old insole on top of the new one
Try to align the insoles from the heel first, and then you need to line the heel and arch as best as possible
Use your marking pen to trace the original insole along the toe section. This will serve as a cutting line for the part you need to trim
Now when you have traced the line well, keep aside the old insole and cut the new one along the line you drew. While trimming, try to keep your scissors just inside the line to get a better fit.
After you have trimmed the first piece, check the fitting by putting the insole in the boot. And then trim the other insole piece.
Well, your Ugg replacement insoles are now shaped correctly and are ready to slip into your boot.
Fix it smoothly into your boot and start enjoying the fresh feel of your luxurious Uggs again.
How can I Make My Ugg Insoles Last Longer?
Uggs (and their genuine insoles) being expensive, you always want to last them for long. Following a few tips below, you can make sure that your insoles go a long way to serve your feet, even longer than you actually expected.
First of all, Keep your Uggs and their insoles dry. Do not let them soak or absorb the water.
If it gets wet for any reason, get them dried naturally as soon as possible. Make sure that you do not use a drier or any other method to dry them fast.
Wash your insoles periodically with Luke's warm water. Add a mild detergent or soap if required.
As your Ugg insoles are made of wool and other sensitive material, do not get them washed in a washing machine.
Final Thoughts…
Although your classic Ugg boots do not come with removable insoles, there are yet many Ugg models that do and can be tried out.
Make sure to check the tips above on how to remove and replace them properly so that you do not damage your favorite expensive Uggs.
Incoming search terms:
ugg insoles
https://anklepain info/ugg-insoles/
how to remove insole ugg classic