*This page may contain affiliate links. When you buy through these links, we may earn a small commission at no extra cost to you.
Athletes, who wear socks on a regular basis, often think how long will their socks last?
Almost everyone knows that socks aren't meant to last forever, but this information is significant for consumers to measure if what they are buying is worth the price and how long will it last?
While some producers suggest their socks will last roughly for a year when worn once a week, many others offer a 2-year warranty.
There are also a few brands that provide a lifetime guarantee.
The reality is, the lifespan of your socks depends majorly on:
Quality of the material and production of the socks
How well you wear and how much you care about them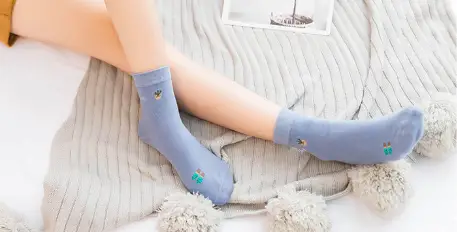 How Long Should Socks Last?
To be frank, there isn't any reliable method to measure the lifespan of your socks because every sock is different.
With that being said, here are some factors which influence how long your socks will last and what can you do to enhance its life?
How you wear socks?
In order to the life of your socks, ensure they fit you properly. Socks if too small for your feet will stretch out the fabric too much and stress it.
Socks that are too big will get collected in the shoes leading to undue friction in the fabric.
Thus, it should fit perfectly and you should always keep your toenail trimmed to prevent unwanted wear.
How you wash your socks?
Socks are highly delicate and hence you should consider hand washing.
The friction of one cloth rubbing against the other in the washing machine and dryer damages the fabric with every wash.
However, if you wash your socks in the machine, then wash them inside out. Do not iron your socks.
Where are you wearing them?
If you walk around a lot without your shoes, then you are shortening the life of your socks. Despite walking on your house floor, even then your socks will wear faster.
Even carpeted floors cause friction while unpolished wooden floors may poke holes in the socks.
Smooth surface causes less wear and tear. Hence, make sure that you don't do any activity with your socks on.
Try to wear synthetic socks for athletics and sports.
---
Signs You Should Be Retiring Your Old Socks
Old worn out socks can leave indentation marks on legs.
So it's time to say goodbye to your old socks and offer your tootsies a treat before it gets too late.
You should be ditching your old socks when:
You feel the pain in your feet, particularly during the training sessions when you sweat a lot.
The fabric has worn out and has grown thinner on the ankle or toe and your start seeing holes in it.
The elastic of your socks have burnt-out. This may keep you distracted during the training and can affect your performance on the field greatly.
You see that the material of the sock has worn out and there are holes seen at the bottom. This can be the sign of low cushioning and can lead to blisters and foot injuries if worn for long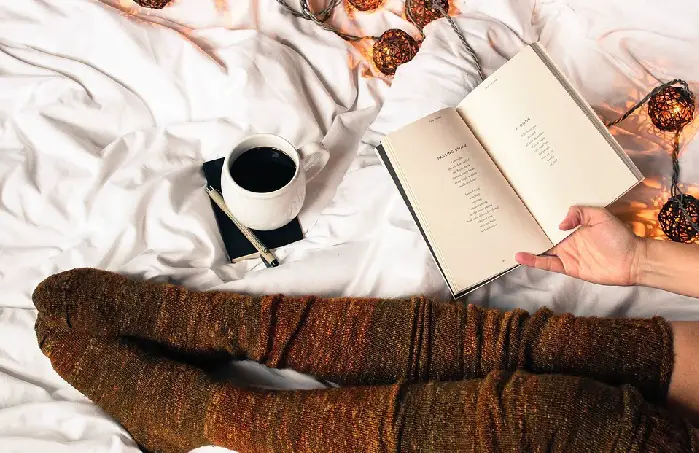 ---
When Should You Throw Away Your Old Socks?
Once your socks have worn out, you should throw them right away before it causes more harm than good. Do not overuse the socks ever!
When buying a new pair, don't just pick up any socks. Instead, you should always try to opt for a few pair of quality socks with features that provides you the maximum comfort.
For instance, if you are particularly looking for socks that are meant for relieving the swelling in your legs and calves you can go for compression socks.
But if you are in need of just a pair of causal no show or low cut socks you can go with ankle socks.
Important features such as flat toe seam, padding, cushioning, arch band support, a Y-heel design, etc. are also worth considering when you are buying a pair of new socks.
No matter what situation you are in, you should wear a sock that is good at wicking and absorption.
Go for breathable socks which keep humidity away from your skin and keeps your feet safe and dry even during hot and humid weather.
Pick up the right set of socks for your feet and give them perfect comfort until you let them retire.
---
How to Wear and Fold Your Ankle Socks with Shoes?
How you wear and fold your socks will make a significant difference in how long your socks will last.
Although they look basic, if you wear different colors of socks with different prints and patterns it can look very cool and trendy.
And at the same time, they would be a lot easier to be pulled up to the ankle as the material would support it.
Ankle socks would look great with loafers and jelly shoes. However, as they are very short it is quite challenging to fold them properly and keep them organized.
Let's look at the ways you can keep your ankle socks organized by folding them in the correct way.
Fold the socks by tucking one sock into another:
As Ankle socks are very small and if not folded properly, they may get lost.
It is very normal to lose one pair and then waste your time and effort in finding the other pair since the socks are very tiny and can really get mixed with the other items in your wardrobe.
The best thing to do is to completely tuck one pair into another this way both the pairs will stay together.
Fold the socks in half and then flip over from the opening:
This is another method of folding the ankle socks neatly.
You take the two pairs and put one pair above another making sure they are facing the same side.
Then you fold them into half and after that from the opening you flip over.
Keeping your socks from slipping
The worst thing is when you wear socks and they keep sliding down. It not only disturbs you but also spoils the look of your shoes.
The best thing to do to avoid this problem is to buy the quality socks that have the right amount of elastic in them.
Good elasticity in the socks would prevent them from sliding down all the time. When you buy ankle socks you must buy the socks that fit you exactly and is your size.
It is very important to know your exact size before you buy any socks.
And lastly, the most important thing is to focus on quality and avoid buying the socks that are cheaper and of low quality.
Incoming search terms:
how long do socks last
throw away socks worn once
how long should you keep socks