*This page may contain affiliate links. When you buy through these links, we may earn a small commission at no extra cost to you.
Usually, badminton players are seen wearing sports socks during the game.
Though these socks may work just fine for an average player, if you are a pro in the field or you want to play aggressively on the court, you would need something better.  
Socks that are specially designed for badminton hence come into the picture.
What makes badminton socks a better option for badminton players is their enhanced durability and additional cushioning.
You should therefore avoid wearing your regular sports socks when playing badminton.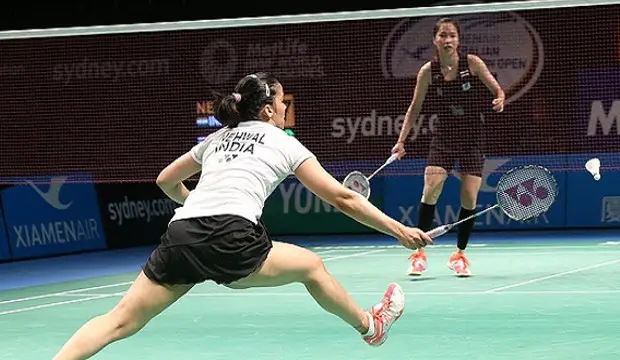 The fact is – a lot of people don't have the idea that there are socks specifically available for badminton.
If you haven't tried them yet, you should definitely try them in your next game for the benefits it provides.
Benefits of Badminton Socks Over Regular Socks
You must have seen several badminton players spending innumerable hours trying to choose the best racket, shoes, and bag for their badminton.
But not even one of them pays tiny attention to the kind of socks they should be wearing while on the court.
Just by looking at both the socks (regular sports socks and badminton socks), you may not be able to see any difference.
But below here are some of the important differences mentioned for you:
While sports socks are thinner with less cushioning, badminton socks are thicker with more cushioning.
Sport socks are comparatively less durable than badminton socks.
While sports socks can stretch more, hence they offer less protection, badminton socks, on the other hand, aren't very stretchy and hence offer more protection.
Sport socks have low thread count, which means the fibers are loosely knit, while badminton socks have high thread count and have the fibers densely knit. The tiny holes which form when you stretch will help you in finding out the density of the socks. It adds to the life of the socks and also offers better protection to your feet.
So, all in all, the price of sports socks is less in comparison to badminton socks.
With so many differences and benefits, you may find it obvious to buy badminton socks for your badminton and not pick any sports socks.
Especially if you are a professional badminton player and love to spend some time on the game, then you should consider spending some money on badminton socks.
An aggressive game on the badminton court could easily tear your sports socks, and you may end up having holes in it.
However, badminton socks are designed to bear your aggressiveness, and hence they will bear all the pressure and last longer in comparison to sports socks.
5 Best Badminton Socks You Can Try for Your Sport
With the right badminton socks on your feet, you can extraordinarily play the game.
It doesn't just give you comfort but also provides protection and cushioning to your feet.
So, if you are planning to buy a pair for your game, here are a few best options out there on the market…
1- Yonex Very Cool Half Socks
If you are looking for the best quality socks, Yonex socks are the best choice for you.
They are designed as a deodorizer and antibacterial to render freshness and eradicate the foul smell and bacterial build-up.
They are crafted for professionals participating in international tournaments.
During the game, players may sweat and slip, and at that time, these socks render comfort and support.
Yonex is the best badminton socks for any player. They offer smooth play without allowing any uneven foot movement during the game.
2- Nixon Low Top Sports Socks
Perfect for badminton, Nixon socks are also recommended for other sports like tennis, racquetball, and squash.
They are simple conventional sports socks teamed with cushioned soles and an Achilles heel area for better comfort.
It also offers a breathable upper. They are perfect for indoor and outdoor wear.
You can wear them in the house (anti-slip), during sports, and at the hospital. It offers great grip at the sole and helps you maintain balance and prevent slipping on a slick surface.
Some other benefits include comfy skincare, sweat-absorbent, and deodorizer.
3- STFXSX Short Tube Badminton Socks
The STFXSX socks come with an additional padded area on the base.
It is specially shaped and crafted for right and left feet and is an ideal option for racket sports.
You can wear them daily for work, sports, and other uses.
STFXSX uses a special manufacturing technique by mixing the material which produces toes and heel socks.
4- YUAN SHAN Eat Sleep Play Badminton Socks
YUAN SHAN socks are highly comfortable to wear. They are ankle socks made with top-notch yarn.
They are crafted to yield smooth play to the players without any uneven foot movement.
They also help keep the leg temperature normal and offer great sweat absorption, thereby avoiding bad odor.
The mesh panel on the upper side enhances comfort and breathability.
It also adds life to the sock and provides better protection and prevention of blisters on your feet.
5- Norfolk Cushioned Badminton/ Squash/ Tennis/ Sports socks
One of the most reviewed brands known to manufacture socks with the highest possible comfort in Norfolk.
The company designs socks for the toughest training sessions and lower skin issues. Players receive additional arch support in the cushioned socks.
It also has arch elastic brace support to avoid slithering of the sock underfoot. It is majorly crafted to absorb moisture produced while exercising.
With all the moisture absorbed, your feet are left cool, dry, and healthy, even while exercising. Norfolk socks offer a better flexible cushion to enhance your performance.
So, make your choice wisely and pick the pair of socks you find most suitable for you.
The Conclusion
Rather than sticking to the common sports socks, it's wise to go for a pair of badminton socks for a better experience at the game and for the higher safety of your feet.
There are several online platforms where you can buy badminton socks for you.
These socks are also available online at stores like Amazon for men and women.
All you need to do is pick your options and make your selection and then place your order. It will soon reach your doorsteps.
Incoming search terms:
https://anklepain info/badminton-socks/
must have socks for badminton women