*This page may contain affiliate links. When you buy through these links, we may earn a small commission at no extra cost to you.
You have decided to enroll in one of the hottest dance fitness form i.e. Zumba dance.
And now you are finding a hard time to get the right pair of Zumba shoes for yourself.
Never mind, there are lots of options and choices to find one good pair for your dance fitness.
If you do not want to buy the best one and still want to start with your classes instantly you can wear your regular running or walking shoes.
But remember, you should not use them for long as running shoes are not meant for Zumba or dancing.
The fact is you should not use your running or walking shoes when doing Zumba as these comes with much of traction and are not ideally designed for dancing.
While making some lateral moves or jumps during Zumba, you could injure yourself with these running shoes.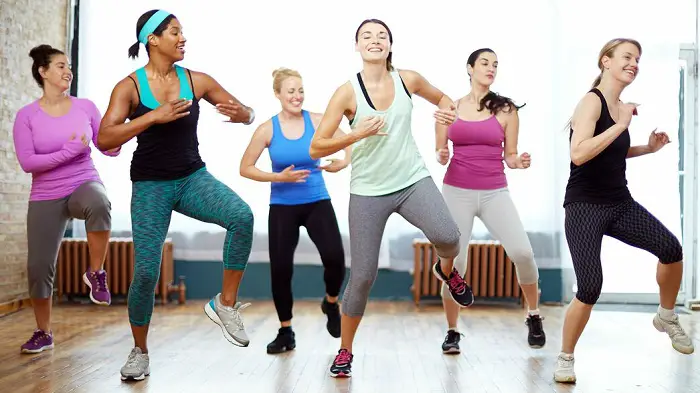 Zumba Dance Requires Proper Support and Balance
Zumba is the Latin dance form which is an excellent blend of varied dances like Rumba, Flamenco, Salsa, Merengue and lot many dancing themes.
Picking up with these different dance themes, it makes your aerobic workout more fun compared to other routine workouts. 
Zumba dance in general is a cardio fit move that combines both exercising and dancing making it a darling choice amongst the girls and women.
A Zumba shoes is strictly required, as it makes movements and dance easy. 
With the growing popularity of the dance fitness, many shoe companies have introduced various training shoes to gear the dance enthusiastic.
No matter what brand you choose for your Zumba shoes, it is not recommended to dance in your routine shoes because they will not provide you the best benefits of dancing moves, support, and balance.
Hence, the purpose you are dancing for (whether for learning or keeping fit) is not achieved.
Should You Use Your Regular Running Shoes for Zumba?
Well, if you want to use your regular running or walking shoes to Zumba for a day or two it would fine.
This simply means that unless you are not wearing them for long it would not be a problem.
But if you are really passionate about Zumba and want to make it your daily routine, you should invest in a pair of good shoes that are specially designed for Zumba dancing.
Obviously, it is not an expensive thing that you have to spend hundreds of bucks on.
A good quality is available at a price below $100.
The quality and design you choose should however depend on which dance format or aerobic workout you are opting.
Benefits of Zumba Dance Shoes – What Is The Best Type to Buy?
One of the best benefits offered by Zumba shoes is it can be worn for dance as well as for other fitness activities also.
But care that the shoes meant for activities like walking, running or cross training are not meant for dancing and should not be used for Zumba.
Few reasons you should buy Zumba shoes include:
These are light in weight
Provides light cushioning and support
The sole allows smoother movement without sticking to the floor
It comes with pivot point on the sole to prevent twisting and hurting your ankle or knees
If you are planning to buy a pair of Zumba shoes for your dance, sneakers that are specifically designed for dancing and fitness aerobics should be the best option to consider.
These Zumba shoes are available in varied combinations, offering the positives for more than one activity.
The features you will need to look at are how is the quality of soles, what extra comfort it offers and lastly the price at which these are available.
Each of the shoe maker has its own price variations, hence; comparison is easy to do on the web.
To find the best deals on the Zumba shoes, you can shop over various online shopping portals.
Usually these online shopping websites have an on-going discount sale for 365 days, and maybe if you are lucky you might get to grab the right pair of shoes in affordable budget.
The Conclusion
With many colours and styles to pick, Zumba shoes are meant to expedite your dancing sessions very effectively.
Do not ever, compromise your health and fitness by wearing the wrong shoes.
When buying, research more on the Internet and you will find a lot many options for your kind of Zumba shoes, educating you about the shoe variety, form and functionality.