*This page may contain affiliate links. When you buy through these links, we may earn a small commission at no extra cost to you.
Ankle injuries are common among athletes and youths in sports like lacrosse, hockey, and tennis.
Intense sorts like these involve you taking faster action.
Basically, your ankle and the foot region is the part that needs to stay active all through the game for quick cutting and pivots.
The bad part is while sporting; you can get your ankle sprained due to twisting or rotating it around.
And when an ankle injury occurs, ligaments in the area are torn, which makes the injury quite painful.

For minor sprain or injury, there's an immediate relief remedy that has been used for decades- ice packs.
However, severe injuries are not easy to recover from and can be the reason for you to lose your mobility during your game.
It is, therefore, best to keep your ankle protected by wearing an ankle brace for games like tennis, lacrosse, and hockey…
5 Best Ankle Brace For

Tennis

and Lacrosse
If you have sprained or injured your ankle before, there are high chances that it may get injured again if you play without providing any support to your feet.
Ankle bracing during the sport not only controls the movement of your heel and forefoot but also avoids the chances of getting any ankle injuries as well.
Below we have compiled a list of the best ankle guards that are good for players involved in sports such as tennis, lacrosse, ice hockey, snowboarding, and others.
Just check them out and pick the one that suits you best.
1- Orthomen Ankle Brace for Sports
Orthomen ankle support brace is a trendy sports brace that is perfectly suitable for all your sporting needs.
Available in a rigid stabilizer design, this best ankle brace for tennis features an anatomically contoured supporting shell with a hinge joint for promoting better stability and comfort while sporting.

Adjustable hook and loop closure are provided to adjust the swelling changes, providing an extra cushion on the ankle bone.

Available in various sizes for left and right foot, make sure you pick one according to your requirement.
2- DonJoy Performance POD Ankle Brace
Donjoy Ankle Brace for Lacrosse and Tennis is another great brace that is best recommended for guarding your ankle while sporting.
not only is it helpful in avoiding the injury, but also it is beneficial for curing injuries such as inversion ankle sprains, eversion ankle sprains, and unnatural ankle rotation.
This lightweight and low-profile designed brace easily fits into your shoe to provide extra support and comfort without the feel of bulkiness.
Some of the unique features that come along with this Donjoy brace include:
Fits in easily to any shoe or cleat
Uprights to provide extra protection during impact
Technology for ideal circumferential tibia/fibula compression
3- Zamst A2-DX Strong Support Ankle Brace
Tennis and Lacrosse players can now provide great support from this ankle brace since it gives protection from possible injuries like inversion, eversion sprain, bruising, etc.
It easily fits your ankle and is designed in a way to provide the best benefits of ankle tapping without any hassle.
This ankle protector for tennis is made up of high-quality moisture-wicking fabric which ensures that you are provided with maximum comfort with minimum irritation.
With an extra durable ankle guard, you can experience tight compression of ligaments and excellent protection from injuries.
4- Liomor Ankle Support Breathable Ankle Brace
Although made up of pretty thinner material, it is highly durable, comfortable, and supportive to offer you great protection while sporting in the field.
It amazingly prevents the ankle roll and provides better support to keep the ankle in the perfect place while you are concentrating on your play. You can even wear it inside the shoes while playing.
Providing dynamic tension with the entire range of movement, it offers amazing support with its light and comfortable making.
Even if you have been recovering from an ankle injury in the past, this ankle brace for tennis is ideal for you to keep protected.
5- Med Spec Ankle Stabilizer for

Protection and Support



Med Spec Ankle Stabilizer is a wonderful ankle brace ideal for active sports like tennis, lacrosse, ice hockey, badminton, and others.
If you want to get back into playing tennis or any other high-impact sports after a series of ankle strains and sprains, you need to try out this Med Spec Ankle Stabilizer for greater support.
It supports the strained and sprained muscle and even prevents such things from happening on the ground.
While protecting the feet during the sport, the brace gives warmth, compression, and the needed support very efficiently to heal the ligaments and tendons.
Common Tennis Injuries and Prevention Tips
As tennis is not a contact sport, it is not a high-risk game. However, it is fast-paced, and players often sustain several injuries.
Here are some of the common tennis injuries and tips to prevent them:
☑ Tennis Elbow:
Excessive injury to the muscles and tendons near your outer elbow, majorly due to repeated wrist bending when using a tennis racket is called tennis elbow.
When you suffer from this problem, one or two tendons near the joints may get swollen, leading to pain and a burning sensation. Continuous practice aggravates the pain.
Prevention:
Make sure you warm up and cool down before beginning the game. Don, a supportive brace to lower the risk of getting a tennis elbow.
Ensure the grip technique is right, and your racket is strung correctly.
☑ Stress Fractures:
A slight crack in your bone may occur because of repetitive motion.
Jumping, running, and using your hands repeatedly in tennis can stress your bones leading to fracture in the leg, back, hand or foot.
The fracture causes inflammation and pain, which worsens with time if left untreated.
Prevention:
The best prevention for stress fractures is to warm up and stretch before starting the game. Take breaks and do not increase your intensity altogether in the game.
Alternate your tennis with low-impact actions such as swimming or biking to avoid stress fractures.
☑ Ankle Sprain:
If your ligament in the ankle is stretching a lot or literally tearing, then you have a sprained ankle.
Landing poorly, falling on your ankle, uneven running, or changing directions frequently can lead to an ankle sprain.
Prevention:
You should offer proper support to your foot and ankle. Wear supportive footwear for tennis along with bracing to lower the chances of a sprain.
Do not play tennis on uneven ground; always warm up and cool down before beginning the game.
☑ Shoulder Injury:
Your tennis moves like serve or slam may often lead to rotator cuff tendinitis. It puts pressure on your shoulder tendons leading to swelling, pain, limited motion, and inflammation.
Prevention:
You need to get a good amount of rest between your tennis sessions and other activities.
Also, train under a professional trainer to learn about your stretches and exercise to strengthen your shoulder.
With these tips, you easily avoid being a victim of common tennis injuries and be a professional tennis player at the same time.
What Size Ankle Brace Should I Get for Sports?
Ankle brace for sporting generally comes in various sizes (small, medium, large, and X-large).
Based on your ankle and feet size, you should get them with care so that they can deliver you the desired results.
Many people often consider their shoe size while buying an ankle brace. This is, however, not the correct way to determine your ankle brace size.
The right way to judge the size of the ankle brace you should get is by measuring the circumference of your ankle according to the size chart.
For measuring the ankle circumference, you may follow these steps:
Take a flexible tape measure
Measure the circumference from your ankle top around your heel
Now, based on the size, you can find your brace size using the chart below.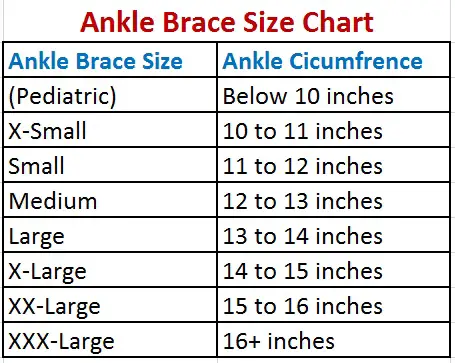 Note: In general the above-shown chart may help you to decide the proper ankle brace sizing, but the exact size may vary significantly depending upon the brand you are choosing.
It is hence important to check with the brand you are buying before finalizing the proper size for you.
Tips for Using the Tennis Ankle Brace Correctly
An ankle brace for tennis is used to protect your ankle and for getting better comfort. But as per reviews, these braces and wraps may cause discomfort or irritation to the user if not used correctly.
Here are a few important points you may need to consider to provide the best support to your feet without any risk.
Keep the skin under the brace always dry and clean
After removing the brace each time, check and ensure that there is no sign of skin irritations
Do not use lotions or powder on the skin under the brace as this might damage the pads of the brace
If any discomfort or pain is felt after using an ankle brace, a doctor or a sports therapist has to be consulted immediately.
Do not try to manage yourself, as this can be risky.
A few other points to care for properly handling the ankle brace are:
Clean the brace regularly as it comes in direct contact with your skin and gets dirty quite often
Avoid using abrasive products or harsh detergents as these might damage the ankle support brace
Use a wet towel along with mild soap for cleaning the ankle brace that has plastic supports or rigid hinges
Factors To Consider When Choosing A Brace for Tennis

As seen above, there are many ankle protectors brands and types to choose from.
These are available in various sizes that are ideal for active youths and professional athletes.
You, therefore, need to check carefully and get the most appropriate fit to provide the ankle with good support.
A few important factors you need to essentially consider are:
Intensity of sport
Condition of your ankle
Quality and comfort factor
Overall, athletes suffering from a weak ankle can now benefit from these excellent ankle braces that are highly recommended for sports.
You can wear it under your shoes and enjoy your favorite sports without worrying about possible injuries and afterpains.
Fortunately, these ankle braces for tennis and other sports are now available online. You can buy them at your favorite Amazon store at an unbeatable price tag.
Hurry to make it today and say goodbye to ankle pains!
Incoming search terms:
best ankle brace for tennis
ankle braces support for tennis
ankle braces used in tennis