*This page may contain affiliate links. When you buy through these links, we may earn a small commission at no extra cost to you.
An ankle sprain is the most common issue that athletes (as well as common people like me and you) experience in day-to-day life.
The reason for sprained ankle could be anything from playing sports to slipping the leg while walking or running.
This problem is caused when a person gets their ankle twisted (turned or rolled) and has torn the ligaments in the foot areas.
In such a case, the muscles in the foot region get swollen and leave pain in the affected area.
Importance of Wearing Ankle Brace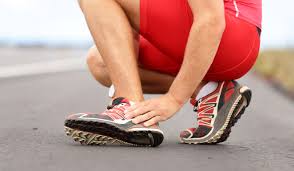 Sprained ankle due to previous injury or ankle rolling is a huge concern for athletes.
Maintaining the good condition of the foot is of utmost importance and this can only be ensured by getting a quality ankle brace for a sprained ankle.
In recent years, the awareness of an ankle brace for sprain has increased.
And these days it is not only limited to athletics or for people who have sprained their ankle before.
Rather people without having any type of foot pain also can wear these foot braces for avoiding any sprain in their foot or ankle region.
What Kind Of Brace For Sprained Ankle?
As such, there are many types of ankle guards available under varied brands, each designed out of unique qualities to save you from the problem.
No matter what type of best ankle brace for a sprain you choose, primarily they all have one goal. It is to support the ankle joint by offering added protection in the case of weak, sprained, or injured ankle.
Depending on the degree or severity of the sprain, you should choose the guard which is most suitable for your condition.
You are advised to get the help of a doctor who can help you know about this best.
Compression brace or elastic ankle brace is one most common type which can be used for mild pain and sprain symptoms including mild swelling.
These fit snugly and allows a full range of motion for the ankle.
Semi-rigid brace or lace-up brace is another most popularly used ankle brace, featuring an inside part that spins like a shoe and has outside stirrup straps which enfold like the figure of six.
This type can cost around $30-$40 per brace and are available in most sports stores.
Hard-shell braces are another type that is more rigid and may provide immobilization more than necessary, which may cause injury in the lower extremities or knees.
The main concern about this type of ankle brace is that it may prevent a sportsperson from moving properly.
A boot brace for a sprained ankle is another popular type when it comes to choosing the best walking brace for a sprained ankle.
These types of medical boots for walking are often recommended for people with severe injury, stress fractures, or high ankle pain.
10 Best Ankle Brace for Sprained Ankle
As each ankle brace comes with its unique features, it is important that you choose the one that is the right fit for you and can help you out most in treating your problem fast.
In case you are in search of the best foot brace for a sprained ankle, below we list down some of the top brands that are the best selling.
1- Aircast AirHeel Ankle Support Brace

Aircast brace is one of the best recommended as an effective remedy for ankle sprain problems and for different ankle injuries.
Wearing this branded ankle brace prevents the risk of twisting the ankles as it is more effective than taping.
Aircast Braces for sprained ankle are not only good for wearing after a sprain but also a perfect option for those who are suffering from Achilles tendonitis, posterior tibial tendon dysfunction, inversion ankle sprains, and plantar fasciitis.
2- Bracoo Ankle Support Compression Brace

Bracoo ankle braces are another most commonly worn ankle braces preferred by people suffering from ankle sprain or pain.
In fact when it comes to the best ankle brace for severe sprain or grade 3 sprain, Bracoo Braces… seems to be the best viable option.
3- Donjoy Performance POD Ankle Brace

This ankle brace from Donjoy Performance is all about stabilizing your sore or injured ankles and providing maximum relief from pain, sprain, or strain.
Donjoy ankle braces
for sprain are engineered to maximize the athlete's natural range of motion and are therefore believed to be one of the best ankle braces available in the market for athletes.
This leg brace for sprained ankle comes with on-demand technology along with Molded TPU shell and Super soft EVA underlayer lining due to which these are extremely comfortable and provide an additional degree of support that helps prevent a variety of ankle sprains.
Doctors, orthopedics, athletics are seen choosing Donjoy ankle braces over other brands because the braces are specifically designed to provide optimum support to weak ankles.
4- Liomor Ankle Support Breathable Brace
When you play high-impact sports, you cannot avoid sprains or injuries, and for this reason, this is one of the best products to have.
With this brace On your injured ankle gets a lot of support while sporting.
The quality of this ankle protector is good enough, which is confirmed because it has only positive reviews posted on websites such as Amazon.
If you have sprained your ankle in the past and looking forward to getting into the action, this is for you.
5- Futuro Sport Deluxe Adjustable Ankle Stabilizer

Futuro ankle stabilizer brace is yet a great option for ankle soreness and sprains. The brace stabilizes and limits the range of movements of the ankle joint, thus providing quick recovery from the pain in an easy way.
Ankle braces from Futuro come with reinforced side stabilizers which work to limit lateral motion. It also offers joint protection to people suffering from injured ankles and arthritic ankles.
The make and the material used to design this Futuro Brace is an extremely comfortable and easy fit.
It's also extremely easy to wash and use.
6- Mueller Ankle Brace for Men and Women
Mueller ankle brace is a revolutionary product that is the best-recommended brace for all your needs. The fabulous brace features the adjustable strap simulating the figure 8 taping structure.
It is perfectly anti-slip in nature to prevent any kind of inversion. Hence, there is no sprain or no eversion ankle.
This protective brace for a sprained ankle is light in weight and is low profile. It is comfortable to wear in the cleats during a sports competition or in shoes.
Those playing football, soccer, basketball, etc find it very useful to avoid any type of sprain or strain.
7- Ossur Form Fit Ankle Support Brace

Ossur ankle brace provides more stability than usual ankle supports available in the market; perhaps that is the primary reason behind its growing popularity.
It features multiple configurations that offer varying degrees of support to your ankle to prevent rolling.
This ankle sprain brace
is a great reliever for varied ankle sprains and provides additional support to your injured ankle.
8- McDavid Lace-up Ankle Brace Support

McDavid 199 Lace-up Ankle Brace with Support Stays is one of the top-selling laced ankle braces on Amazon which people trust and buy.
This is made up of high-quality breathable two-layer polyester/vinyl mesh material which is super soft and lightweight. For this reason, it improves natural mobility and is most preferred by athletes, trainers, and coaches.
This McDavid Lace-up Ankle Brace provides maximum support and protection to the users while remaining at the place, which automatically translates into enhanced performance for the users.
9- ProCare Lace-Up Ankle Support Brace
ProCare lace-up ankle support brace is perfectly designed to cater to the needs of today's demanding athletes.
With its lightweight and low profile design, it not only helps to treat acute ankle ligament sprains but also the chronic instabilities and injuries of the athletes.
It easily fits inside any type of shoe and comes with a sturdy canvas stirrup and a reinforced eyelet area for delivering enhanced performance and durability.
Above all, this universal fit brace can be worn either on the left or the right foot which saves you from the trouble of buying two individual braces for both your feet.
10- ASO Speed Lacer Ankle Brace
ASO speed lacer and ASO ankle stabilizer are the two most common ones that are the best selling from the ASO brand. Its low-profile design ensures that it gets easily fits in any type of shoes you use.
With these ASO lace-up braces, users enjoy a complete coverage here with the cross strapping.
The presence of genius straps actually permits you to adjust the tightness of the brace for additional support.
It is also known for retaining body heat to quicken the process of healing. It is perfect for those looking for a not-so-bulky brace.
How to Put On A Lace Up Ankle Brace?
A lace-up ankle brace with straps is effective that comes with many advanced features. It is easy to use and lets you give more stability to the injured area when compared to simple wrapping or taping a bandage around the area.
It includes ballistic nylon straps that create a figure 8 model, which you get when taping the ankle.
Hence, these new and advanced braces provide great support to prevent ankle twisting sideways and causing injury again.
Best lace-up ankle braces for treating ankle sprain feature lace-up closure, which is easy to use. Patients have to fall in line during bracing therapy.
A lace-up ankle support brace also includes an elastic cuff that lessens the volume of inversion while twisting the ankle inwards.
Below is the video, which will help you learn more about how to put on a lace-up ankle brace easily without any trouble.
How To Maximize The Benefits of Your Brace?
Besides wearing the sprained ankle splint there are certain methods and strategies, trying which will help you in enhancing the benefits offered by these braces.
In simple terms, when you try these below-mentioned methods you can actually heal your sprained ankle much faster.
Rest your ankle and feet and avoid physical activities which require increased pressure on your foot joints
Try common treatment methods which include elevation, ice, and heat therapy, and taking pain relievers
Use a walking cane or crutches to reduce the pressure applied to your feet. Make sure that you continue using them until you do not feel the pain while walking
Try doing regular exercises which help in strengthening the ankle and foot muscles. If needed, get the help of a physical therapist for better results
Tips for Buying The Best Brace for Your Sprained Ankle

Be ensured that an ankle protector brace for sprained or twisted ankle is available in a variety of sizes that range from a child to an adult.
You, therefore, need to carefully consider the quality, longevity, price, etc of the brand or type of the ankle brace before you make the final purchase.
While picking the right brace do not forget to consider the level of protection it offers to your feet/ankle. As an ideal piece, it should provide you maximum support while preventing ankle rolling, strains, and sprains.
The ankle brace you choose should also come with proper breathable material to ensure comfort and durability.
A premium quality ankle brace guard not only prevents your ankle from rolling but also provides good breathability to reduce the problem of bad odor or blisters on foot.
In the end before choosing an ideal bracing, also make sure that you read the detailed online reviews and customer testimonials to help you with the right selection.
Incoming search terms:
ankle brace for sprained ankle
ankle sprain brace
ankle brace for sprain